Cleverly, Norway is not resting on its energy laurels, but has been developing sustainable energy production beginning with hydro generated electricity. In the transport sector the share of renewables has increased from 1.3% to 4% between 2005-2010. Currently Norway has one of the highest numbers of electric cars per capita in the world. This situation could eventually trigger demand for a developed infrastructure - to make better use of sustainable energy for transport, so conserving oil for export and thus extending a secure future with significant reserves for generations to come.
Map of the suggested route for the Norwegian Cannonball Smart Energy ZEV Run. Your route may vary from that shown, for example to take in fast charge locations, so long as the start and finish lines are the same.
CANNONBALL INTERNATIONAL EV SERIES
The Cannonball International EV Run™ series is for battery or hydrogen fuel cell powered electric vehicles that are based on ordinary production vehicle running gear and must be capable of carrying at least one passenger. They may be solar assisted, provided that the solar panel area does not exceed four square meters - a rule that may be relaxed in subsequent years as we learn from experience. See the full Cannonball EV rules HERE.
These rules are designed to promote the development of an international EV infrastructure, as a means of accelerating the transition from IC engines to clean electric motors, or other zero emission transportation, especially in countries that do not have abundant sunshine, where support for non-solar assisted electric vehicles is all the more important.
Make sure that you read the EV runners road rules before entering your team. Each person completing a recognized run will receive a Blue Riband eco medal. The competitor with the highest scores overall in any one year will have their name inscribed on the Bluebird World Cup.
BODO to KRISTIANSAND: THE (SUGGESTED) NORWEGIAN CANNONBALL ZEV RUN STOPS @ 50mph AVE
| | | | | | |
| --- | --- | --- | --- | --- | --- |
| START | BODO | MILES RUN | LEG DISTANCE | KM RUN | HOURS |
| | | | 4 | | |
| 1st STOP | Fauske | 2 | + | 4 | .51 |
| | | | 6 | | |
| 2nd STOP | Rognan | 6 | + | 1 | 1 |
| | | | 8 | | |
| 3rd STOP | BorgeFjell | 1 | + | 1 | 2 |
| | | | 8 | | |
| 4th STOP | Trondheim | 1 | + | 2 | 3 |
| | | | 1 | | |
| 5th STOP | Lillehammer | 2 | + | 3 | 4 |
| | | | 7 | | |
| 6th STOP | Oslo | 2 | + | 4 | 4. |
| | | | 9 | | |
| 7th STOP | Larvik | 2 | + | 3 | 4 |
| | | | 7 | | |
| 8th STOP | Grimstad | 2 | + | 4 | 4. |
| | | | 9 | | |
| FINISH | KRISTIANSAND | 3 | | 53 | 6 |
GOOGLE SUGGESTED ROUTE - Driving directions 24 HR target with cartridge exchange and 36 hours with fast charging (This route has tolls)
BODO - Norway

Follow

KRISTIANSAND - Norway
OFFICIAL CANNONBALL INTERNATIONAL ZEV ROUTES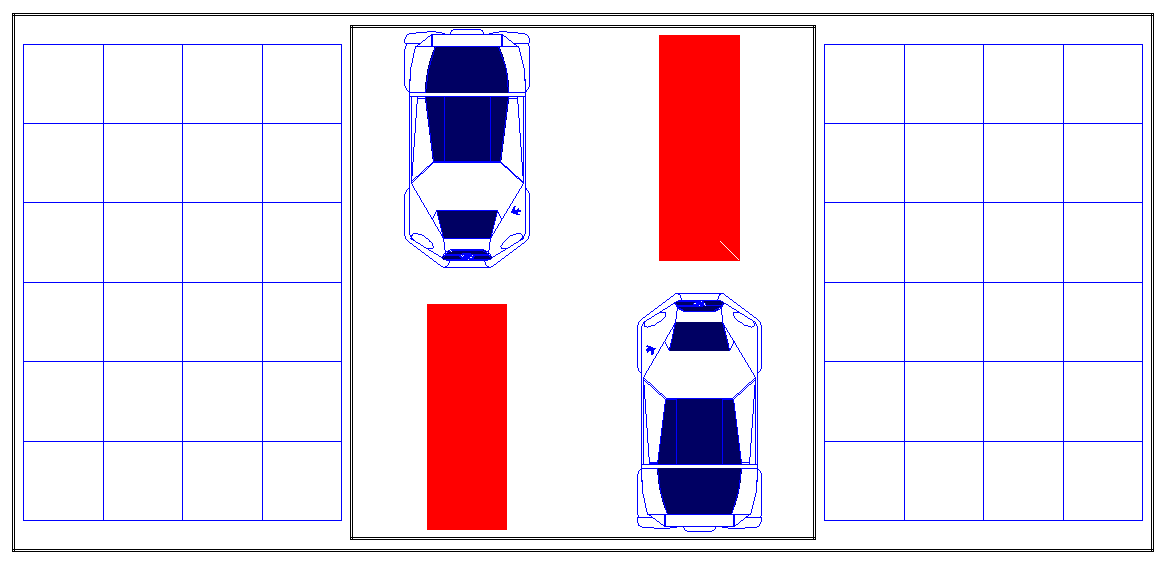 EUROSTATION CONCEPT: From the plan and end views of the concept Eurostation for smart cities. The Ecostar DC50 (currently under construction) is shown here to scale to give you some idea of size. The DC50 is 300mm longer than a Smart car and the cartridge shown is actually more suited to the super-minis and hatchbacks that are so popular today. You do not need to get out of an EV being serviced, having entering the tunnel. The mechanism is automated. Solar roofs are advocated by way of harvesting a small percentage of energy from nature to further offset climate change. BMS has an in-house planning consultant with experience of awkward councils and several victories on appeal to the Secretary of State under his belt - admittedly, less applicable in Denmark, where their system is sure to be different.
A Bluebird™ EuroStation is a 3.6MW solar assisted EV service facility containing 60 cartridges on a continuous charge cycle. Five of these stations (18MW) can recharge (refuel) 10 cars a minute in ideal circumstances.
Two conceptual designs for a Universal energy cartridge, both with 8 cubic feet of storage capacity. It is not so much the shape of the cartridge, it is that the loading points are compatible with the car and any eventual service station. The pick-up and contact point details are not shown here due to patent laws prohibiting advance publication. Any shape cartridge may be suitable for a Bluebird™ service forecourt, provided that the basic "Universal" connectors are used. We will release these details once the applicable patent is in the processing pipeline. Patent application is dependent on identifying a demand. An unusual situation, but with only twenty years to recover investment, no sensible IP company (like ourselves) will want to start the clock ticking too soon. One possible solution to that dilemma, is a binding Agreement with potential end users - to, in effect overcome patent law failings. Patent law does not take into account real world commercial considerations and as such is an outdated concept that is extremely expensive. The real reason for applying is to establish inventor-ship in principle. Legally binding agreements between parties is just as effective and longer lasting protection, as is not revealing all the secrets that make a system work.
WORLD ELECTRIC CAR SALES 2013
| | | | |
| --- | --- | --- | --- |
| Electrified Vehicle Model | Total 2013 Sales | Dec Mkt Share | 2013 Mkt Share |
| Nissan Leaf | 47484 | 17% | 23% |
| Chevy Volt | 28252 | 11% | 14% |
| Toyota Prius PHEV | 23075 | 6% | 11% |
| Tesla Model S* | 22186 | 10% | 11% |
| Mitsubishi Outlander PHEV | 18444 | 24% | 9% |
| Renault Zoe | 8869 | 2% | 4% |
| Volvo V60 PHEV | 7437 | 7% | 4% |
| Ford C-Max Energi | 7353 | 3% | 4% |
| Ford Fusion Energi | 6206 | 3% | 3% |
| Renault Kangoo ZE | 5886 | 2% | 3% |
| Chery QQ3 EV* | 5007 | 1% | 2% |
| Mitsubishi i | 4769 | 1% | 2% |
| Smart Fortwo ED | 4130 | 2% | 2% |
| Opel Ampera | 3157 | 3% | 2% |
| Renault Twizy | 3062 | 1% | 1% |
| Jac J3 EV* | 2500 | 1% | 1% |
| Ford Focus Electric | 1894 | 1% | 1% |
| BYD e6 | 1684 | 1% | 1% |
| VW e-Up! | 1465 | 3% | 1% |
| Mitsubishi Minicab MiEV | 1464 | 0% | 1% |
| BMW i3 | 1318 | 2% | 1% |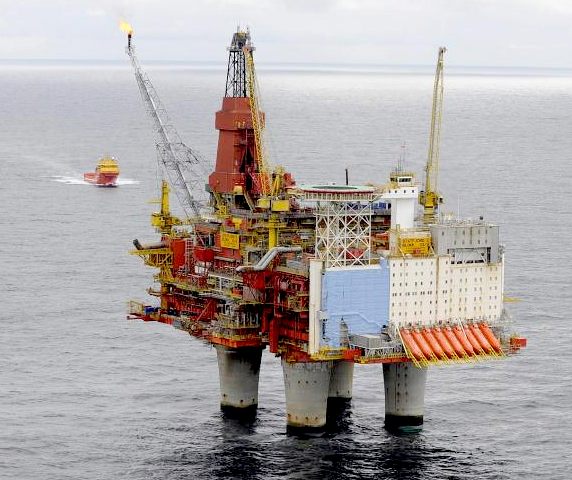 January 28, 2014 - The Petroleum Safety Authority has resolved to conduct an investigation into a hydrocarbon leak which occurred on the Statfjord C platform in the North Sea, offshore Norway, on 26 January 2014. An escape of stabilized oil occurred on the Statfjord C platform in the early morning of 26 January 2014. The gas alarm was activated, and personnel mustered at the lifeboats.

The process plant was automatically shut down and de-pressurized. Checks and reports identified a discharge of stabilized oil to the sea. This incident occurred while stabilized oil was being transferred from Statfjord A to the C platform. The leak site has been traced to the area by a fire seal under the cellar deck.

Preliminary information from operator Statoil indicates that the oil discharge was substantial, but its volume has yet to be clarified. The PSA takes a serious view of this incident, and has now decided to investigate it. Its investigation will seek in part to clarify the course of events and to identify the direct and underlying causes. The investigation will result in a report, which will be published on ptil.no.
Statfjord was discovered by Mobil in 1974, and Statoil took over the operatorship on 1 January 1987. The field has been developed with the Statfjord A, B and C production platforms, which all have concrete gravity base structures incorporating storage cells.

Statfjord A began production on 24 November 1979. Statfjord B followed on 5 November 1982, and Statfjord C on 26 June 1985. The Norwegian share of the field lies in blocks 33/9 and 33/12 in production license 037, while the British part is in UK block 211/25 in licenses 104 and 293.

The field will remain in production until 2025 and possibilities to further expand the lifetime are being looked into. Statfjord is one of the oldest producing fields on the Norwegian continental shelf, and the largest oil discovery in the North Sea.

EBRD - EUROPEAN BANK for RECONSTRUCTION & DEVELOPMENT

One Exchange Square
London EC2A 2JN
Switchboard +44 (0) 20 7338 6200
Web: http://www.ebrd.com/
EBRD FINANCING
The principal forms of direct financing that may be provided by the EBRD are loans, equity and guarantees.
Loans are tailored to meet the particular requirements of a project. The credit risk may be taken entirely by the Bank or partly syndicated to the market. Read more
Equity investments may be undertaken in a variety of forms. When the EBRD takes an equity stake, it expects an appropriate return on its investment and will only take a minority position. Read more
Guarantees are also provided by the Bank to help borrowers gain access to financing.
Read more
Assistance through financial intermediaries - One of the EBRD's key aims is to support the development of micro, small and medium-sized enterprises (SMEs) which are crucial to nurturing a private sector economy. To do this, we may make equity and loan financing available to SMEs through a range of intermediaries throughout our countries of operations.
These intermediaries include banks in which the EBRD has an equity stake or with which it has signed a loan, and investment or venture capital funds in which the EBRD has made an investment. Read more
The EBRD may also provide direct financing and support for SMEs through a number of loan and equity facilities.
EBRD CONTACTS
Environment and Sustainability
Tel: +44 20 7338 6020
Fax: +44 20 7338 6848
Email:environmentandsocial@ebrd.com
Corporate Director: Alistair Clark
Office of the Chief Economist
Tel: +44 20 7338 6037
Fax: +44 20 7338 6110
Email: economics@ebrd.com
Chief Economist: Erik Berglof
Procurement
Tel: +44 20 7338 7598
Fax: +44 20 7338 7472
Email: thomasm@ebrd.com
Director: Jan Jackholt

Project proposals
Tel: +44 20 7338 7168
Fax: +44 20 7338 7848
Email: newbusiness@ebrd.com
EBRD DEPARTMENTAL CONTACTS
Transport
Tel: +44 20 7338 8598
Fax: +44 20 7338 7301
Director: Sue Barrett

Business Development team
Tel: +44 20 7338 7168
Fax: +44 20 7338 7848
Head of Department: Ms Olena Koval

Energy efficiency and climate change
Tel: +44 20 7338 7478
Fax: +44 20 7338 6942
Director: Terry McCallion

Municipal and environmental infrastructure
Tel: +44 20 7338 6849
Fax: +44 20 7338 6964
Director: Jean-Patrick Marquet

Power and energy utilities
Tel: +44 20 7338 6006
Fax: +44 20 7338 7280
Director: Nandita Parshad

Small Business Support
Tel: +44 20 7338 7356
Fax: +44 20 7338 7742
Email: sbs@ebrd.com
Director: Charlotte Ruhe

Equity funds
Tel: +44 20 7338 7170
Fax: +44 20 7338 7380
Director: Anne Fossemalle

Carbon finance
Tel: +44 20 7338 7177
Fax: +44 20 7338 6942
Email: vandevej@ebrd.com

Enterprise Growth Programme
Tel: +44 20 7338 7356
Fax: +44 20 7338 7742
Email: egp@ebrd.com

Stakeholder Relations Department
Tel: 020 7338 6211
Fax: 020 7338 6910
Managing Director: Alan Rousso
ABOUT NORWAY
The Kingdom of Norway (Kongeriket Norge in Bokmål and Kongeriket Noreg in Nynorsk), is a Scandinavian unitary constitutional monarchy whose territory comprises the western portion of the Scandinavian Peninsula, Jan Mayen and the Arctic archipelago of Svalbard. The Antarctic Peter I Island and the sub-Antarctic Bouvet Island are dependent territories and thus not considered part of the Kingdom. Norway also lays claim to a section of Antarctica known as Queen Maud Land. Norway has a total area of 385,252 square kilometres (148,747 sq mi) and a population of 5,109,059 people (2014). The country shares a long eastern border with Sweden (1,619 km or 1,006 mi long). Norway is bordered by Finland and Russia to the north-east, and the Skagerrak Strait to the south, with Denmark on the other side. Norway has an extensive coastline, facing the North Atlantic Ocean and the Barents Sea.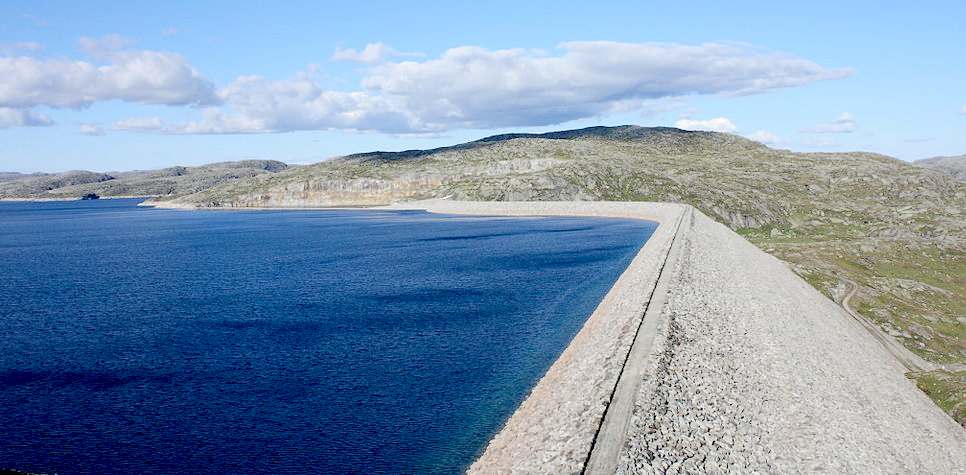 Hydroelectricity was a big bonus for Norway, as with any country with the foresight to develop a natural resource.
RENEWABLE ENERGY

Norway is a heavy producer of renewable energy, first of all due to good resources in hydropower. Over 99% of the electricity production in mainland Norway is covered by hydropower plants. The total production of electricity from hydropower plants amounted to 135.3 TWh in 2007 There is also a large potential in wind power, offshore wind power and wave power, as well as production of bio-energy from wood. Norway has limited resources in solar energy, but is one of the world's largest producers of solar grade silicon and silicon solar cells, much thanks to the activities of Renewable Energy Corporation.

Guarantees of Origin, the system for Guarantees of Origin was implemented by the EU Renewable Energy Directive 2009/28/EC. In 2010 the average electricity consumption mix of a Norwegian household was only 36% renewable.

WIND POWER

In 2012 Norway had a wind power electricity production of 1.6 GWh. It aims to triple its capacity of currently ca.700 MW to 2GW by 2020.

OIL ENERGY

From 1966 to 2013, Norway companies have drilled 5085 oil wells, mostly in the North Sea. 3672 are utviklingsbrønner (regular production); 1413 are letebrønner (exploration); and 1405 of these have been terminated (avsluttet).

Oil fields not yet in production phase include: Wisting Central—calculated size in 2013, 65-156 million barrels of oil and 10-40 billion cubic feet, (utvinnbar) of gas. and the Castberg Oil Field (Castberg-feltet)—calculated size 540 million barrels of oil, and 2-7 billion cubic meters (utvinnbar) of gas. Both oil fields are located in the Barents Sea.

In 2000, the government sold one-third of the state-owned oil company Statoil in an IPO. The next year, the main telecom supplier, Telenor, was listed on Oslo Stock Exchange.

Export revenues from oil and gas have risen to almost 50% of total exports and constitute more than 20% of the GDP. Norway is the fifth-largest oil exporter and third-largest gas exporter in the world, but it is not a member of OPEC. In 1995 the Norwegian government established the sovereign wealth fund ("Government Pension Fund — Global"), which would be funded with oil revenues, including taxes, dividends, sales revenues and licensing fees. This was intended to reduce overheating in the economy from oil revenues, minimise uncertainty from volatility in oil price, and provide a cushion to compensate for expenses associated with the ageing of the population.

The government controls its petroleum resources through a combination of state ownership in major operators in the oil fields (with approximately 62% ownership in Statoil in 2007) and the fully state-owned Petoro, which has a market value of about twice Statoil, and SDFI. Finally, the government controls licensing of exploration and production of fields. The fund invests in developed financial markets outside Norway. The budgetary rule (Handlingsregelen) is to spend no more than 4% of the fund each year (assumed to be the normal yield from the fund).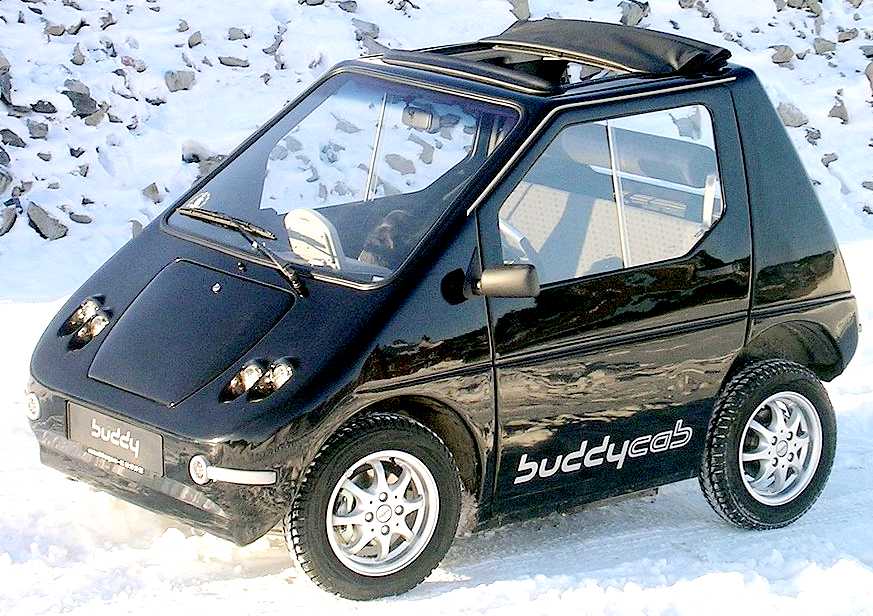 The Buddy is a nice city car that is made in Norway

TRANSPORT

Norway has a road network of 92,946 kilometres (57,754 mi), of which 72,033 kilometres (44,759 mi) are paved and 664 kilometres (413 mi) are motorway. There are four tiers of road routes; national, county, municipal and private, with national and primary county roads numbered en route. The most important national routes are part of the European route scheme, and the two most prominent are the E6 going north-south through the entire country, while E39 follows the West Coast. National and county roads are managed by the Norwegian Public Roads Administration.

Motorways exist around the largest cities; many of the larger cities have introduced toll schemes to help finance roads. In 2008, 130 ferry routes remained in service, operated by private companies on contract with the Public Roads Administration. Since the 1970s the heaviest rural investments have been mainland connections to replace the many car ferries that are needed to cross fjords and connect to islands. There are not enough funding through tax money, so these tunnels and bridges are normally financed mainly through toll fees. Some mountain passes have severe snowstorm problems in the winter, so often they have to be closed, or cars have to drive after a snowplow in a column. The most exposed mountain passes are closed the entire winter.

In 2007 there were 2.6 million automobiles in Norway, or 444 per 1000 residents, an increase of 27% the last ten years—average age was 10.2 years. Road accidents killed 242 people and road transport caused 20% of greenhouse gas emissions. Trucks transported 264 million tonnes 15 billion tonne kilometers.

On average each Norwegian transported themselves for 70 minutes each day. 8% of passenger transport was made by public transport; road transport is the dominant mode of transport. The transport sector was responsible for 4.1% of the gross national product and 6.6% of employment in 2006. According to the World Economic Forum's Travel and Tourism Competitiveness Report 2013, Norway placed 83 out of 140 countries regarding quality of roads, 47 out of 122 regarding quality of railroad infrastructure, 25 out of 140 regarding quality of port infrastructure and 54 out of 140 regarding ground transport networks.
CENTRE FOR RENEWABLE ENERGY
Centre for Renewable Energy (short: SFFE, from Norwegian Senter for fornybar energi) is a virtual research centre owned by Norwegian University of Science and Technology (NTNU), SINTEF, Institute for Energy Technology (IFE) and University of Oslo (UiO). SFFE was established in 2004, initially as a unifying organ for SINTEF and NTNU. IFE and UiO became co-owners of the Centre in 2005 and 2011, respectively. The goal of SFFE is to increase the quality, efficiency and scope of education, research, development and innovation within renewable energy in Norway. SFFE works to coordinate the available competence and the research and education activities localized at its member institutions.

In 2010, the internal network in the member institutions included more than 400 scientists (including doctoral students) working on renewable energy. The current leader of the Centre is Gabriella Tranell (associate professor at Department of Materials Science and Engineering, NTNU).

Together, the owners of SFFE represent Norway's largest resource in renewable energy research. Research fields at the Centre include small scale hydropower, wind energy, solar energy, wave energy, and bio-energy as well as the social dimensions of energy use. Competence has recently been developed in ocean energy fields, especially research on offshore wind power and tidal power.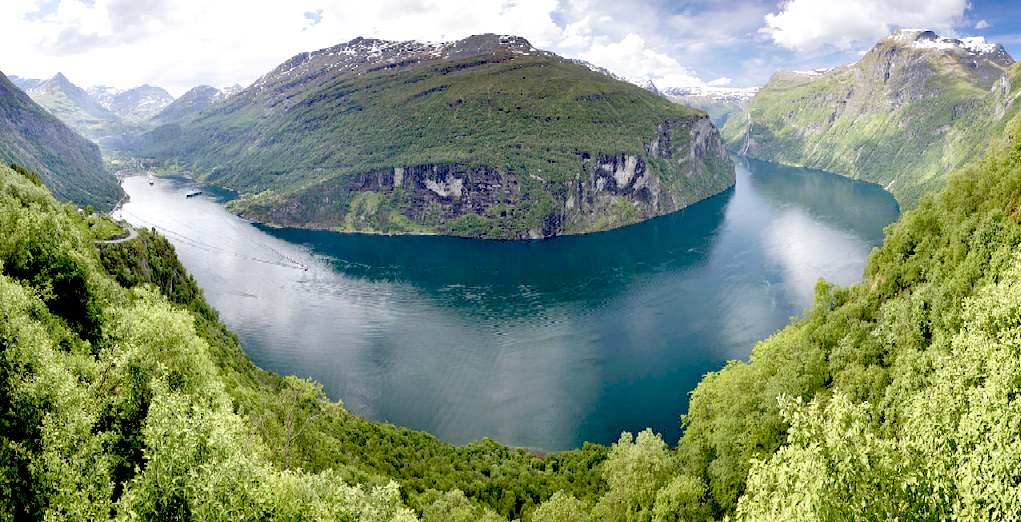 UNESCO world heritage site: Geirangerfjord, Norway
LINKS & REFERENCE:
Wikipedia Renewable_energy_in_Norway
Wikipedia Centre_for_Renewable_Energy
http://en.wikipedia.org/wiki/Renewable_energy_in_Norway
http://en.wikipedia.org/wiki/Centre_for_Renewable_Energy
http://www.offshoreenergytoday.com/psa-looks-into-statfjord-c-oil-leak-norway/
http://www.statoil.com/
http://evworld.com/news.cfm?newsid=29419
http://www.challengebibendum.com/
http://www.challengebibendum.com/eng/Our-approach/our-mission
http://eng.mim.dk/
http://www.kebmin.dk/
http://stateofgreen.com/en
http://irena.org/
Clean Technica 2014 Electric car sales Norway Denmark Sweden January
http://cleantechnica.com/2014/02/12/electric-car-sales-norway-denmark-sweden-january-2014/
Denmark green living impact the energy strategy 2050 on Danish consumers
http://www.forbes.com 2014 oil-majors-woes-good-news-for-tesla-and-other-ev-makers
http://metro.co.uk 2011 cannonball run remake attracts bids from rival guy ritchie and shawn levy
http://en.wikipedia.org/wiki/The_Cannonball_Run
New York Times 2014/11/11 Denmark-aims-for-100-percent-renewable-energy
http://www.mile-to-km.com/km-to-miles.php
http://www.worldsolarchallenge.org/
http://www.endtoenders.co.uk/
https://maps.google.com/
http://www.rideacrossbritain.com/packages/end-to-end/