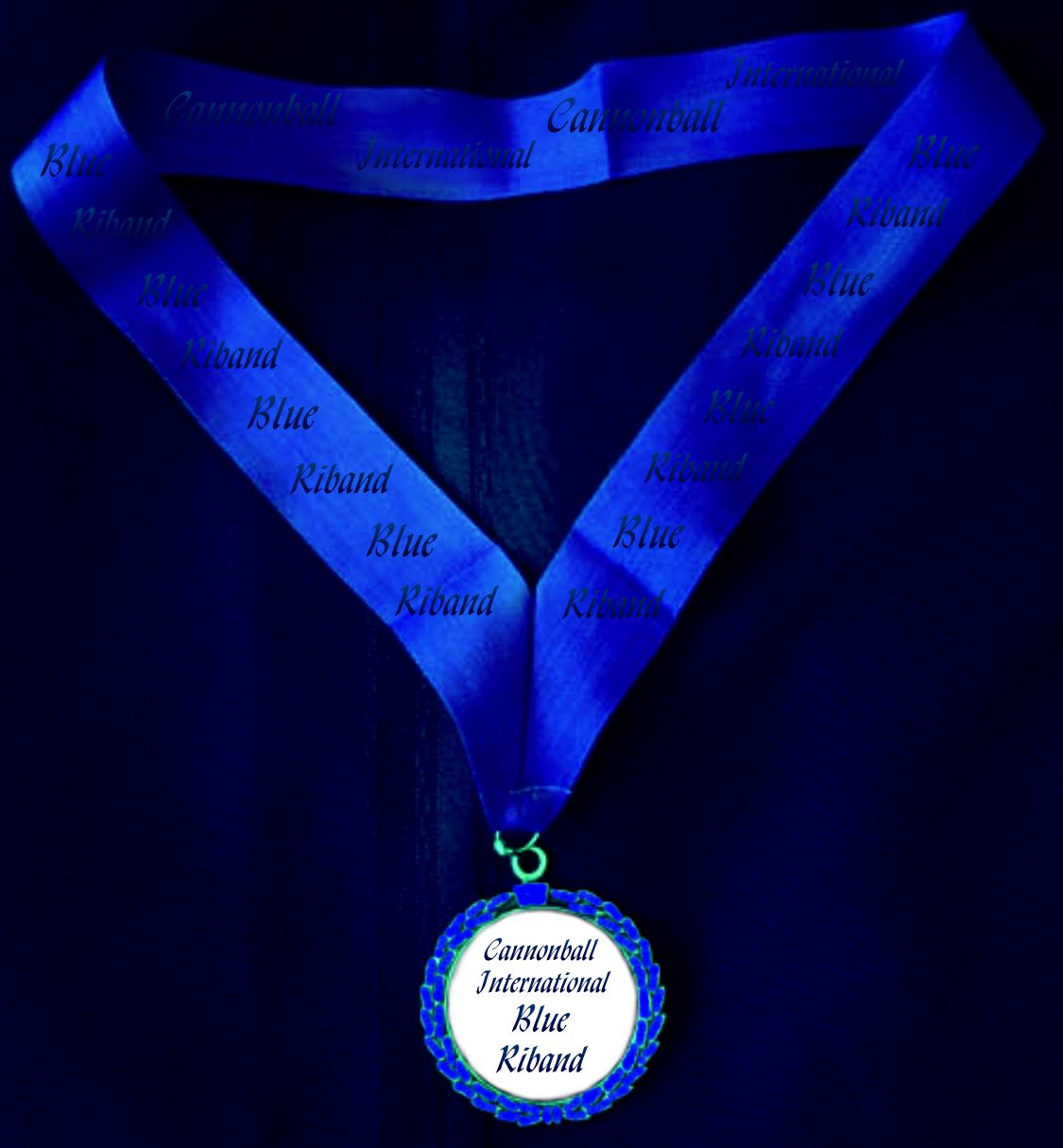 Every entrant completing one of the recognized prestigious international series of courses, will qualify for a Blue Ribbon™ (a blue ribbon made of silk with a medal pendant). This is an award of distinction for meritorious endeavor, which competitors might proudly display with any event vehicle, team, corporate or other event, as recognition of their contribution to automotive advancement. Sponsors or vehicle producers may also qualify for this accolade in gold, silver and bronze categories. BMS has commissioned an artist to design the ribbon and medallion. The above depiction is for illustrative purposes, until a design is approved. This automotive award should not be confused with the marine trophy (Hales Trophy) seen at the foot of this page, or the Japanese medal, which also has a 'blue ribbon' category - but for public service.
COMPETITION MEDALS
Medals have historically been given as prizes in various types of competitive activities, especially athletics.

Traditionally, medals are made of the following metals:

Gold (or another yellow metal, e.g., brass)
Silver (or another grey metal, e.g., steel)
Bronze

These metals designate the first three Ages of Man in Greek mythology: the Golden Age, when men lived among the gods, the Silver Age, where youth lasted a hundred years, and the Bronze Age, the era of heroes.

The custom of awarding the sequence of gold, silver, and bronze medals for the first three highest achievers dates from at least the 19th century, with the National Association of Amateur Athletes in the United States awarding such medals as early as 1884.

This standard was adopted for Olympic competition at the 1904 Summer Olympics. At the 1896 event, silver was awarded to winners and bronze to runners-up, while at 1900 other prizes were given, not medals.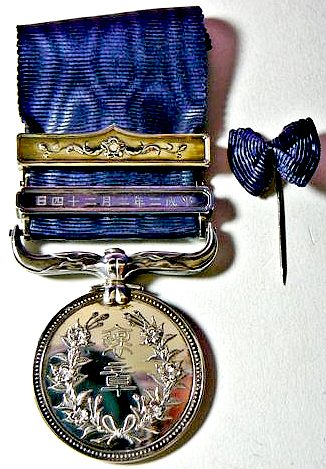 JAPAN - Medals of Honor (褒章 hōshō?) are a series of medals produced by the Government of Japan. They are awarded to individuals who have done meritorious deeds and also to those who have achieved excellence in their field of work. The Medals of Honor were established on December 7, 1881, and were first awarded in 1882. Several expansions and amendments have been made since then. The medal design for all six types are the same, bearing the stylized characters 褒章 on a gilt central disc surrounded by a silver ring of cherry blossoms on the obverse; only the colors of the ribbon differ to signify the category of service receiving recognition.

If for some reason an individual were to receive a second medal of the same ribbon colour, then a second medal is not issued but rather a new bar is added to their current medal. The Medals of Honor are awarded twice each year, on April 29 (the birthday of the Shōwa Emperor) and November 3 (the birthday of the Meiji Emperor). BLUE RIBBON - First awarded in 1882 to individuals who have made significant achievements in the areas of public welfare or public service, either by action or donation. WINNERS - Rokuro Ishikawa, Yasuhiro Fukushima, Masaru Ibuka, Kaoru Inoue, Kazuo Imai, Keiichi Ishizaka, Norio Ohga, Hiroko Sakai, Nobuchika Sugimura, Shoichiro Toyoda, Yoshikazu Yahiro, Gōgen Yamaguchi, Magokichi Yamaoka, Carlos Ghosn, Toshiko Satake (Satake Corporation), Abbas Kiarostami, Hiroyuki Ito, Atsuo Miyazaki.
THE BLUE MAX
The Pour le Mérite (Fr.: For Merit), known informally as the Blue Max (German: Blauer Max), was the German Kingdom of Prussia's highest order of merit. It was awarded strictly as a recognition of extraordinary personal achievement, rather than as a general marker of social status or a courtesy-honour, although certain restrictions of social class and military rank were applied. The award was given as both a military (1740–1918) and civil (1740–1810, after 1842 as a separate class) honour.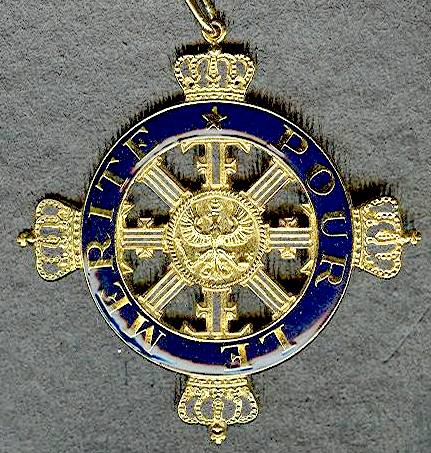 The Blue Max - Pour le Mérite - In 1842, King Frederick William IV of Prussia, acting on the advice of Alexander von Humboldt, founded a civil class of the order, the Order Pour le Mérite for Sciences and Arts (Orden Pour le Mérite für Wissenschaften und Künste), with the three sections: humanities, natural science and fine arts. Among the famous recipients of the civil class of the Pour le Mérite in the first group of awards in 1842 were Alexander von Humboldt, Carl Friedrich Gauss, Jakob Grimm, Felix Mendelssohn, Friedrich Wilhelm Joseph Schelling and August Wilhelm Schlegel. Foreign recipients in the "class of 1842" included François-René de Chateaubriand, Louis Daguerre, Michael Faraday, Jean Auguste Dominique Ingres and Franz Liszt.
In November 1918 the Kingdom of Prussia came to an end, and with it that state's sponsorship of the Pour le Mérite. However, unlike the military class of the order, the class of the order for achievements in the arts and sciences did not come to an end. The members re-established their order as an autonomous organization, with revised rules and processes for nomination. The awarding of new memberships resumed in 1923. New members of the revised included Albert Einstein (1923), Gerhart Hauptmann (1923), Richard Strauss (1924), Wilhelm Furtwängler (1929), Käthe Kollwitz (1929) the first female recipient of the honour, and Ernst Barlach (1933). Then came National Socialism in Germany (1933–45) to call a halt.

In 1952, with the assistance of then President of West Germany Theodor Heuss, the order was again re-established. This time as an independent organization with state recognition and the President of Germany as Protector of the Order. The revived civil order of the Pour le Mérite is awarded for achievements in the arts and sciences. Active membership is limited to 40 German citizens, ten each in the fields of humanities, natural science, and medicine and the arts. Honorary membership can be conferred on foreigners, again to the limit of 40.
OFFICIAL WORLD CUP ROUTES
Arabia - Jeddah to Dubai

Australia - Darwin to Adelaide

Brazil - Boa Vista to Rio de Janeiro

Canada - Vancouver to Quebec

China - Ai Hui Qu to Shenzen

Denmark - Skagen to Copenhagen

Egypt - Kings Valley Rally - Aswan to Alexandria

France - Calais to Toulon

Germany - Bremerhaven to Munich

India - Amritsar to Nagercoil

Italy - Turin to Reggio Calabria

Japan - Aomori to Kagoshima

Korean S. Smart City Rally - Seoul to Busan

New Zealand - Nelson to Invercargill

Nigeria - Maiduguri to Lagos

Norway -

Russia - Murmansk to Bolshoy Sochi

South Africa - Cape Town to Louis Trichardt

Spain - Girona to Huelva

Sweden - Karlsborg to Gothenburg

UK - John o'Groats to Lands End (Jogle)

USA - Los Angeles to New York
The Cannonball EV Run™ series is for battery or hydrogen fuel cell powered electric vehicles, or any Zero Emission Vehicle that is based on ordinary production vehicle running gear, that is capable of carrying at least one passenger. Hydrogen or other IC engined vehicles are eligible, so long as they are clean running.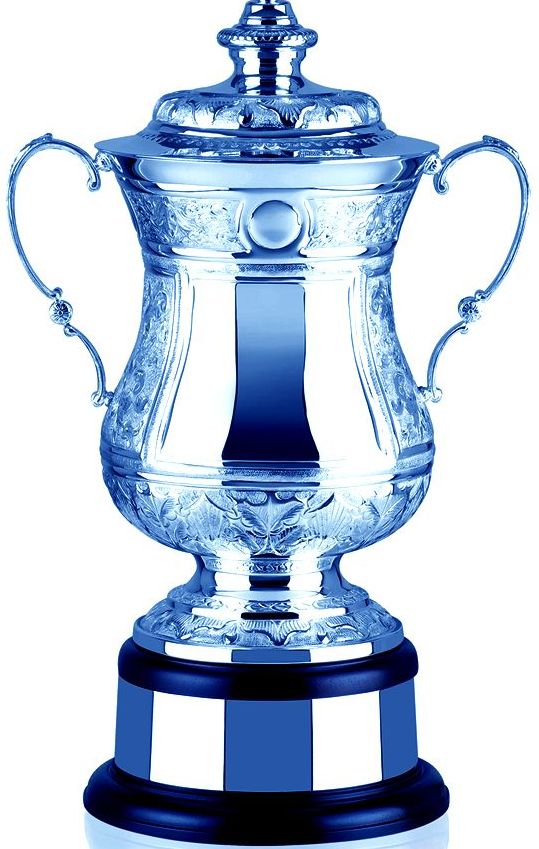 BLUE BIRD WORLD CUP™ TROPHY
The design of this magnificent trophy captures the free spirit of the blue bird in flight as depicted in our registered trade mark. Bluebird Marine Systems Ltd is donating this cup to the first series of events in recognition of the effort that a competitor will make in order to overcome some of the more arduous routes. The point scoring method used to calculate the winner of the outright Bluebird™ World Cup is a handicap system that rewards ingenuity and determination as much as technical achievement.
ABOUT MEDALS
A medal, or medallion, is, strictly speaking, a small, flat, and round (or, at times, oval) piece of metal that has been sculpted, molded, cast, struck, stamped, or some way marked with an insignia, portrait, or other artistic rendering. A medal may be awarded to a person or organization as a form of recognition for sporting, military, scientific, academic, or various other achievements. Military awards and decorations are more precise terms for certain types of state decoration. Medals may also be created for sale to commemorate particular individuals or events, or as works of artistic expression in their own right. In the past, medals commissioned for an individual, typically with his portrait, were often used as a form of diplomatic or personal gift, with no sense of being an award for the conduct of the recipient.

An artist who creates medals or medallions is called a "medallist" or "medalist" (in, respectively British English and American English). There are also devotional medals which may be worn for religious reasons. Medals have long been popular collectible items either as a variety of exonumia or of militaria. Medals may also be produced in a rectangular shape, though these would more correctly be described as a plaquette, and official awards such as military decorations are often in shapes such as crosses or stars, but are still loosely called "medals", as in the star-shaped American Medal of Honor.

In the proper use of the term, medallions are larger, starting at perhaps four inches across, and are, as such, usually too large to be worn very comfortably, though in colloquial use, "medallion" is sometimes improperly used to refer to a medal used as the pendant of a necklace (as in the medallion man fashion style of the 1960s and 1970s), or for other types of medals. Medallions may also be called "table medals" because they are too large to be worn and can only be displayed on a wall, table top, desk, or cabinet.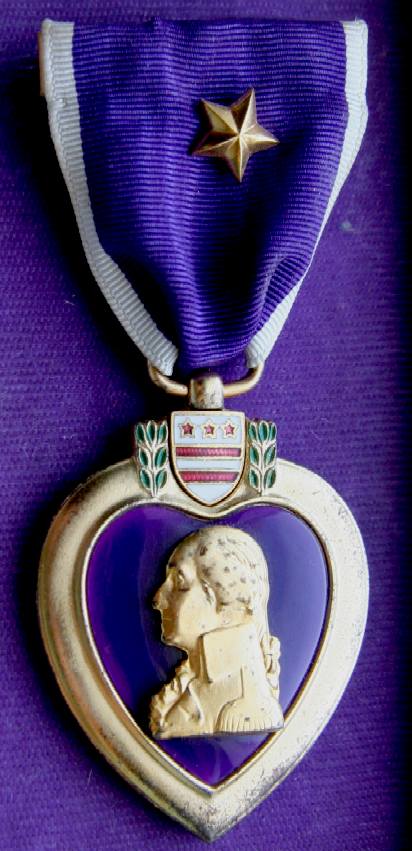 PURPLE HEART - The Purple Heart is a United States military decoration awarded in the name of the President to those wounded or killed, while serving, on or after April 5, 1917, with the U.S. military. With its forerunner, the Badge of Military Merit, which took the form of a heart made of purple cloth, the Purple Heart is the oldest military award still given to U.S. military members; the only earlier award being the obsolete Fidelity Medallion. The National Purple Heart Hall of Honor is located in New Windsor, New York.
DESIGN & MEDIUM

The main or front surface of a medal is termed the obverse, and may contain a portrait, pictorial scene, or other image along with an inscription. The reverse, or back surface of the medal, is not always used and may be left blank or may contain a secondary design. It is not uncommon to find only an artistic rendering on the obverse, while all details and other information for the medal are inscribed on the reverse. The rim is found only occasionally employed to display an inscription such as a motto, privy mark, engraver symbol, assayer's marking, or a series number.

Medals that are intended to be hung from a ribbon also include a small suspension piece at the crest with which to loop a suspension ring through. It is through the ring that a ribbon is run or folded so the medal may hang pendent. Medals pinned to the breast use only a small cut of ribbon that is attached to a top bar where the brooch pin is affixed. Top bars may be hidden under the ribbon so they are not visible, be a plain device from which the ribbon attaches, or may even be decorative to complement the design on the medal. Some top bars are elaborate and contain a whole design unto themselves.

Bronze has been the most common material employed for medals, due to its fair price range, durability, ease with which to work when casting, and the ample availability However, a wide range of other media have also been used. Rarer metals have been employed, such as silver, platinum, and gold, when wishing to add value beyond the mere artistic depiction, as well as base metals and alloys such as copper, brass, iron, aluminum, lead, zinc, nickel, and pewter. Medals that are made with inexpensive material might be gilded, silver plated, chased, or finished in a variety of other ways to improve their appearance. Medals have also been made of rock, gemstone, ivory, glass, porcelain, terra cotta, coal, wood, paper, enamel, lacquerware, and plastics.
GOLD MEDALS
A gold medal is the highest medal awarded for highest achievement in a non-military field. Its name derives from the use of at least a fraction of gold in form of plating or alloying in its manufacture. The award concept arose in the military, initially by simple recognition of military rank, and later by decorations for admission to military orders dating back to medieval times.

Since the eighteenth century, gold medals have been awarded in the arts, for example, by the Royal Danish Academy, usually as a symbol of an award to give an outstanding student some financial freedom. Others offer only the prestige of the award. Many organizations now award gold medals either annually or extraordinarily, including UNESCO and various academic societies.

While most gold medals are solid gold, notable exceptions are gold-plated and often silver-gilt, like those of the Olympic Games, the Lorentz Medal, the United States Congressional Gold Medal and the Nobel Prize medal. Nobel Prize medals consist of 18 carat green gold plated with 24 carat gold. Before 1980 they were struck in 23 carat gold.
OLYMPICS - Gold, Silver and Bronze medals from the 2013 London games. These beautiful medals are substantial symbols of championship performances. The celebration of championship performances are played out on the awards stand as the gold medal winner's national anthem is heard. The medals gleam in the light as they are ceremoniously placed around the necks of the medalists.
Olympic medals metal are not what most casual Olympic Games viewers would expect. The Olympic Committee in the host city would quickly be bankrupted if those large, heavy gold medals were pure (24k), or 14, or 18 karat gold. The medal was designed by David Watkins, a well known British artist. Silver medals are sterling (92.5 %) silver. The design is the same on all the medals. The bronze medals actually are bronze, an alloy usually made of 90% copper and 10% tin. The tin adds hardness to the copper, as well as imparting the bronze color. Olympic medals awarded at the 2012 London games are 85mm in diameter, 7mm thick, and weigh between 375 and 400 grams, with the event engraved on the rim.

Olympic medals, whether plated or solid metal are capable of accepting a brilliant finish. If they were coins, it would be referred to as a "proof" quality finish. The 2012 medals were produced by the Royal Mint in Wales.



MEDAL OF HONOR (CONGRESSIONAL)

The Medal of Honor is the United States of America's highest military honor, awarded for personal acts of valor above and beyond the call of duty. The medal is awarded by the President of the United States in the name of the U.S. Congress to U.S. military personnel only. There are three versions of the medal, one for the Army, one for the Navy, and one for the Air Force. Personnel of the Marine Corps and Coast Guard receive the Navy version.

The Medal of Honor was created in 1861, early in the American Civil War, to give recognition to men who distinguished themselves "conspicuously by gallantry and intrepidity" in combat with an enemy of the United States. There have been 3,469 Medals of Honor awarded to the nation's soldiers, sailors, airmen, Marines, and coast guardsmen since the decoration's creation, with more than half of them presented for actions during the four years of the Civil War.

The Medal of Honor is usually presented by the President in a formal ceremony at the White House, intended to represent the gratitude of the American people, with posthumous presentations made to the primary next of kin. In 1990, Congress designated March 25 annually as "National Medal of Honor Day". Due to its prestige and status, the Medal of Honor is afforded special protection under U.S. law against any unauthorized adornment, sale, or manufacture, which includes any associated ribbon or badge.

Because the medal is presented "in the name of Congress", it is often erroneously referred to as the Congressional Medal of Honor; however, the official name is simply the "Medal of Honor"

The US Medal of Honour (Congressional), Navy version, this one awarded to Weedon E Osborne - and later confiscated by the FBI when someone tried to sell it. Does it then go back to the next of kin? The design in reminiscent of the Victoria Cross. The medal is hung on a blue ribbon.
MOH - LEGAL ISSUES
The Supreme Court's decision did not specifically address the constitutionality of the older portion of the statute which prohibits the unauthorized wearing, manufacturing, or sale of military medals or decorations. Under the law, the unauthorized wearing, manufacturing, or sale of the Medal of Honor is punishable by a fine of up to $100,000 and imprisonment of up to one year. In the UK false claims to ownership of medals for profit (difficult to understand) could be prosecuted under the Fraud Act 2006. Presumably such action would apply to inappropriate use of a Victoria Cross. But, in England it is legal to sell such medal and/or produce replicas - provided they are not masqueraded as being real.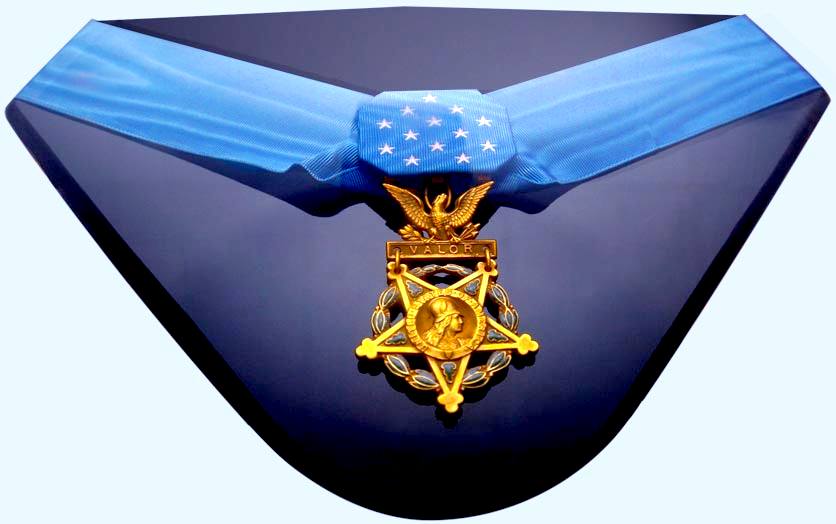 The US Medal of Honor, Army issue. Note the exquisite blue ribbon
WEEDON EDWARD OSBOURNE
Weedon Edward Osborne (November 13, 1892 – June 6, 1918) was a United States Navy officer and a recipient of America's highest military decoration - the Medal of Honor - for his actions in World War I. He is one of only three dental officers to have received the medal, the others being Alexander Gordon Lyle and Ben L. Salomon

Rank and organization: Lieutenant, Junior Grade, (Dental Corps), U.S. Navy. Born: 13 November 1892, Chicago, Ill. Appointed from: Illinois.

CITATION: For extraordinary heroism while attached to the 6th Regiment, U.S. Marines, in actual conflict with the enemy and under fire during the advance on Bouresche, France, on 6 June 1918. In the hottest of the fighting when the marines made their famous advance on Bouresche at the southern edge of Belleau Wood, Lt (j.g.). Osborne threw himself zealously into the work of rescuing the wounded. Extremely courageous in the performance of this perilous task, he was killed while carrying a wounded officer to a place of safety.

Osborne's Medal of Honor, a rare "Tiffany Cross" version, is held by the U.S. Navy Museum in Washington, D.C. The museum acquired the medal in 2003 from the Federal Bureau of Investigation, which had confiscated it the year before after someone had attempted to sell the medal in South Carolina. It is illegal to sell a Medal of Honor within the United States.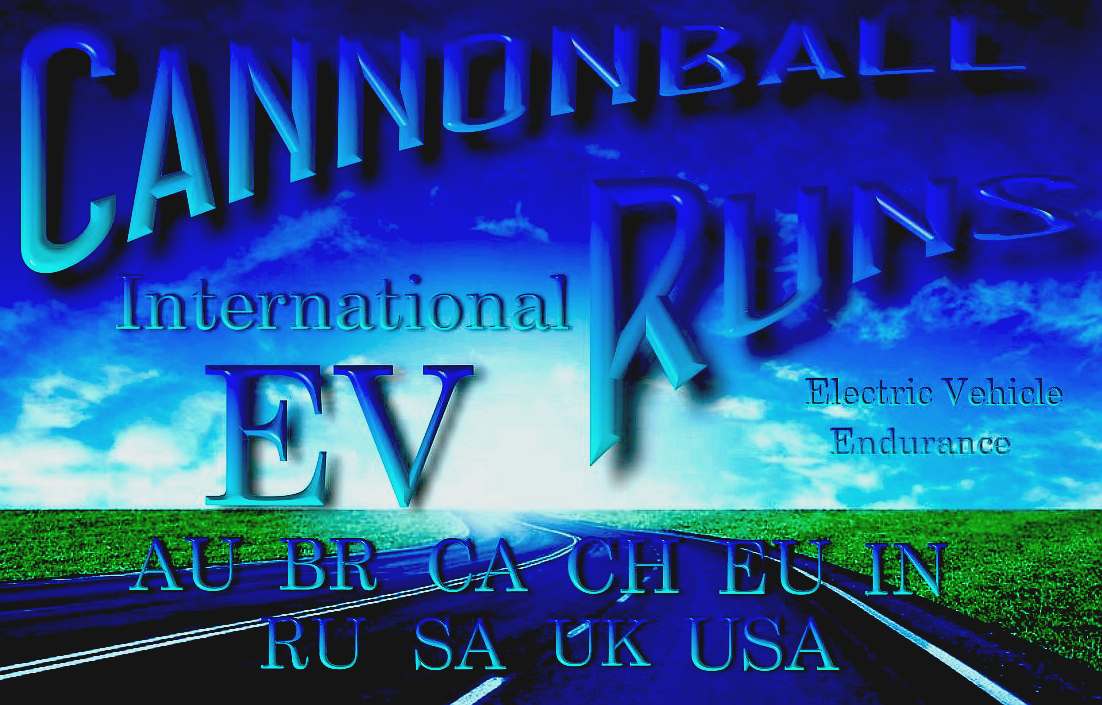 LINKS:
Wikipedia Medals_of_Honor_Japan
Wikipedia List_of_awareness_ribbons
Wikipedia FIFA_World_Cup_Trophy
Wikipedia Harley_J._Earl_Trophy
Wikipedia Blue Max Pour le Merite
Royal Mint Museum collection highlights medals
http://www.cmohs.org/
http://en.wikipedia.org/wiki/Medal_of_Honor
http://nobelprize.org/nobel/medals
http://en.wikipedia.org/wiki/Medal
http://en.wikipedia.org/wiki/Pour_le_M%C3%A9rite
http://www.imperialjapanmedalsandbadges.com/meritmedals.html
http://www.mint.go.jp/eng/operations/order/medalsofhonor.html
http://en.wikipedia.org/wiki/Medals_of_Honor_%28Japan%29
http://en.wikipedia.org/wiki/List_of_awareness_ribbons
http://en.wikipedia.org/wiki/Webb_Ellis_Cup
http://en.wikipedia.org/wiki/FIFA_World_Cup_Trophy
http://en.wikipedia.org/wiki/Harley_J._Earl_Trophy
http://en.wikipedia.org/wiki/America%27s_Cup
http://en.wikipedia.org/wiki/Borg-Warner_Trophy
http://en.wikipedia.org/wiki/Trophy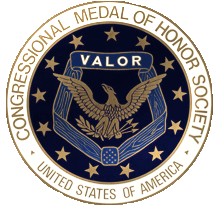 A - Z OF WORLD FAMOUS RACING CIRCUITS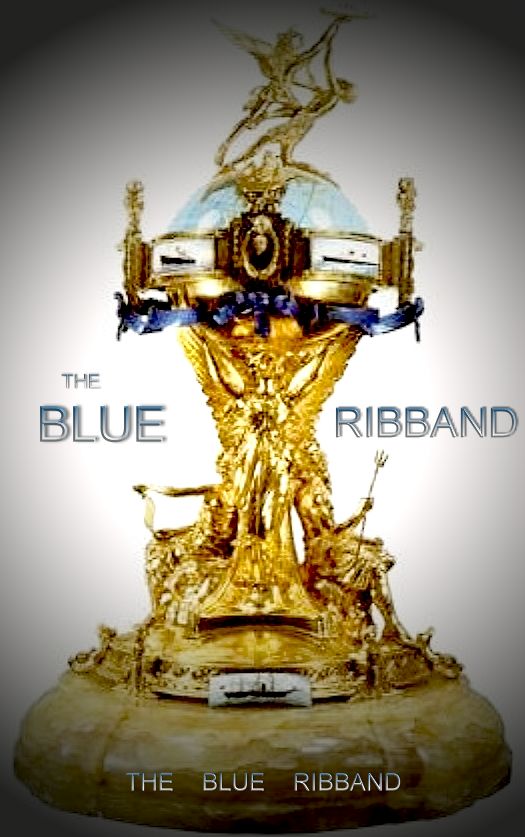 This is the marine Blue Ribband trophy that is awarded to the fastest passenger ship to cross the Atlantic. It stands four feet in height. The trophy is also known as the Hales Trophy in recognition of the British politician who commissioned the artwork. There are two replicas in existence, each costing $40,000 to produce. This trophy should not be confused with the automotive award seen at the head of this page.