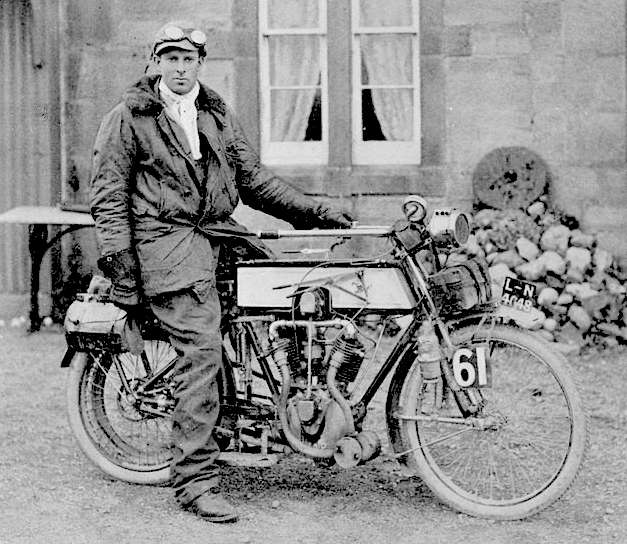 Anthony "Tony" Frederick Wilding (31 October 1883 – 9 May 1915) was a champion tennis player from Christchurch, New Zealand and a soldier killed in action during World War I. Tony was a keen motorcycle (with sidecar) rider with many long trips in Europe, New Zealand and America. In 1908 he won a gold medal in a reliability trial from Land's End to John o' Groats. Several "mighty rides" (Myers) in Europe in 1910 included London to Lake Geneva and back, some 3,000 miles (4,800 km), including 350 miles (560 km) from Évian-les-Bains to Paris in one day. He ventured into places with poor roads like Hungary and Serbia. He frequently used a motorcycle to travel between tennis tournaments on the European continent.
Over the past few years a new kind of event has grown in popularity. Many individuals have tried to run their EVs along the public highways to establish road trip endurance records.
The Cannonball International ZEV Run™ (CEVR) series are events that we believe will achieve international status and recognition for competitors who stay with the rules (click on picture above). It's ironic that for the original runs competitors used some serious gas guzzling machinery, but now it's role reversal time.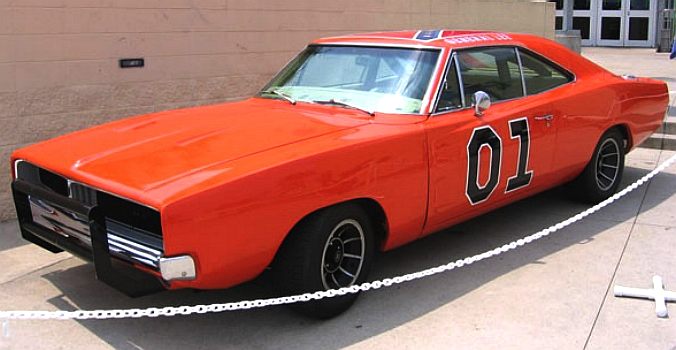 Serious gas guzzlers like this Dodge Charger were once the holy grail for Cannonballers, choking the air as they raced from coast to coast - not anymore. Now the quest is for clean running efficiency within the speed limits. Oh come on, where's the fun in that? Well, it's still a race, but it's a technology race against charge times and poor capacities.
SPEEDSTERS v ENDURANCE
Road velocity is not the main issue, it is energy-endurance and the speed of recharging that will see one team beat another across a specified route. At the moment there is no chain of fast service points for electric, or other zero emission vehicles in many of the regions identified as do-able, other than mains electricity charging. This is not really the fault of most governments, who now embrace the idea of sustainable motoring, except that they do not have any plan themselves as to implementation.
The problem is that motor manufacturers are not energy companies, and energy companies are not motor manufacturers. For this reason there is no international steerage; no coordinated plan to get things moving - leaving many heads of state bewildered.
Instead there are hundreds of individual companies around the world all promoting their brand of EV, with the energy companies sitting on the sidelines waiting for the dust to settle. This is hardly surprising where a windfall costs nothing - and times are hard.
We suspect that this is one of the reasons that so many individuals are attempting to prove that an EV can make it across vast distances in similar time to petrol vehicles. In addition to health and global warming issues, EVs would wipe the floor with IC engined cars on cost if there was an infrastructure to support them. Bravo then to all those who have already, and wish to blaze a trail in the future.
MEDIA REPORTS IC EVENTS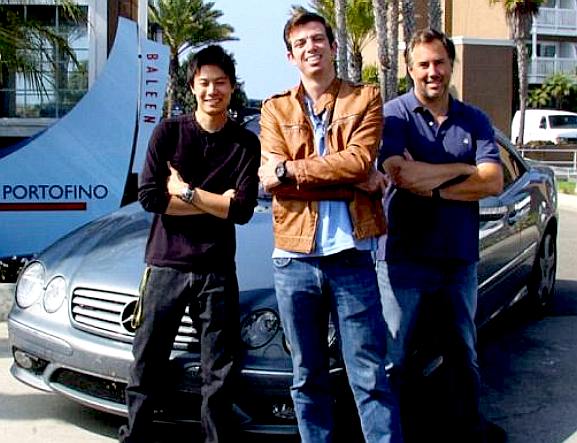 Ed Bolian (driver centre), Dan Huang (left) and Dave Black (right) stand in front of their Mercedes CL record holding petrol powered vehicle - nice one. Though, even with petrol as the energy source, extra storage capacity was needed.
DAILY MAIL OCTOBER 2013
An Atlanta man shattered the record for fastest drive from New York City to Los Angeles last Saturday (19-10-13) by making the transcontinental trip in 28 hours 50 minutes.

Ed Bolian spent years outfitting a 2004 Mercedes with expensive gadgetry, spare gas tanks, and, of course, bedpans and finally realized his dream October 20. That smashes the record set in 2006 by an unbelievable two hours.

But his attempt is sure to gather controversy as it involved traveling at an average of 98mph, well in excess of many speed limits. He also used a series of gadgets to avoid getting caught for speeding.

The Lamborghini dealership sales director is hesitant to show off the proof, but according to Jalopnik, the 27-year-old has GPS data tracking every inch of the journey he took with a co-pilot and passenger starting October 19.

'I've wanted to break the record since I was 18 years old,' Bolian said, explaining away the trip's huge costs and many risks.

He began putting all the pieces together years ago, first by buying a used CL-Class blue Mercedes from a man in Palm Beach, Florida. 'I thought about a Ferrari 612,' said Ed. 'But gas mileage would've been bad. A Bentley would've been perfect, but you'd want the V8 for gas mileage, and those are still way too expensive.'

He chose the Mercedes for its fuel economizing V8 engine and active suspension he needed in order to pack in as much fuel as possible.

Bolian's whip boasts two additional 22-gallon gas tanks, which add hundreds of pounds of fuel but allow the car to travel 800 miles between stops.

But breaking the record was going to take more than just a souped up Mercedes. To ensure a clear run, free from traffic jams and, perhaps more importantly, traffic cops Bolian, also invested in a police scanner, two GPS units that relay traffic information and iPhone apps such as Trapster. The car was also fitted with two laser jammers and had a truck mounted antenna.

Mercedes CL modifications included some serious anti speed trapping instruments and dual long-range fuel tanks in the boot

Friends were enlisted to travel along the route, about 150 miles ahead of the Mercedes, and check for any potential obstacles.

Bolian decided to take the classic route pioneered by the illegal street racers of the 1970s' Cannonball Baker Sea-To-Shining Sea Memorial Trophy Dash of the 1970s AKA Cannonball Run: Red Ball Garage in Midtown Manhattan to the Portofino Hotel in Redondo Beach, California.

'Every year, Alex hears about five to seven attempts to break the record,' said E. 'None of the challengers come close.'

But by far the most difficult part of Bolian's endeavor, he said, was finding people to make the trip with him. With only two weeks until he was scheduled to go, nobody had agreed to take on the challenge with him. Then, after trawling deep within his Facebook friends, he found Dan Huang.

'I got a Facebook message from Ed,' Huang told Jalopnik, 'He didn't even have my cell phone number.'

Along with a friend of Bolian's, David Black, as co-pilot, the three of them piled into the Mercedes on October 19. Things did not go well initially. 'It took us 15 minutes to get out of Manhattan,' Ed said.

But then things quickly picked up. They had friends drive ahead and check for cops and obstacles. New Jersey passed, then Pennsylvania, then Ohio. They kept a breakneck pace. 'I don't even remember Indiana,' Ed said.

By the time they got to Texas, they were making such good time that they could have gone the speed limit the rest of the way and still tied Roy's time. Instead, they pushed it. And on October 20, they reached Redondo Beach, California's Portofino Hotel.

They'd beat the record by an astonishing two hours and gone down in history with the fastest Cannonball run drive in history.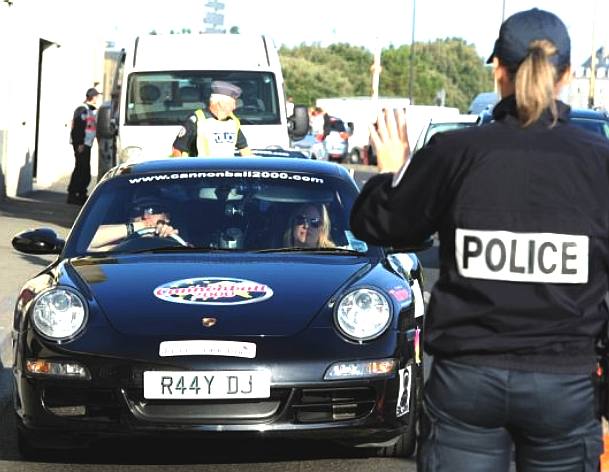 SEPTEMBER 2013 Two speedsters were hauled in during the notorious Cannonball Run and lost their licenses as French police clamped down on speeding and drink driving in the London to Paris race. Police stopped the drivers north of French city of Rennes after they were clocked driving at speeds of up to 99mph on a four-lane highway with a 68mph speed limit.
Their licences were confiscated on the second day of racing. Three other drivers were fined.
Fifty participants in crazy costumes and decked out super-motors took off yesterday for the annual Cannonball 2000, a 2,000 mile trek that takes drivers through five European cities. Drivers travel from London to Barcelona and make their way through Monte Carlo and Milan before crossing the finish line on Paris' Champs Elysees on Sunday.
Cannonball 2000 Founder Gary Redman describes the cross-continent drive as a 'pulsating five-day party with like minded people looking to enjoy some of the most amazing cities in the world'. The event sponsors children's charity Dreams come True and donates a percentage of their proceeds to the charity which helps fulfill the wishes of terminally ill children. Well known participants included ex-boxer Ricky Hatton, Coronation Street actor Ryan Thomas and Emmerdale star Kevin Fletcher.
The Gumball 3000 is a rival event is based on the same principle as Cannonball 2000, each competitor pays £28,000 to enter the Gumball 3000 which involves driving 3,000 miles from London to Athens and back, across Europe on public roads.
FIRST WORLD EV ROAD (and ocean) TRIP - 24 Sept 2012
PARIS – After eight months, two French engineers completed the first world tour with a standard electric car, a 25,000 km-odyssey (about 15,500 miles) across 17 countries on the 24th of September 2012.

The purpose of the 230 day epic Electric Odyssey was to promote electric mobility to the public at large and to turn people's skepticism into acceptance. "If we can do a world tour in a standard electric car, you can use it for your daily rides," declared crew members Antonin Guy and Xavier Degon.

The two globe-trotters left the French city of Strasbourg on Feb. 11 2012 aboard a C-Zero, a Citroen-branded Mitsubishi iMiEV that utilizes high energy density lithium-ion batteries.

The C-Zero has a 90-mile autonomy. The complete charge of the Lithium-ion battery is possible in 6 hours using a classic 220V electric outlet. When using a quick charge station (50kW under 400V), 80 percent of the battery can be charged in 30 minutes.

Guy and Degon said that the apparent strain of stopping approximately every 60 miles (100 kms) to charge the car was in fact an opportunity to meet up with the inhabitants of the 17 countries crossed as each day several charging points had to be found, which in the end meant 300 charging points and as many encounters.

The duo said they had a good surprise in Japan. The country is indeed equipped with quick plug-in stations, 20 minutes instead of six hours in average. However, they said they faced the greatest difficulties in the U.S. where it would take 14 hours to recharge the car.
CONVERSION - MODIFICATION LINES MARCH 12 2012
Every age has its own means of transport and the twenty-first century seems to be an electric car. At least according to Citroen, which is undertaking an enterprise which will go into history: the first around the world aboard a zero emissions vehicle standard, the Citroen C-Zero.

"Electric Odyssey", this is the name of the operation to promote the mobility and the small electric city car – entry into the market last year – leading the audacious enterprise.

The protagonists

"If an electric car can travel around the world, then anyone can use it to go grocery shopping" this is the thought of one of two drivers who are undertaking the journey, his name is Xavier Degon, 27 years old and is a engineer at EDF. At his side there Antonin Guy, 28, a consultant at Capgemini Consulting.

The numbers

The company began a few days ago, on 11 February and will last about 200 days. Started from Strasbourg, the C-Zero will travel 25,000 kilometers across 17 countries. The Rocky Mountains, the heart of Japan, the Silk Road between China and Kazakhstan and Central Europe are only some of the highlights of his trip. As regards supplies were provided 300 recharges for a total of about 250 Euro of electric current.

Citroen C-Zero

The Citroen C-Zero is equipped with a magnet motor of 64 HP (47 kW) located at the rear (with rear wheel drive) and powered by lithium-ion battery (88 cells) device positioned at the center of the car. A full recharge takes about 6 hours through a 220 V. The maximum speed that can reach is 130 km/h while the maximum range is about 150 km at an average speed of 70 km/h.

At the time of the Electric Odyssey project launch, the estimated total cost of the world tour was between 250 euros ($325) and 500 euros ($650) of electricity, 5 to 7 times cheaper than the same trip using gasoline, engineers said.
THE CHARGING POINT JULY 26 2012

BLOG COMMENT

In case you guys missed it, there's a Tesla Roadster owner, who'd been waiting for his Model S delivery to do a round the world trip. But when he heard about a bunch of guys doing it in a C-Zero, he decided to beat them to it. I think he just about caught up with them, as both cars are now in China. Just thought it was worth mentioning. http://www.1e-race.com/
CANNONBALL RUN EUROPE 2008
With only an ECU and suspension upgrade, the five-year-old, second-hand smart for two BRABUS of David Ward and Adrian Hull took victory in the Cannonball Run – a 3,000 mile dash across Europe inspired by the famous 80s film starring Burt Reynolds and Jackie Chan.

Contrary to popular belief, this Cannonball Run is not an illegal race which spans thousands of miles across numerous state and/or country borders. Instead it is a road rally where an average speed, in this case 61mph, is the target over a predetermined route. Despite the participation of numerous pavement scorching six-figure supercars, who gets there first is not the objective.

As first time participants, the run started in Sandown Park into France, Portugal and Spain with a finish in Brighton. Making David and Adrian's victory even more miraculous was the fact that they were the only entrants without an in-car satellite navigation system, preferring a traditional European road map instead.
HOW THEY DID IT

Even though the other cars in the race were much faster, the Smart made the trek at an average of 61 mph by cutting down on stops. As one of the driver's states, it was the car's fuel economy and not its speed that allowed it to win the iconic endurance race:

The downfall of the bigger cars was that they were forced to stop so often, so while they kept overtaking us, we eventually went past them at the next petrol station when they needed to fill up again," said David…. "We kept at a decent speed and still averaged around 35 miles per gallon." This gives them 700 miles per tankful.

We're sure you can sympathize with this, as you find yourself passed by speeders on long road trips, only to pass them again as they fill up while you can cruise past fuel efficiently. Given the Smart's success we wonder if you'll begin to see more people competing in fuel efficient cars in future Cannonball runs, such as the EV formula.
MEDIA REPORT EV EVENTS
MEN'S HEALTH FORD FOCUS EV CHALLENGE 2012
Men's Health Reinvents the American Road Trip: It's not exactly the Cannonball Run, but it's for a good cause.

Team of drivers-including IndyCar and American Le Mans racer Martin Plowman and Top Gear USA host Tanner Foust-will establish coast-to-coast "speed" record in a 2012 Ford Focus Electric.

OBJECTIVE: TO GO FASTER BY SLOWING DOWN

NEW YORK (BUSINESS WIRE) - Men's Health, the world's largest men's magazine, announced today the launch of its 2012 Electric Car Challenge, a cross-country adventure designed to help maximize the potential of electric vehicles (EV's), create a healthier, more satisfying, and more exciting road trip experience, and raise money for an important cause. The cross-country course will begin in New York City and end in Los Angeles.

"We created the Electric Car Challenge to demonstrate a more eco-friendly approach to the road trip that will have a positive effect on you, your wallet, and the environment."

The team will leave the New York International Auto Show on April 11 and will stop between 40 and 55 times to recharge the battery of its 2012 Ford Focus Electric, a new electric car that recently earned a 110 mile-per-gallon equivalent (MPGe) rating from the EPA for city driving. This makes it the most efficient 5-seater in the U.S. With each charging stop taking between 2 and 4 hours-and with the drivers progressing in shifts around the clock-the team expects to arrive at Santa Monica Pier in Los Angeles 10 to 12 days after the Challenge commences, possibly arriving on Earth Day, April 22. At that point, they will establish the record for the fastest coast-to-coast drive in an electric car, creating a target for others to beat as battery technology improves and charging options expand.

"With gas prices expected to reach nearly $5 per gallon this summer, the Great American Road Trip is poised for a Great American Renaissance," said David Zinczenko, editor-in-chief of Men's Health. "We created the Electric Car Challenge to demonstrate a more eco-friendly approach to the road trip that will have a positive effect on you, your wallet, and the environment."

Though it will use public and commercial charging stations, the team will crowd-source most of the trip, inviting readers and supporters to help make the record possible by offering their 240v, 40-amp outlets, such as those typically installed for clothes dryers. To fulfill the mission of reinventing the American road trip, the drivers will fill the charging periods with exciting, life-changing experiences that you can't enjoy when racing down the highway-they'll be engaged adventures, exercise and fitness challenges, culinary pursuits, environmental missions, and more. All of these will benefit readers thanks to a steady stream of surprising tips and advice across a wide range of subjects. The team will provide updates at menshealth.com/ElectrifyUS, and via Twitter at @MHTechLust (#ElectrifyUS). The team will check in with FourSquare at every stop, and followers are encouraged to come out to meet the team, work out with them, and perhaps score some t-shirts.

According to Eric Adams, a team member and senior editor at the magazine, one of the hardest parts of planning the challenge was simply convincing Ford to loan Men's Health the car for this unorthodox test. "The Focus Electric is designed for urban commuting, so we're asking the car to do something it wasn't intended to do," said Adams, who will be the first journalist to drive the Focus Electric. "We commend Ford for their willingness to put their faith in our planning skills and efficient driving."

In addition to Adams, the team consists-at varying points during the drive-of X-Games gold medalist Tanner Foust, co-host of Top Gear USA; IndyCar and American Le Mans racer Martin Plowman; and former Navy SEAL commander Coleman Ruiz, executive director of Carry the Load, a foundation that supports the families of U.S. soldiers who've been killed in combat. The team will raise money for the foundation throughout the drive. Also on board for several days each, to provide different perspectives on the road-trip experience: Men's Health Girl Next Door columnist Naomi Piercey, Miss Indiana 2009 Nicole Pollard; and Carry the Load spokesmodel Katie Cwynar.

The team's route-extending to Pittsburgh, Indianapolis, St. Louis, Oklahoma City, Amarillo, Albuquerque, Flagstaff, and Los Angeles, and all points in between-will maximize driving efficiency. While this is a "speed record," no speed limits will be broken, since high speed taxes the battery. The car will mostly be off-highway in order to extend its range and offer better experiences for the team. For safety and practicality reasons, the drivers will have a Ford F-150 EcoBoost support vehicle, which will permit teams to proceed ahead of the Focus to help ensure all the drivers receive full night's sleep daily. The trip will be analyzed and rendered carbon-neutral using ignition's iSES™ sustainability program, via offset donations provided by Carbonfund.org.

Ultimately, the team's true goal is simply to have fun. "We want to see what kind of great experiences we can stitch together while our car is charging," Adams notes. "It's not a fair challenge, of course-the infrastructure for fast, easy charging doesn't exist yet. But that's why we're doing it. If the infrastructure was there, what fun would that be?"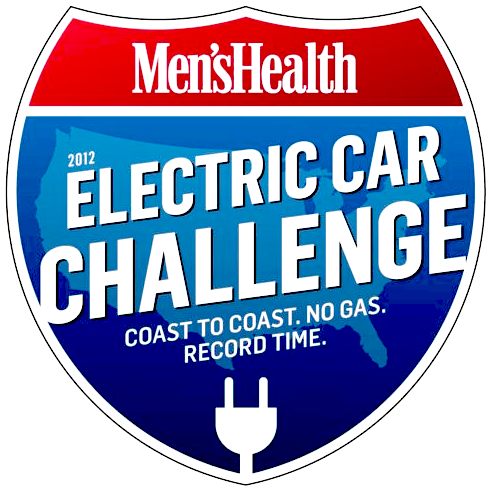 ABOUT MEN'S HEALTH

Men's Health is the go-to source for men seeking the latest information and expert advice in their pursuit of a healthy and active lifestyle. Published 10 times a year in the U.S. by Rodale, Men's Health is the best-selling men's magazine on newsstands and provides its 12 million readers with up-to-the-minute information on health, fitness, fashion, nutrition, relationships, travel, technology and finance. Men's Health is the largest men's lifestyle magazine brand in the world, offering 40 global editions, a host of smartphone apps, as well as branded books, eBooks and microsites. The magazine has garnered numerous industry accolades, winning National Magazine Awards in the general excellence and personal service categories as well as being deemed by Media Industry Newsletter as the "#1 Most Notable Magazine Launch of the Last 25 Years." Men's Health has also appeared on Advertising Age's "A List" and Adweek's "Hot List." For up-to-date news from Men's Health, visit www.menshealth.com, and get instant updates on Twitter (@MensHealthMag) and Facebook (Men's Health).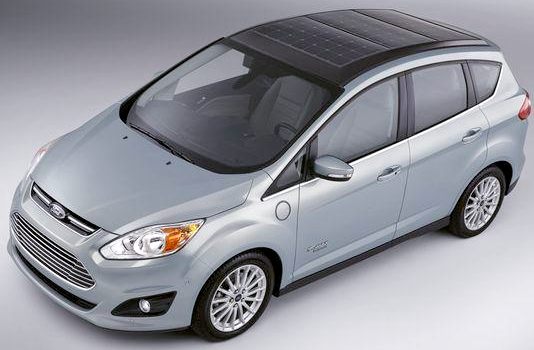 FORD FOCUS EV
The Ford Focus Electric started sales on the U.S. East and West Coasts in November 2011, though won't be available nationwide until September 2012. Ford, which is base-pricing the car at $39,200 before the $7,500 federal tax credit, has said the car can go as far as 100 miles on a single charge.
CONTACTS

For Men's Health
Kate Bittman, 212.808.1676
Kate.Bittman@rodale.com
Emily Weber, 212.297.1525
Emily.Weber@rodale.com
Kateri Benjamin, 212.573.0510
Kateri.Benjamin@rodale.com
IRELAND SEPTEMBER 9 2011
The Nissan LEAF, the first electric car to ever enter a Cannonball Run anywhere on the globe, has successfully completed a 900km tour of Ireland's roads this past weekend, showing how it can hold its own against a slew of supercar heavy hitters such as the Porsche Cayman, Ferraris and Lamborghinis, as well as glamorous Bentley and Aston Martin models.

While Ireland braced itself for the tail of Hurricane Katia to unleash heavy winds on the island in the early hours of this morning, a different type of thunderous roar could be heard as the 150 supercars weaved through winding Irish country roads and motorways yesterday evening before they neared the completion of the 2011 Cannonball Run in Kilkenny City.

The three-day tour saw cars traversing 14 counties, all in aid of Barretstown Camp in Co Kildare. One car glistened above the rest, however, as it was the all-electric Nissan LEAF, which completed the 900km trek noiselessly and by charging its battery up in different locations along the route.

ESB ecars has hailed the electric drive a success, saying the three-day tour demonstrates that driving an electric car around Ireland is possible by using the charging infrastructure already in place.

Some other quirky cars that revved up for Cannonball 2011 included the SLR McLaren 722, an NYPD police car, German Autobahn Polizei and the Dodge Charger - General Lee's car from the Dukes of Hazzard.

ESB ecars, a sponsor of the event, powered the Nissan LEAF car by plugging into charge points along the route in places such as Monasterevin, Kilkenny, Dungarvan, Galway, Limerick and Athlone. Overnight charging took place in Cork and Westport.

The Cannonball Run, in aid of Barretstown, has raised more that €235,000 over the past two years to help rebuild the lives of children with cancer. More than 150 supercars took part and an estimated 100,000 spectators lined the streets.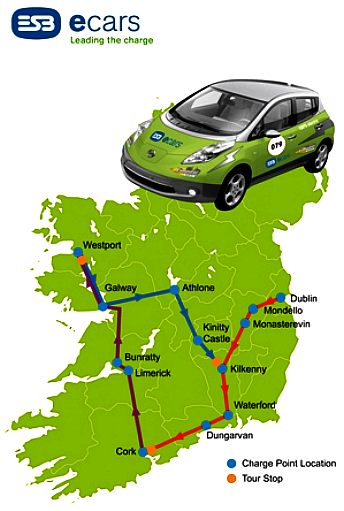 E-CAR CHARGE POINTS ACROSS IRELAND

ESB ecars and Topaz launched a fast and standard charge point in Topaz Athlone as part of the ESB nationwide infrastructure rollout.

The Nissan LEAF stopped in Topaz Athlone to fast charge for the final time before reaching the finish line in Kilkenny. ESB says Athlone is a pivotal location for fast charging as it enables electric car motorists to travel east-west and north-south. Cannonball supercars were also on display at the event.

"We are delighted to have been involved in this action-packed three-day event to raise funds and awareness for Barretstown. There was overwhelming support from the general public for this worthy cause and indeed for the electric car as it travelled around the country. We are thrilled to have successfully completed the Cannonball Run and have the opportunity to showcase the full scope of the electric car on Irish roads," said Paul Mulvaney, managing director, ESB ecars.
Event vehicles on the road and the ESB team with their Nissan Leaf
ROUTE - CHARGE POINTS & TOUR STOPS
Start line: 10am, Merrion Square
Tour stop in Mondello, 11am
Fast charge: Monasterevin, Kilkenny
Tour stop Waterford, 2.30pm
Fast charge: Dungarvan
Tour stop Cork, 7pm
Overnight charge in Cork
Saturday, 10 September
Depart Cork and fast charge in Limerick
Tour stop in Bunratty, 12-2.30pm
Fast charge in Galway
Tour stop Westport, 6.30pm
Overnight charge in Westport
Sunday, 11 September
Depart Westport and fast charge in Galway
Launch of fast charge point in Topaz Athlone, 12pm
Tour stop and charge in Kinnitty, 1.30pm
Finish line: Kilkenny, 5pm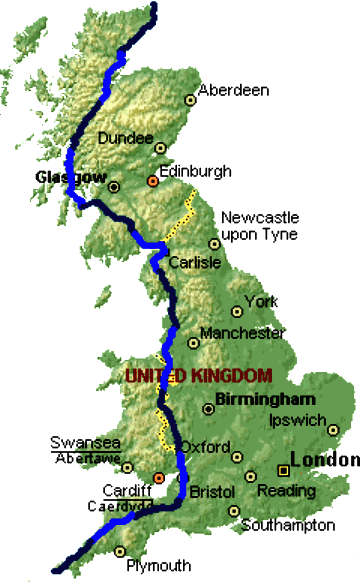 The international series of 'Cannonball EV Run' events are on the increase. Soon, you'll be able to enter an event almost locally. Every event will send a message to politicians and manufacturers around the world that EVs are here to stay. They'd better start taking them seriously.
CANNONBALL INTERNATIONAL OFFICIAL ROUTES
The Cannonball EV Run™ series is for battery or hydrogen fuel cell powered electric vehicles that are based on ordinary production vehicle running gear and must be capable of carrying a passenger. They may be solar assisted, provided that the solar panel area does not exceed four square meters - a rule that may be relaxed as we learn from experience.
These rules are designed to promote the development of an international EV infrastructure, as a means of accelerating the transition from IC engines to clean electric motors, especially in countries that do not have abundant sunshine. The Cannonball EV series should not be confused with solar powered events such as the World Solar Challenge, though much can be learned from the history of that event, which has now exceeded the target performance and is more restricted by the national speed limit of 81mph, recently raised from 68 mph in part due to the WSC revelations.
The Ecostar DC50 is a contender that holds the potential to change the rules of this particular ballgame. For starters it has solar panels to charge it's battery cartridge - giving between 100-200 free motoring miles a week. Then it can swap its own battery with built in loaders - making it the fastest charging car in the world potentially. Conventional fast charging is also on the menu, but with instant cartridge exchanges and the load leveling that provides for electricity generators - who might now want to look at service stations - it's downhill all the way to sustainable motoring, politics willing. A British team is looking for sponsorship for an event in 2015.
ENERGY COMPANIES
ENERGY GENERATING-DISTRIBUTION UTILITIES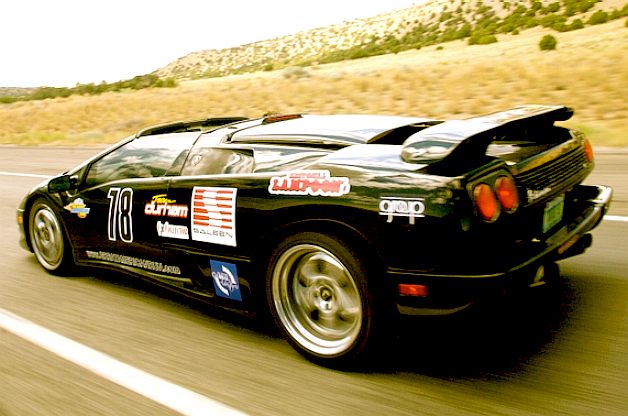 Petrol-heads making the 2,600-mile Great American Run through the West will be worrying most about avoiding smokies and finding a bathroom before their bladders burst. The size of their carbon footprint was far from their thoughts. The 200 or so cars competing in the second annual race of the famed Cannonball Run will spew out about as much CO2 in seven days as the average person generates in 16 years. They know they'll take some heat from environmentalists, but they're unapologetic. If you are curious to know how big a carbon footprint the cars left, ten cars picked at random were run through an online C02 calculator to determine their emissions over 3,000 miles. Multiply that by 20 and you get 648,000 pounds of CO2 for the 2008 event. It's hardly scientific, but it gives you a ballpark idea. The Union of Concerned Scientists says the average human generates 40,000 pounds of C02 a year.
ORIGINAL CANNONBALL BAKER TROPHY DASH
The Cannonball Baker Sea-To-Shining-Sea Memorial Trophy Dash, widely known simply as the Cannonball Baker or Cannonball Run, was an unofficial, unsanctioned automobile race run five times in the 1970s from New York City and Darien, Connecticut, on the U.S. Atlantic coast, to the Portofino Inn in Redondo Beach, a Los Angeles suburb on the Pacific coast. Conceived by car magazine writer and auto racer Brock Yates and fellow Car and Driver editor Steve Smith, the first run was not a real competitive race, as there was only one team running, but intended both as a celebration of the United States Interstate Highway System and a protest against strict traffic laws coming into effect at the time.

As it was found out, the newly imposed 55 mph (89 km/h) speed limit imposed by the National Maximum Speed Law (imposed as an energy conservation measure) was actually slower than the quickest average speeds of point-to-point travels of Erwin George "Cannon Ball" Baker in the first half of the 20th century. In 1933, Baker drove coast to coast in a Graham-Paige model 57 Blue Streak 8, averaging greater than 50 mph (80 km/h), setting a 53 hour 30 minute record that stood for nearly 40 years.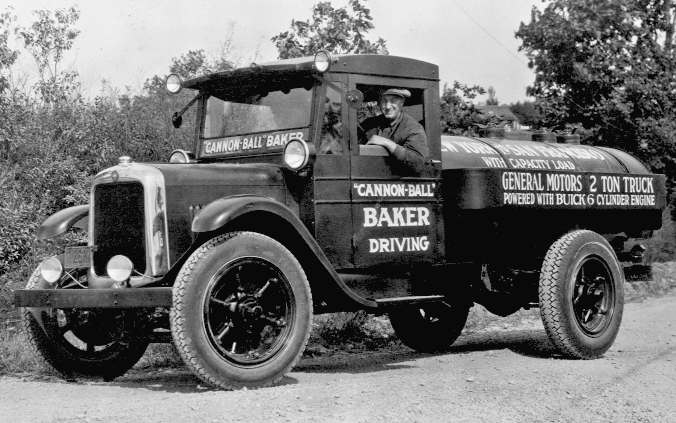 Erwin George Baker, is not a name to remember but mention the nickname of "Cannon Ball," and the name will be familiar to movie fans of all ages. Born in an Indiana log cabin in 1882, Baker's family relocated to the big city of Indianapolis when he was 12 years old. It was there that Baker would learn the machinist trade, and it was also where Baker became known for his athletic prowess in a variety of sports. After proving his skill at racing bicycles (and later, motorcycles), Baker purchased his first Indian motorcycle in 1908. Within a year, Baker would ride it to victory in one of the very first races held at the newly constructed Indianapolis Motor Speedway.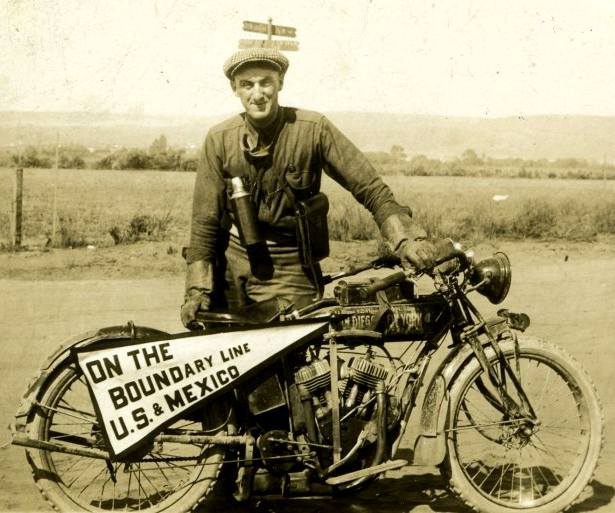 Baker racked up 53 victories and 20 podium finishes in the following years, setting 11 new speed records in the process. In 1912, Indian Motorcycles hired him as a factory-sponsored rider. Here Baker went above and beyond the call of duty keeping the Indian name in the headlines. In 1914 Baker took part in a cross-country race that spanned 3,379 miles, of which just four were on paved roads and 68 miles on railroad tracks. He completed the run in 11 days, 11 hours and 11 minutes, shattering the previous record by some nine days, also breaking the automobile cross-country record by four days. This feat prompted a New York newspaper reporter to nickname Baker "Cannon Ball," after the unstoppable train run by the Illinois Central Railroad.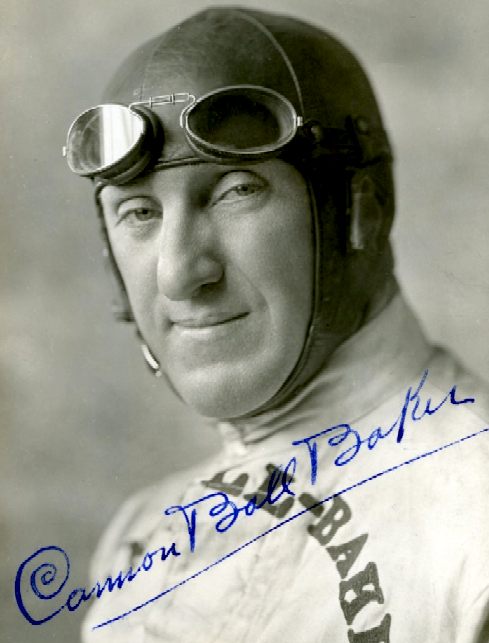 As the years went by, Baker continued racking up transcontinental records. Driving a 1926 Ford Model T, he made the coast-to-coast run in five days, two hours and 13 minutes. A year later, he hauled three tons of seawater from New York to San Francisco in five days, 17 hours and 36 minutes, driving the truck pictured above built by General Motors. Perhaps his most inspirational record of all came in 1933, when Cannon Ball Baker drove a supercharged Graham-Paige Model 57 across the country in just 53 hours and 30 minutes, with just one 30-minute rest stop.
Another motivation was the fun involved, which showed in the tongue-in-cheek reports in Car and Driver and other auto publications worldwide.

The initial cross-country run was accomplished by Yates' son, Brock Yates, Jr., Steve Smith, and friend Jim Williams beginning on May 3, 1971. The first running was accomplished in a 1971 Dodge Custom Sportsman van, called the "Moon Trash II". The race was run four more times, on November 15, 1971; November 13, 1972; April 23, 1975; and April 1, 1979. Jack May and Rick Cline drove a Ferrari Dino (05984) from the Red Ball Garage in New York City in a world's record time of 35 hours and 53 minutes, on April 23-25, 1975, averaging 83 mph (134 km/h). This New York to Los Angeles record was allegedly broken in 2007 by Richard Rawlings and Dennis Collins with a time of 31 hours and 59 minutes and an average speed of 87.6 mph (141.0 km/h).
The most remarkable effort certainly was by American racing legend Dan Gurney (winner of the 1967 24 hours of Le Mans), who won the second run in a Ferrari Daytona. Dan himself put it best, saying: "At no time did we exceed 175 mph." With Brock Yates as co-driver, it took them 35 hours and 54 minutes to travel 2,863 miles (4,608 km) at an average of approximately 80 mph (130 km/h), while collecting one fine. Snow in the Rockies slowed them down considerably. The record for official Cannonballs is 32 hours and 51 minutes (about 87 mph), set in the final run by Dave Heinz and Dave Yarborough in a Jaguar XJS in April 1979.
The object of the Cannonball Baker was to leave the Red Ball Garage on East 31st Street in New York City, later a venue in Darien, Connecticut, the now-defunct Lock, Stock, and Barrel restaurant, located in the Goodwives Shopping Center, usually after midnight, and drive to the Portofino Inn in Redondo Beach, California in the shortest time possible. Those were the only rules. Nothing was specified as to the route, type of vehicle, or maximum speed permitted. There was a gentlemen's agreement that the vehicle entered would be driven the entire distance, not having it transported on another vehicle, nor having an identical second vehicle hidden near the finish, etc.
Speeding citations received along the way were the driver's responsibility and did not disqualify the vehicle, unlike the Cannonball EV Runs, where a speeding conviction is a disqualifier. Having to stop to receive a ticket increases the vehicle's overall time.

The Cannonball Run was technically a race in that the fastest time was declared the "winner" and the results were announced in order of time, but times were not taken very seriously. It was found that sheer speed frequently did not guarantee a first place finish.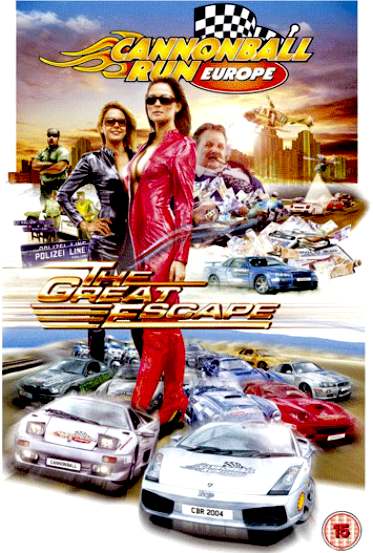 LINKS & REFERENCE

http://www.connect4climate.org/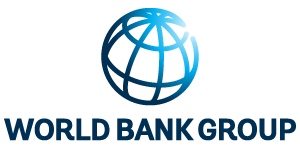 http://www.worldbank.org/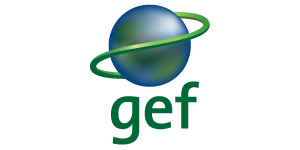 http://www.thegef.org/gef/
http://www.electric-odyssey.com/
http://www.thechargingpoint.com/news/Video-round-the-world-Electric-Odyssey-reaches-Japan.html
http://modificationlines.com/electric-odyssey-around-the-world-in-200-days-the-citroen-c-zero/
Electric-odyssey-around-the-world-in-200-days-the-citroen-c-zero
Round-the-world-with-electric-cars-synchroniz
https://en-gb.facebook.com/electric.odyssey
http://www.eetimes.com/document.asp?doc_id=1279936
http://www.autotrader.ie/news/Cannonball-Run-a-big-success-newsitem761.html
http://www.gumball3000.com/#/home
http://www.theautobahntour.com/
Cannonball-Run-Two-drivers-licenses-confiscated-day-London-Paris-race
http://www.cannonball.ie/
http://cannonballruneurope.co.uk/
http://www.worldcarfans.com/1080808507/huh-smart-fortwo-wins-cannonball-run
http://www.wired.com/autopia/2008/06/cannonball-run/
http://green.autoblog.com/2012/04/07/mens-health-looks-to-set-coast-to-coast-electric-vehicle-record/
Mercedes CL driver sets new record 98mph 29 hour car cannonball police gadgets
http://www.siliconrepublic.com/clean-tech/item/23525-electric-car-goes-the-dista
http://www.worldsolarchallenge.org/
http://www.discovery-campervans.com.au/adelaidedarwin.php
http://www.endtoenders.co.uk/
https://maps.google.com/
VAUXHALL AMPERA endurance ev attempt 2010_ampera_e-revs
http://en.wikipedia.org/wiki/Cannonball_Baker_Sea-To-Shining-Sea_Memorial_Trophy_Dash
http://www.formaplex.com/news/formaplex-launches-electric-car-world-record-attempt/
http://www.engadget.com/2010/05/31/racing-green-endurance-srzero-electric-car-to-make-16-000-mile-t/
http://www.rideacrossbritain.com/packages/end-to-end/
http://www.discoveradventure.com/challenges/land-s-end-to-john-o-groats-cycle
http://en.wikipedia.org/wiki/Land%27s_End_to_John_o%27_Groats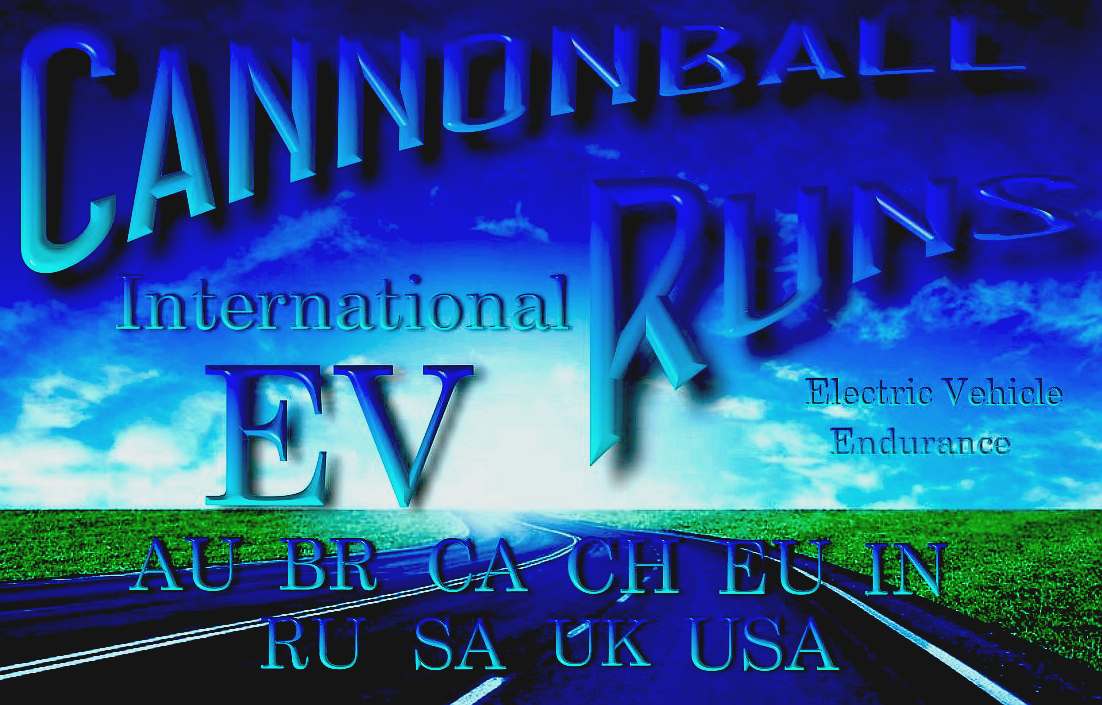 ECOSTAR DC50 LINKS A-Z INDEX