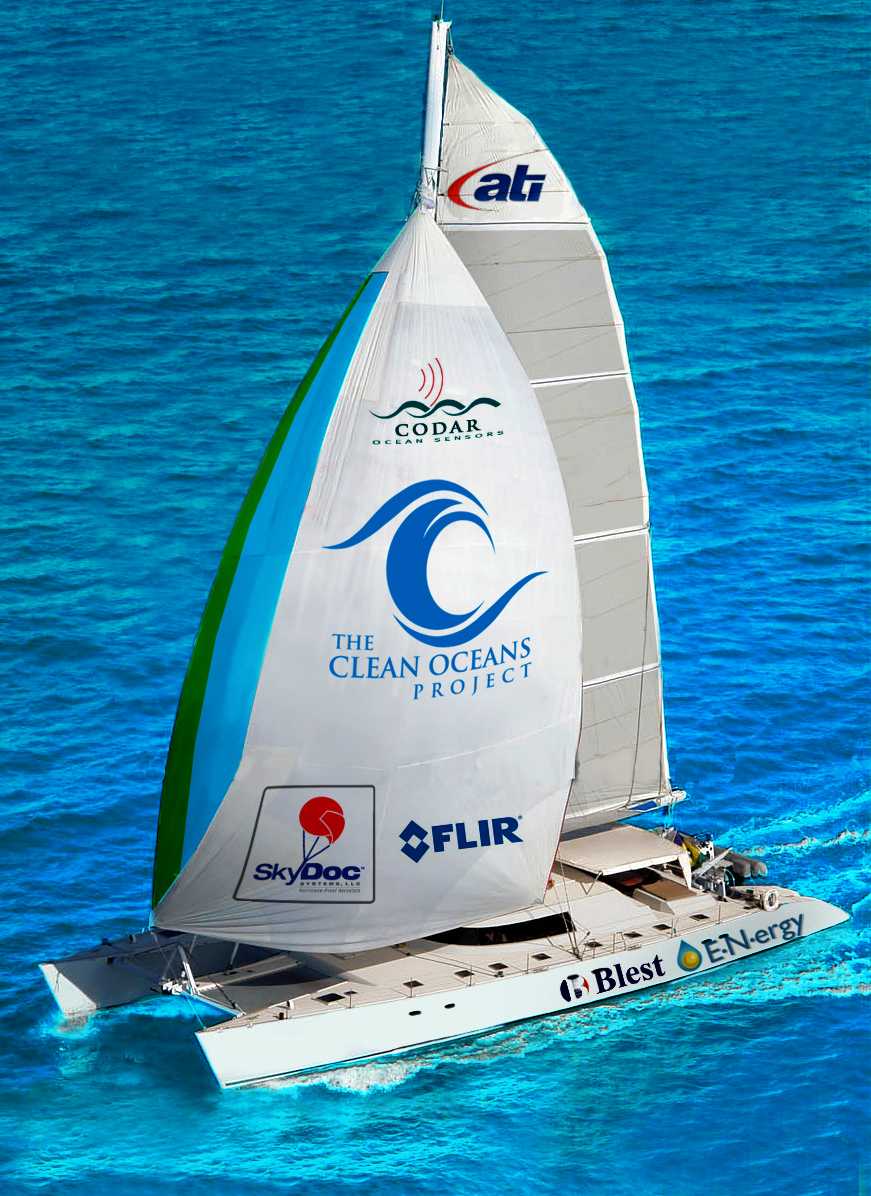 TRAVEL & ADVENTURE - The Clean Ocean Project expedition catamaran - Perhaps you've dreamed of becoming a research scientist working on a deserted beach saving the planet? If your dreams include traveling aboard a luxurious private sailing yacht to these exotic locations with your own personal captain and crew - you could be in luck.
"One Beach at a Time" is booking cruises to your dream port-of-call. Your customized itinerary suits your personal travel goals and our project needs. Trips utilize late model charter catamarans with 3 private double cabins for discerning adventure travelers. Field research activities start your days with time later for surfing, sailing, or diving. Voyage costs are dependent upon destination, duration and individual itinerary. A portion of your charter fee is tax deductible. Charters are booked on a 'per boat' basis up to 6 passengers.
These expeditions offer a rare opportunity to assist in field research in destinations off the beaten path. Guests help us refine techniques and equipment for monitoring and removing plastic pollution from isolated environments establishing relationships with local inhabitants conducting surveys and educating their communities about plastic pollution and the value of environmental stewardship. Evenings involve a mix of classes, entertainment and preparation for our guests educational presentations to the communities we visit and upon your return home.
TCOP

TCOP was founded in 2008 to address marine plastic pollution plaguing the world's oceans and beaches. They claim to have developed an economically and environmentally sustainable method for removing and recycling plastic pollution and they want you to get involved.
THE PROBLEM

The world's oceans are polluted with millions of tonnes of plastic. We know that polluted waterways are a major source of marine plastic. As rainwater washes into gutters and storm drains, it carries with it what humans have left behind. In addition to discarded trash there is a dangerous cocktail of chemicals spilling into our oceans; petroleum products from our cars, pesticides and fertilizers from agriculture, manure from stockyards and human waste and pharmaceutical residue from overloaded sewage systems. [See UN report]

Among the many chemical and biological toxins found floating in the ocean, scientists have identified a number of particularly harmful compounds called "persistent organic pollutants" or POPs, and exposure can cause disruption of the endocrine, reproductive, and immune systems.

Floating plastics attract POPs from surrounding water like a magnet and accumulate and transport them around the globe in levels up to a million times higher than in surrounding sea water. These are known to be harmful to animals and humans when ingested.

Plastic pollution could reach food consumed by humans. There is growing evidence that toxins associated with plastic in the gyre are responsible for human health problems such as cancers, brain, reproductive and cardiovascular damage.

Plastic reaches the oceans mostly from land through rivers and waterways, and then accumulates in five areas of high concentration, called oceanic gyres. Plastic pollution costs governments, companies and individuals millions of dollars in damages per year, due to loss in tourism, vessel damages and (inefficient) beach clean-ups.

Not only do such 'garbage patches' directly kill millions of aquatic animals annually. They also spread harmful algae and other invasive species, and serves as a transport medium for pollutants (including PCBs and DDT), which accumulate in the food chain.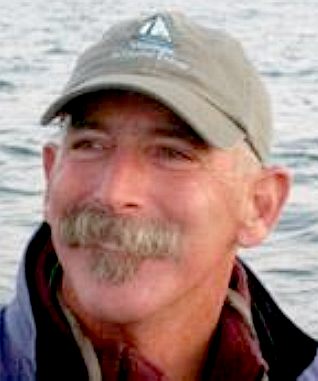 EXPEDITION LEADER - Captain Jim "Homer" Holm has been Coast Guard licensed since 1979. He has seen many corners of the planet by sea. His first love is sail training and education, especially aboard "Tallship" style traditional sailing craft.

Captain Holm has created curricula for acclaimed marine education programs in his home waters of the Monterey Bay in California that have enabled over 70,000 students and adults to learn more about what the ocean means to their lives. Homer is also the cofounder and Executive Director for The Clean Oceans Project working to eliminate plastic pollution from the oceans. Nice one Jim!
THEIR MISSION

To eliminate plastic pollution through research, education and direct action.

The Clean Oceans Project (TCOP) is a 501c3 non-profit in Santa Cruz, California with a vision of an ocean free of plastic pollution. Our practical solution to plastic pollution assesses plastic debris concentrations, removes it from the environment with minimal impact and processes it into fuel to run the operation. Demonstration of plastic to fuel conversion provides a financial motivation to manage plastic as a valuable resource rather than discard it as a toxic nuisance.
PROJECT GOODIES - We like the artwork on the back of the project T shirt. Hats are also available to show your support for this worthwhile project.
TCOP's STRATEGY

Integrate new technologies with traditional skills to identify the qualities, quantities and boundaries of plastic marine pollution and employ environmentally sensitive techniques to remove it from the environment and recycle it while providing incentive for increased stewardship of plastic waste.
PARTNERS

Airborne Technologies Incorporated
Airborne Technologies Incorporated has been developing innovative remote sensing and survey solutions for over twenty years. ATI is dedicated to providing the military and scientific communities with flexible and affordable unmanned aircraft, autopilots, and related systems. ATI also provides consulting and training services to UAS developers. http://www.atiak.com

Blest
BLEST company in Japan invented and sells machines that turn plastics back into oil using a simple, quick and clean process. These machines can be small enough to fit on a table at home.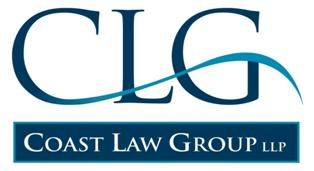 Coast Law Group LLP
Coast Law Group is a community-conscious law firm providing innovative solutions and practical advice to assist clients in achieving their personal goals and business objectives. From the individual to the small business, from the non-profit to the Fortune 500 company, CLG delivers uncompromised legal representation founded upon core values of integrity, efficiency, and aggressive advocacy. http://www.coastlawgroup.com

E•N•ergy
http://www.e-n-ergy.blogspot.com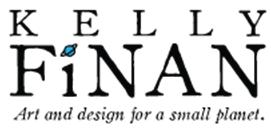 Kelly Finan
Kelly obtained a bachelor's degree in environmental science with a minor in studio art from Juniata College. Many of her life experiences involve scientific research, the visual arts, or a combination thereof. As a recent graduated of the science illustration program at U.C. Extension Santa Cruz, Kelly is uniting her passions in science and art in hopes of using them to spread scientific knowledge. Her work-related travels have included Yosemite National Park, CA; Homer, AK; and Puerto Viejo, Costa Rica. http://www.kellyfinan.com

Lighthouse Bank
Lighthouse Bank is locally owned and operated in Santa Cruz County. We strive to provide superior personalized financial services to the members of the Santa Cruz community. http://www.lighthousebank.net
DONORS and FUNDRAISERS - SPECIAL THANKS
Although all contributions are highly appreciated, the team owe a special thanks to:

DONORS
Betty Cowan
Brian Foss
Brian Schindler
Christine Finch
Frances Quinn
Cathy Frandle

Greg and Karleen Turnbull
Jeff Larkey/Route 1 Farms
JoAnn Tennent
Leilani Roberts
Lisa Rose

Liz Smith
Margarita Daly and her 4th grade art class at Fogelsville Elementary, Breinigsville, PA
The Pillsbury Foundation
Richard Scott
FUNDRAISERS
The Clean Oceans Project thanked these friends and local businesses for their donations to their April 2011 fundraiser 'Race Night at Seymour Downs'. Without their generous support they could not have had such a successful event! TCOP encourages you to SHOP LOCAL and patronize these fine businesses whenever you can.
Absolute Auto Glass
Adventure Out
Amsterdam Bicycles
Annie Glass
Aptos Martial Arts Academy
Ari Symons
Art by Amadeo Bachar
Art by Andrew Ward
Art by David Kimball Anderson
Art by Jason James Rimmer
Art by Katrina King
Art by Mark Beckner
Awaken Massage Therapy
Beckmann's Bakery
Bella Vista Landscape Services
Benziger Wines
Blue Ocean Whale Watch
Brian Foss
Cabrillo Fitness
Cafe Cruz
Chardonnay
Coast Paper and Supply
Corralitos Market
Crossfit Central with Annie Sakamoto
Dream Inn
El Jardin Restaurant
El Palomar Restaurant
Firefish Grill
Glaumm Egg Ranch

Green Cell Foam
Greenspace
H&H Fresh Fish
Haut Surf Shop
Heirloom Organics
Homegrown Davenport
Katwalk Salon
Kayak Connection
Kiri Covers Hawaii
Lenz Arts
Lighthouse Bank
Marko Talkovic
Massage by Awaken Massage Therapy
Massage by Jane Clemens
Massage by Michael Goldman
Massage by Sheri Simpson
Massage by Toni Fava
MJS Designs
Monterey Bay Seaglass
Nordic Naturals
Old Creek Ranch
Olita's Restaurant
Outstanding in the Field
Pacific Yachting
Pacific Edge Climbing Gym
Patagonia
Penny Ice Creamery
Photography by Jo Ann Manolis
Photography by Kelley Richards

Photography by Peggy Stap
Photography by Stone Imagery
Pizza My Heart
Plantronics
Polar Bear Ice Cream
RB Plumbing
Route 1 Farms
Richard Schmidt Surf School
San Jose Sharks
Seabreeze Cafe
Seaweed Art
Spa Fitness
Stagnaro Bros. Seafood
Stranded Beauty Bar
Straus Family Creamery
Sylvan Music
The Board Room
The Crepe Place
The Flint Center
The Lochtefeld Agency
The Spokesman Bike Shop
Ward Coffey Shapes
West Marine
Whaler's Car Wash
Wild Thyme Botanicals
Zachary's Restaurant
Zelda Jewelry by Zelda Tallman
Zen Trading Company
Zyla Jewelry by Sara Berquist

TCOP CONTACTS
The Clean Oceans Project
333 Lake Avenue, Suite D
Santa Cruz, CA 95062

Phone: 831.476.TCOP (8267)

Email: onebeachatatime@gmail.com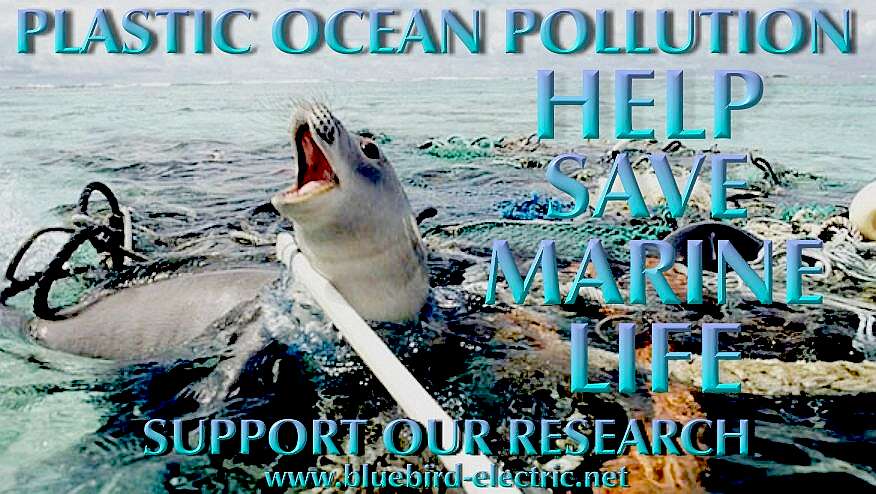 PATENT PENDING - A non-polluting vessel such as the Bluefish ZCC concept could be an ideal base machine when it comes to filtering garbage from the world's ocean gyres. Several of these cleaners operating as Atlantic, Indian and Pacific ocean fleets could make such conservation measures cost effective, and even potentially attractive to governments around the world - for the health of the world. Recovered plastic could be processed to produce oil, energy or recycled products. Better than letting fish and seabirds eat the waste and kill themselves, and who knows how that may affect us, where seafood is an essential resource for mankind. Click on the picture above to read more >>>>>>
ARCTIC - ATLANTIC - BALTIC - BERING - CARIBBEAN - CORAL - EAST CHINA - ENGLISH CH - GULF MEXICO
GOC - INDIAN - MEDITERRANEAN - NORTH SEA - PACIFIC - PERSIAN GULF - SEA JAPAN - STH CHINA
PLANKTON - PLASTIC - PLASTIC OCEANS
LINKS & REFERENCE
National Geographic 2014 July ocean-plastic-debris-trash-pacific-garbage-patch
Plastic Soup News Blogspot 2014_July
Paris Match Environnement Boyan Slat le sauveur des oceans
Deep sea news 2014 July the ocean cleanup part 2 technical review of the feasibility study
Indiegogo projects the ocean cleanup feasibility study
www.TheOceanCleanup.com
www.twitter.com/TheOceanCleanup
www.facebook.com/TheOceanCleanup
http://www.theoceancleanup.com/
http://www.boyanslat.com/
http://quebec.huffingtonpost.ca/2014/09/17/the-ocean-cleanup-boyan-slat-nettoyer-oceans-plastique_n_5834594.html
https://www.indiegogo.com/projects/the-ocean-cleanup-feasibility-study
http://deepseanews.com/2014/07/the-ocean-cleanup-part-2-technical-review-of-the-feasibility-study/
http://www.plasticoceans.net/the-foundation/
http://www.greatrecovery.org.uk/
http://seaplexscience.com/
http://abundantseas.org/
http://www.gyrecleanup.org/cleanup-plan/