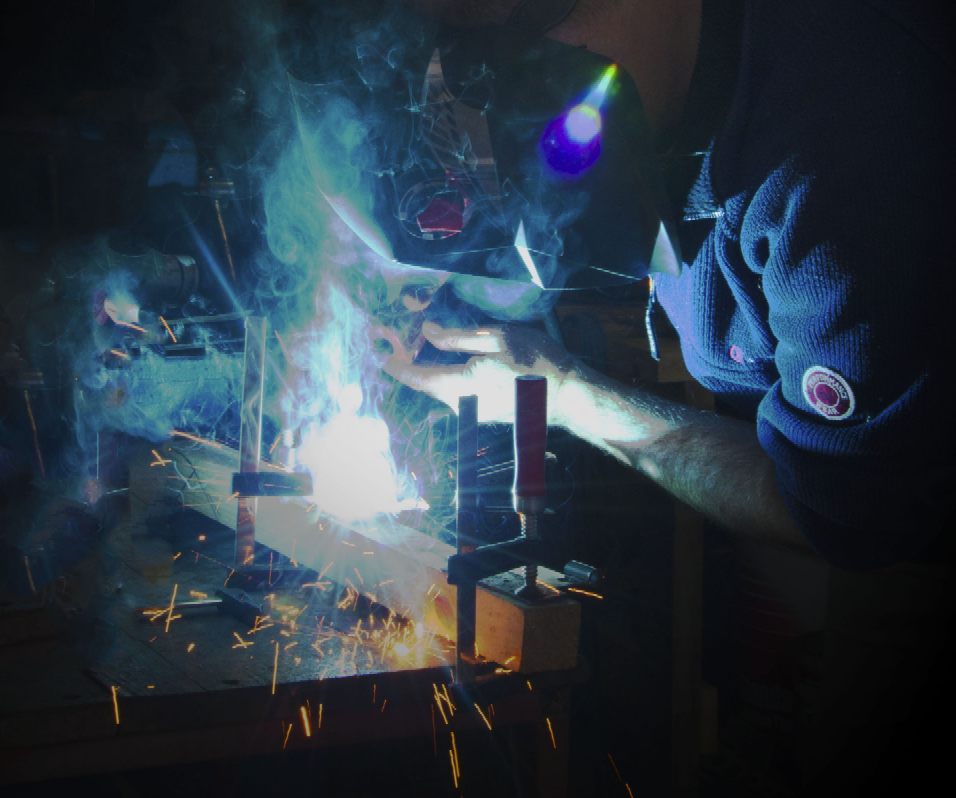 MASTER FABRICATOR - Nelson is seen here making a part in steel using a MIG welder. Welding by electricity can be TIG (Tungsten Inert Gas) or Arc using flux coated sticks. The TIG method is similar to gas welding using oxygen and acetylene to produce a very hot flame. In the TIG method, the oxygen and acetylene is replaced by argon gas, with electricity supplying the heat as an arc of electrons flowing from the tungsten torch tip to the work piece. MIG or Metal Inert Gas welding is the most popular type of manual welding, where filler wire is power fed to the work piece and deposited via an electric arc. Being able to join metals is essential in all walks of engineering and vehicle design. This is one of the basic skills that Nelson demonstrates to future thinkers. He says that you need to know what is possible before you can conceive a solution to a problem.
CONSERVATION CHAMPION
One of our more senior volunteers who works tirelessly to promote renewable energy and ocean conservation issues, Nelson helps to train mature students to think outside of the box by showing them how to make ideas come to life. He is an exceptionally creative thought leader.
Nelson is a skilled welder and fabricator, diver, CAD qualified and good with wood and composites. Nelson finds that many students leave university without any practical skills. He thinks this is a stumbling block to creative endeavour and business success for these budding entrepreneurs of the future.
He also finds that some youngsters can be shy of putting in a hard days work, but turns effort into a fun workout, so endearing a work ethic that he hopes they will benefit from and pass on to the next generation by way of turning inspiration into perspiration, into dreams that come true. He says:
"The only way of getting something done is to do it, not just think about what might be nice if only you had the time." "Follow your dreams and help make the world a better place, free of poverty, oppression and discrimination."
Nelson is an equal rights campaigner, in years gone by offering free grass-roots advocacy to those unable to afford representation, benefiting from the experience and helping to show local authorities where their policies were shy of UN compliance, but now channels his efforts to higher level steerage internationally.
As a conservationist, Nelson has helped to save more than one historic building for future generations to enjoy, adding another dimension to his personal skills base.
LINKS & REFERENCE
http://www.miss-ocean.com/Ocean_Trustees_Elders/Nelson_Kay.htm
ACID OCEANS - ARCTIC - ATLANTIC - BALTIC - BERING - CARIBBEAN - CORAL - EAST CHINA - ENGLISH CH
GULF MEXICO - GOC - INDIAN - MEDITERRANEAN - NORTH SEA - PACIFIC - PERSIAN GULF - SEA JAPAN - STH CHINA
SOUTHERN - PLANKTON - PLASTIC - PLASTIC OCEANS - UNCLOS - UNEP - WWF - ZOOPLANKTON