PLEASE USE OUR A-Z SITE INDEX TO NAVIGATE THIS SITE
PLASTIC POLLUTION IS CHOKING OUR OCEANS: Plastic waste kills marine life and poisons our wild fish stocks. Our techies are pioneering what we believe to be the quickest potential ocean Clean Up Solution (5-10 years) based on a proven filtration principle that many of you use every week to clean your carpets, coupled with other industrial bulk collection methods. Imagine then a giant vacuum that sweeps clean water and help us achieve the additional support to develop the Sea + Vax concept into a fully workable ocean tune up system. The planet needs healthier oceans to be able to feed a growing population into 2050, when informed estimates put human occupation at 9 billion souls.
WHAT IS OUR SOLUTION? The demonstration vessel seen below is our 'Proof of Concept' boat that has shown we can harvest plastic and other waste from the 5 garbage Gyres in the Atlantic, Indian and Pacific Oceans and (via third parties) recycle that waste into clean diesel fuel for shipping and new plastic products. SeaVax does not contribute to climate change, being solar powered.
THE FUTURE OF OCEAN CLEANING - SeaVax shreds fishing nets to help stop marine mammals suffering. A modification of the SeaVax could cleanse river water without adding to climate change. This clean-tech could improve social conditions in (for example) India manyfold, by targeting hotspots and the mouth of the great river Ganges, before the water exits into the Bay of Bengal and the Indian Ocean. Building a vessel this size economically represents a challenge that we think we have found a solution to. As a small entity, we cannot afford to place an order with a shipyard that would constitute an unacceptable commercial risk to us. For this reason we are starting small as constructors. That does not mean SeaVax will not be built, it just means that while funding is limited (and it always will be for a not-for-profit) we are looking for ways to stretch the money that we have and provide value to all our contributors large and small.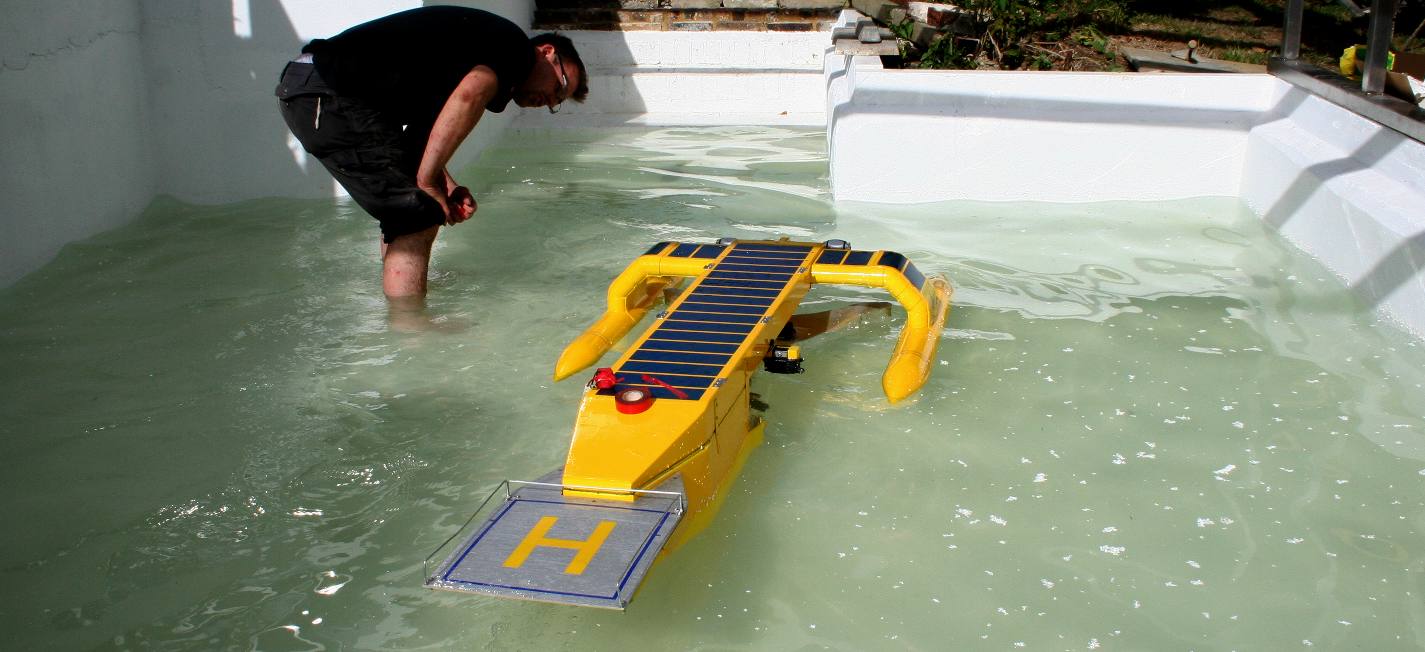 FRIDAY 29th JULY 2016 - This was a great day for the SeaVax team. Chris Close (project director), watches plastic and water being sucked into the SeaVax development model. This was an experiment in controlled conditions to prove that hydrocyclones are the way to go for small plastic particles. Without funding from Avaaz we would not have our test tank to undertake such experiments. Copyright © July 29 2016, all rights reserved. You will need the permission of Bluebird Marine Systems Ltd to reproduce many of the picture on this website except for educational use in schools, colleges, universities, or for private study or research.
HOW THE TECHNOLOGY WORKS - MOST POPULAR QUESTIONS & ANSWERS :
1. SEAVAX AVOIDS FISH & PLANKTON - It can see ahead underwater, adjust parameters selectively to target microplastics in a plastic soup, or shut down if necessary to protect marine life, until it is safe to resume cleanup operations.
2. RECOVERED PLASTIC IS RECYCLED - Giving 80% MARPOL grade clean diesel or other products, so conserving oil reserves.
3. LOGISTICS - Emptying SeaVax ships at sea in rotation & delivering harvested plastic waste to treatment plants on land.
4. SEAVAX IS STORM RESILIENT - It monitors conditions, can stow wings & turbines & employ sea anchors automatically.
5. FACTORY SHIPS - Harvested waste might be treated at sea on dedicated vessels, then sent to factories for new products.
6. OIL RECOVERY - SeaVax ocean cleaning dustcarts could be diverted to major oil spills for emergency recovery.
MISSION ACCOMPLISHED - [LEFT] In these pictures we can see the hydrocyclonic water filters in action. We scattered plastic fragments onto the surface of our test tank and allowed the SeaVax to trawl slowly for a couple of minutes. You can see the plastic spinning in the twin chambers as water passes through. [RIGHT] Out of the water, we can see the solid plastic waste we have collected at the bottom of the chambers. Copyright © July 29 2016, all rights reserved. You will need permission from Bluebird Marine Systems Ltd to reproduce these photographs.
PLEASE USE OUR SITE INDEX TO NAVIGATE THIS SITE
FROM THE GENEROUS SUPPORT OF AVAAZ.ORG CROWD FUNDING IN JUNE 2016 WE RECEIVED A GRANT TO ACCELERATE SEAVAX DEVELOPMENT. The funds were accepted to fund core project areas to include the following core objectives:
1. Testing tanks, robotic equipment and experiments advancing the SeaVax project.
2. Efforts to raise additional required funds to build a SeaVax prototype.
3. Physical building of a SeaVax hull.
Using the funding received we completed as much of the work packages as we could before exhausting funding. SEE OUR ARCHIVES HERE.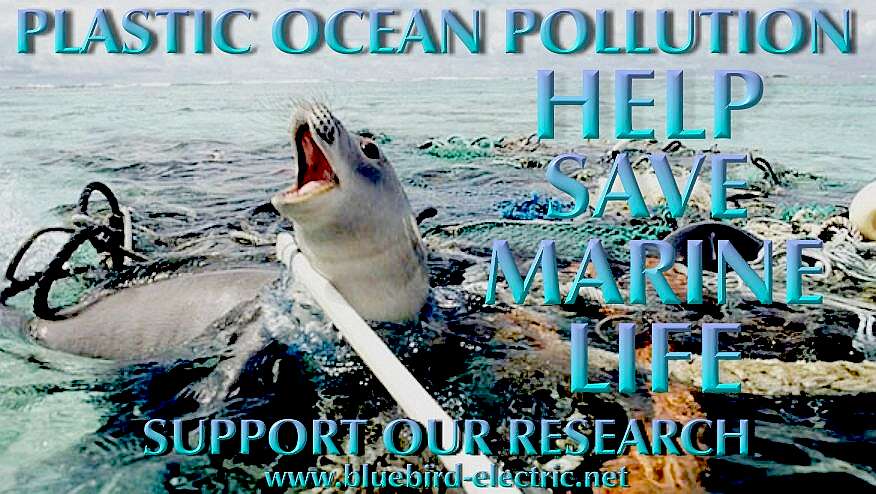 YOU CAN'T JUST FLUSH THE OCEANS - PLASTIC WASTE IS KILLING FISH AND DROWNING MARINE MAMMALS