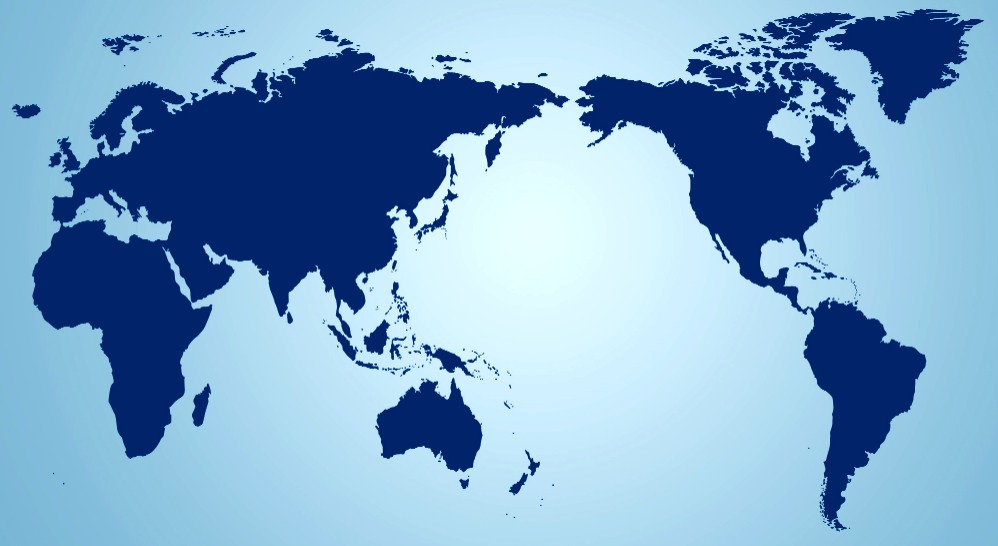 FLEET CONTROL EXAMPLE - The world's oceans represent a vast area to protect from man as he plunders fossil fuel oil reserves. The effects of accidents could be lessened if there was cooperation between oil producers, or even a law that demands contingency measures in the event of an accident - a bit like the third party insurance cover that motorists need.
Taking advantage of our SeaVax ocean going dustcarts and SeaNet fleet control logistics, we should consider that the machinery exists to be able to equip bulk carriers, or other suitable ships, to be able to process waste plastic at sea, using the waste material as part of the energy required for transport.
Harvested plastic may be converted to low emission (sulphur) diesel fuel to help power the ship for travel to and from ocean harvesting areas and to operate the waste processing machinery. The necessary machinery onboard for plastic processing may be powered by a mix of wind turbines and solar panels, or the diesel fuel created by pyrolysis.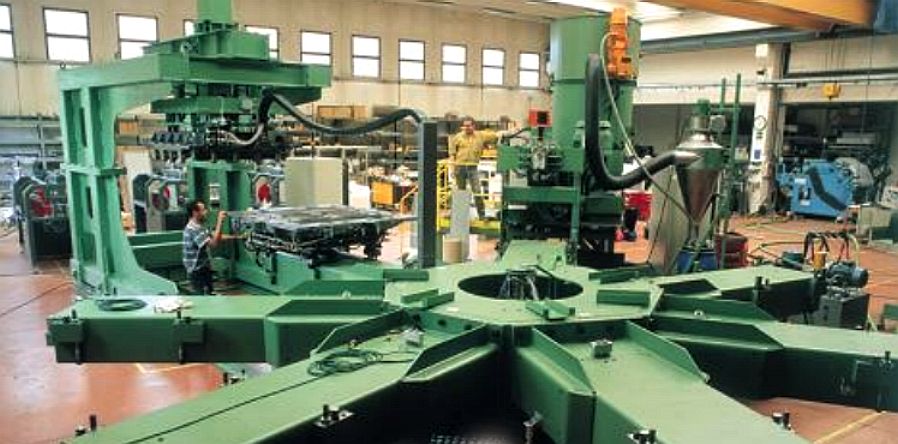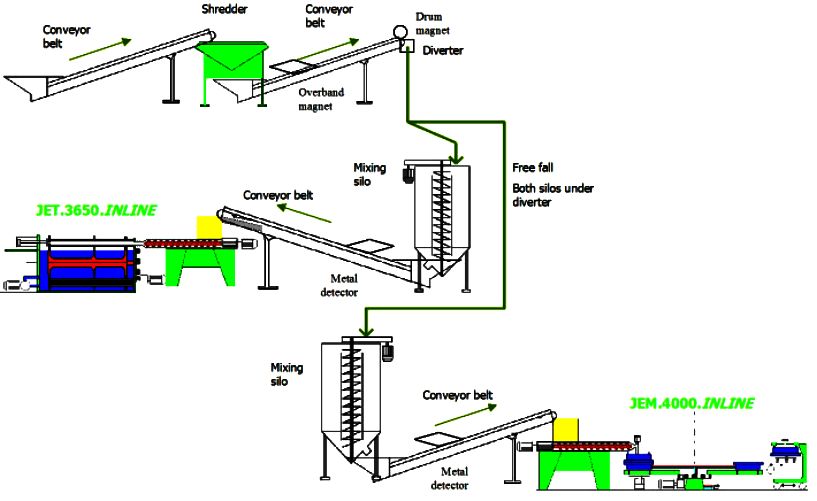 THE SENSOR TECHNOLOGY

Color Recognition (COLOR)

Recognizes materials based on their color. Their capabilities go beyond the visible spectrum and include infrared, ultraviolet and other spectra.

Near Infrared (NIR)

Recognizes materials based on their specific and unique spectral properties of reflected light.

X-Ray transmission (XRT)

Recognizes materials based on their specific atomic density.

Electromagnetic Sensor (EM)

Recognizes metals through their conductivity and permeability.

Visual Spectrometry (VIS)

Recognizes all colors in the visible spectrum for transparent as well as all opaque objects.

X-ray fluorescence technology (XRF)

Recognizes materials by their atomic characteristics.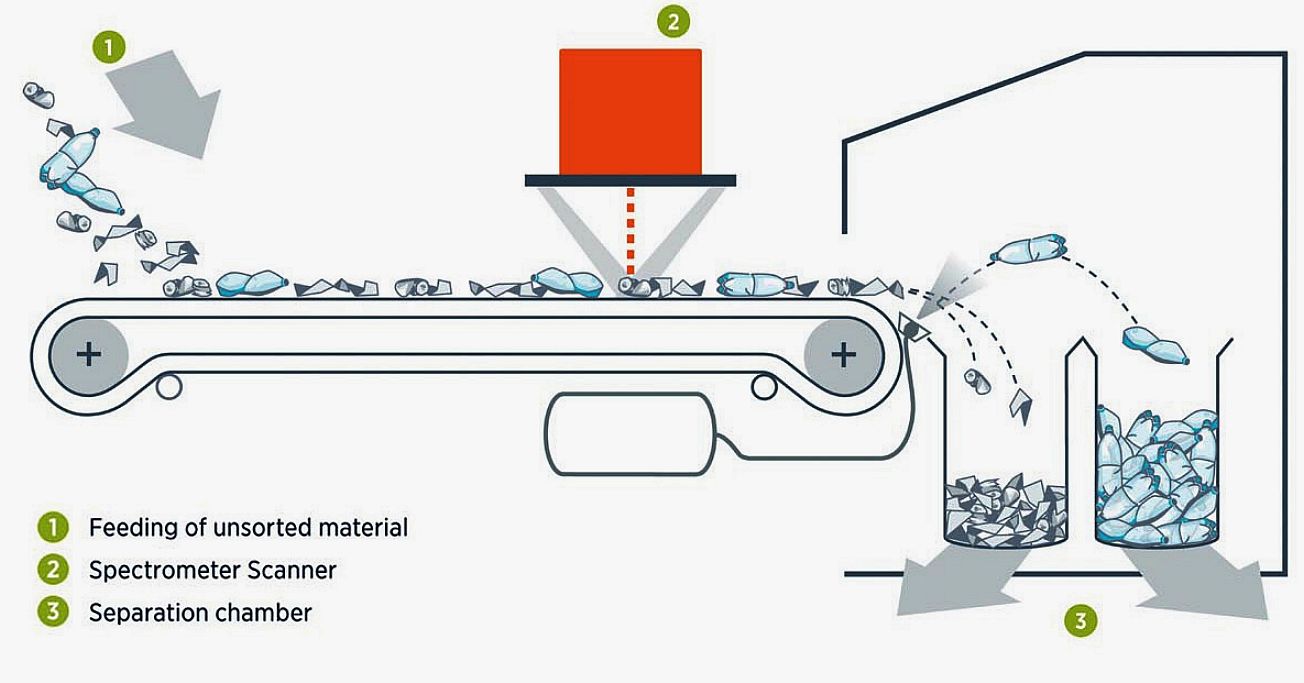 TOMRA - Sorting Solutions offers a broad range of advanced detection technologies for identifying and separating a wide variety of materials. Detection is at the core of nearly all sorting machines. Sensors found in modern equipment such as, TOMRA technology, are like good eyes; they see more and are thus able to supply more information.

High-resolution sensors operate at a rate of up to 320,000 scan points per second. This means that even the smallest of objects would not fall through the detection grid, while large objects can be scanned much more precisely than before.

TITECH - Machines operate on the same basic principles. Input material slides down a chute or is transported by conveyor belt through a sensor area. The information obtained is electronically processed so that, depending on the sorting criterion setting, the detected materials are selectively ejected from the material flow into a separation chamber by high-precision jets of pressurized air.
WHAT IS NEEDED TO CONVERT A BULK CARRIER ?
As this is the development of a concept, based on a concept, we need to go slowly. But we should know where we might be headed to attract potential long-term industrial investors looking to diversify into new waste markets in a circular economy. Once a SeaVax is operational in prototype form, it would then be worth looking for a suitable bulk carrier to convert.
The most basic criteria for conversion is the suitability for installing our bolt-on couplings, together with access for any necessary ductwork.
The donor ship would need to have sufficient space to mount the processing machinery - and be able to feed these machines from the holding bays. You will now realize that we will need to be able to feed from one holding bay, to the processing plant and thence to another holding bay. Sequential conversion like this will mean that one holding bay will have raw, untreated, plastic at all times and be available for SeaVax ships to dock with and continue unloading their harvests.
What this might look like in terms of layout, will be considered in the coming months, provided that we are kept afloat funding wise, to be able to devote time to this research. A draft sketch is included below just to give you some idea of how the concept might be implemented.

DOCKING PROCEDURE - Two SeaVax vessels are seen in the diagram above coupled to a PlastiMax bulk carrier (converted HandyMax) from each side of the ship. One ship could annually recycle up to 75,000 tons of mixed plastics into high-quality clean plastic grades, which can be used in the production of new plastic products and packaging.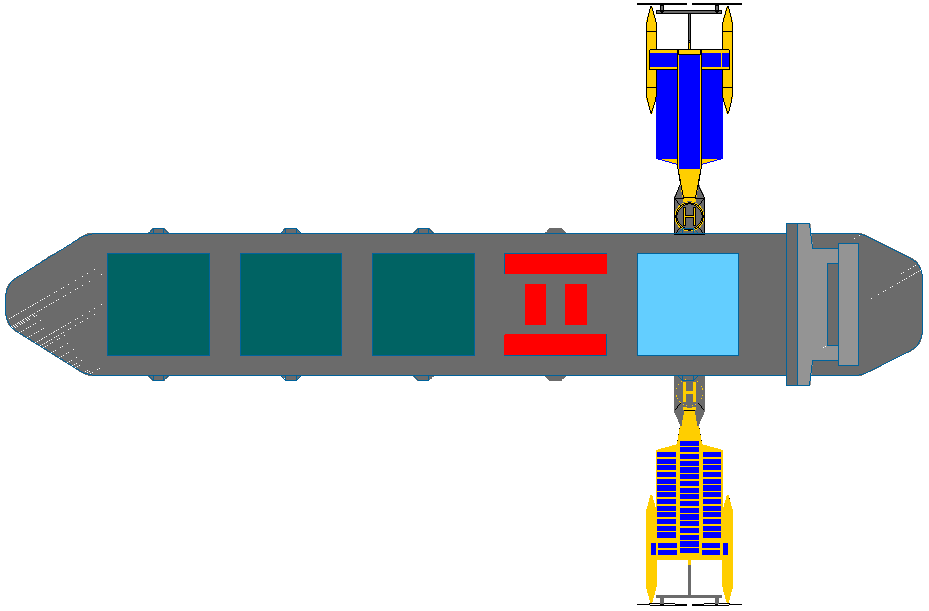 FACTORY SHIP - On a factory ship the layout is somewhat different. In a carrier version, all of the cargo holds are used to carry harvested ocean waste, shown in blue on other diagrams. But here, you can see two SeaVax ships docked with the PlastiMax mother-ship, that has onboard pyrolysis and plastic treatment plant shown in red. This takes up one of the spaces that would normally be a cargo hold. The rear hold accepts ocean plastic waste, shown in blue, while plastic that has been through the treatment plant is stored in the front three cargo holds, shown here in green. In ten years, ten PlastiMax factory ships could process 7.5 million tons of ocean plastic waste. That is almost the amount of plastic estimated to be in the sea at the moment, with more plastic to come, if we sit on our hands and do nothing.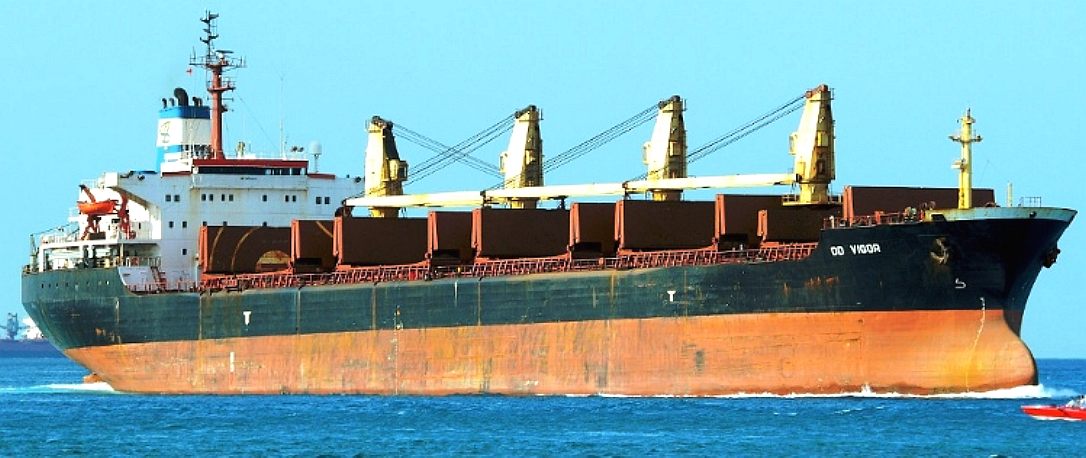 A HANDY SIZE SHIP - The DD VIGOR (IMO: 8109034, MMSI: 375089000) is a good example of a handymax Bulk carrier. It is registered in Saint Vincent and the Grenadines and has a deadweight of 42221 tons.
A ship of this size and condition could be equipped with State-of-the-art plastics recycling facility will use technology similar to the 'Titech' or 'JET' systems seen on this page, to sort different types of plastic materials, including Polyethylene (PE) and Polyethylene-terephthalate (PET), as well as Polystyrene (PS), Polypropylene (PP) and Polyvinylchloride (PVC).

The plastics recycling process begins with the collection of plastics from the oceans, then sorting into PET and HDPE streams. The material will then be granulated to form new flakes or polymeric pellets, which will then be used in many different applications.

Recyclable plastic bottles will be separated from the bales of plastics received from local authorities or waste management companies into PET and HDPE streams. The plastic materials will be cleaned and washed upon arrival at the plastics recycling plant, and will then slide down to a chute or be carried by a conveyor belt through the sensor area. The information received from the sensor will be electronically processed and, depending on the sorting criteria, the detected materials will be discharged from the material flow into a separation chamber by pressurised air jets.

A high-resolution, pectrometer scanner will operate at a rate of up to 320,000 scan points per second, to facilitate the sorting of small objects and precise scanning of large objects. The sensor will recognise materials based on their colour, spectral properties of reflected light (NIR), X-Ray transmissions (XRT), electromagnetic sensor (EM), Visual Spectrometry (VIS) and X-ray fluorescence technology (XRF).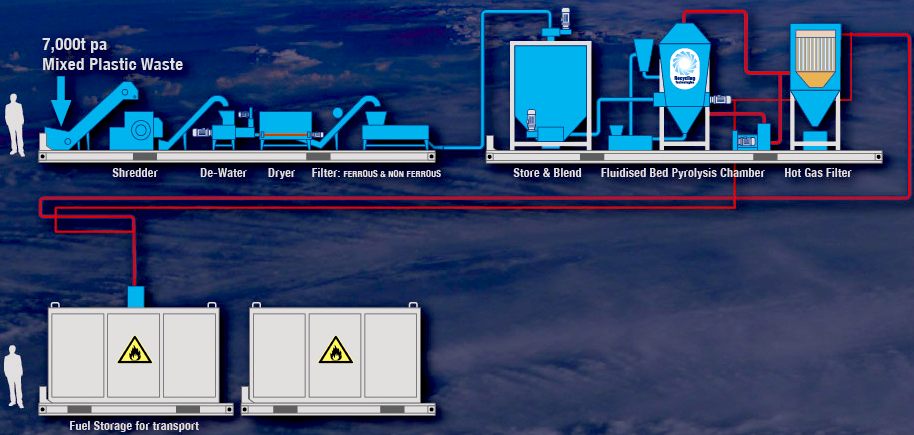 RECYCLING TECHNOLOGIES - In the first phase of the process, their WarwickFBR™ system, as depicted above, shreds and dries Mixed Plastic Waste [MPW]. It then injects blended product into a fluidized bed where, in an oxygen depleted environment the long hydrocarbon chains in the polymers are broken down by Pyrolysis to form an energy rich gas. This gas is then carefully filtered to remove contamination and cooled to provide a type of heavy fuel oil. This fuel, named PlaxOil, can be resold into the hydrocarbons market, or of course, used to power PlastiMax ship engines.
PYROLYSIS - Pyrolysis is usually the first chemical reaction that occurs in the burning of many solid organic fuels, like wood, cloth, and paper, and also of some kinds of plastic. In a wood fire, the visible flames are not due to combustion of the wood itself, but rather of the gases released by its pyrolysis, whereas the flame-less burning of a solid, called smouldering, is the combustion of the solid residue (char or charcoal) left behind by pyrolysis.

Anhydrous pyrolysis can also be used to produce liquid fuel similar to diesel from plastic waste, with a higher cetane value and lower sulphur content than traditional diesel. Using pyrolysis to extract fuel from end-of-life plastic is a second-best option after recycling, is environmentally preferable to landfill, and can help reduce dependency on foreign fossil fuels and geo-extraction. Seen above, is one of the larger Blest machines from Japan, that can operate on an industrial scale.
LINKS & REFERENCE
https://en.wikipedia.org/wiki/Tomra
https://www.tomra.com
JULIEN ENVIRONMENTAL TECHNOLOGY
J.E.T. WORLD S.A.
12 Quai du Seujet
CH 1201
Geneva, SWITZERLAND

Tel: +41.22.5882.323

Email: julien.philippe@yahoo.fr

Web: http://www.jet-norsemen.com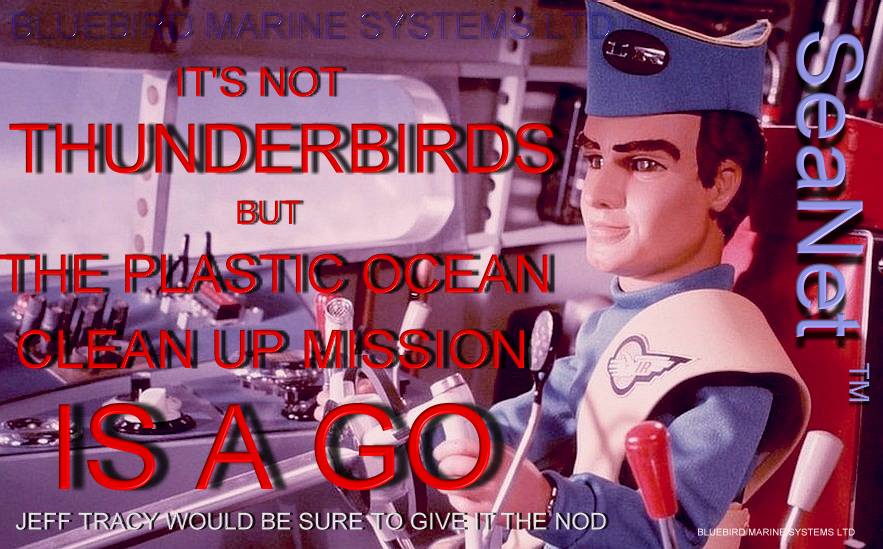 ACIDIFICATION - ADRIATIC - ARCTIC - ATLANTIC - BALTIC - BAY BENGAL - BERING - CARIBBEAN - CORAL - EAST CHINA
ENGLISH CH - GOC - GUANABARA - GULF GUINEA - GULF MEXICO - INDIAN - IRC - MEDITERRANEAN - NORTH SEA - PACIFIC - PERSIAN GULF - SEA JAPAN
STH CHINA - PLASTIC - PLANKTON - PLASTIC OCEANS - SEA LEVEL RISE - UNCLOS - UNEP WOC - WWF

AMAZON - BURIGANGA - CITARUM - CONGO - CUYAHOGA - GANGES - IRTYSH - JORDAN - LENA - MANTANZA-RIACHUELO
MARILAO - MEKONG - MISSISSIPPI - NIGER - NILE - PARANA - PASIG - SARNO - THAMES - YANGTZE - YAMUNA - YELLOW

SORTING EXAMPLE