TREATMENT PLANTS - A world map suggesting possible locations of plastic treatment plants. Where such plants would actually be sited will be the subject of considerable research. We hope to attract development partners for SeaNet to create an international network. This might be with individual companies working from their geographical location.
WHAT DO WE PLAN ON DOING WITH ALL THAT OCEAN PLASTIC ?
Plastic that is recovered from the ocean is exceptionally clean and suitable for processing in at least two ways:
1. Using pyrolysis to convert plastic to a very clean burning marine diesel, to replace sooty bunker fuel.
2. Using recovered plastic in new plastic products.
1. PYROLYSIS
There is an established process whereby plastic from the sea can be turned into a MARPOL friendly marine fuel, so helping ships to travel cleanly. By using converted plastic, we will be saving so much of our oil deposits for other uses, where we cannot replace that fuel at the moment, such as in aircraft engines.
2. RE-MANUFACTURING
It is law is some countries that new plastic products must include a sensible percentage of recycled plastics. What this does is to save manufacturers having to produce more new plastic than is necessary to keep society functioning in a sustainable way. Unfortunately, modern life is dependent on plastic. Yes, we might look for alternatives wherever possible, but while that is happening, the least we can do is recover what we can from the polluted oceans and then recycle it.
Importantly, the value of clean plastic that is recovered from the high seas, could reduce the operating costs of a SeaVax fleet, and after around five or so years of operations, may even yield a return for any commercial franchise - assuming that private concerns may want to get involved.
WASTE PLASTIC TO FUEL
WHAT ABOUT TREATING THE PLASTIC AT SEA?
Something else we will be looking at is the practicality of installing plastic sorting and treatment at sea, alongside pyrolysis equipment. If that were a viable option, then the transport ships would also be floating factories, along the lines of factory fishing ships. These floating factories would be powered by the plastic they are collecting from our SeaVax fleets, and producing the raw materials for plastic products.
Please help us to help the world rid itself of ocean plastic waste by supporting our research.
PLASTIC TREATMENT
ANOTHER STEP TOWARD A CIRCULAR WORLD ECONOMY
Please help us to play our part in creating a truly Circular Economy by supporting SeaVax development and SeaNet for intelligent deployment of an efficient robotic clean up fleet. We know this is only one part of the jigsaw puzzle, where there are so many other things to resolve until we reach equilibrium with our planet. But every push in that general direction is a statement for world leaders to take notice of. If not for all of the marches and protests, climate change would still be a dark secret. Today, because the people have been voting with their donations, climate change is big on all political agendas.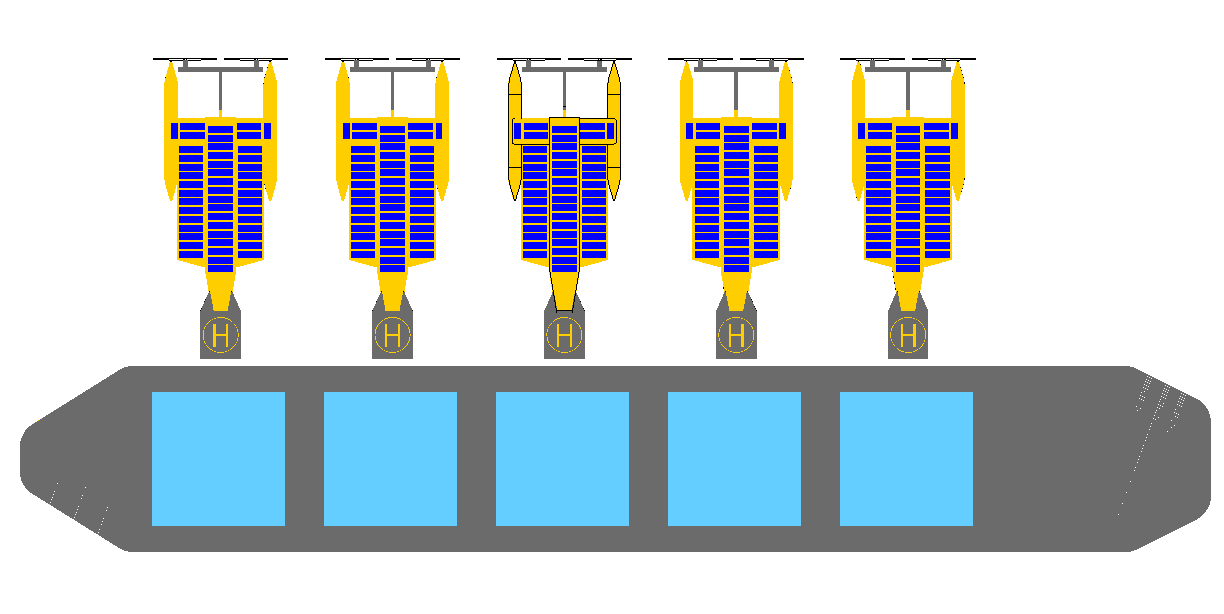 OCEAN TRANSFERS - In the above diagram we see five SeaVax ocean cleaning robots docking with a 180 x 28 meter bulk carrier (drawn to scale). One ship of this size can carry around 50,000 tons of plastic waste. Five SeaVax robovacs could transfer 750 tons between them, each time they unload their catch. The plastic is then taken to a treatment plant to convert to either oil or new plastic products. One day, it might be possible to convert the plastic to oil onboard the transport vessels. We would even use the fuel made to power our ocean cleanup fleet, with the remainder going other marine transport.
THE DOCKING PROCEDURE - The docking couplings and method of transfer are not shown or explained here for legal reasons. If we were to show you how this worked, we might not be able to obtain patent protection. With the considerable investment needed to develop such a system, potential Joint Venture associates may not be so inclined to partner to the project. A key feature is the ability of the SeaVax system to cater for the relative height of a ship in the fully unloaded state, as compared to the fully loaded state. Naval architects will understand what this involves.
LINKS & REFERENCE
International environmental youth campaign plastics history
http://www.internationalenvironmentalyouthcampaign.org/Plastics/history
https://en.wikipedia.org/wiki/Thunderbirds_%28TV_series%29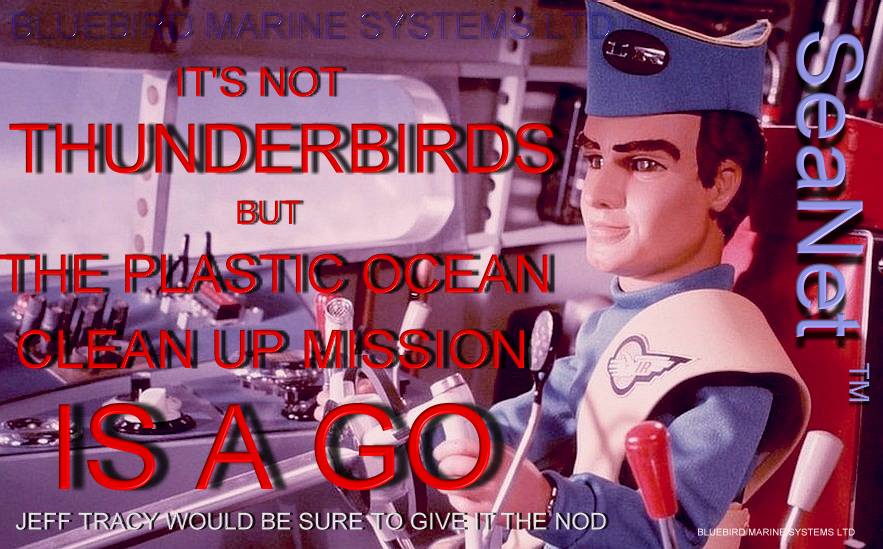 THUNDERBIRDS - Some of us are old enough to remember the fabulous puppet show where International Rescue responded to emergencies all over the world. "Okay Mr Tracy." Who would have thought that a TV series from 1965 (set in the 2060s) could, in-part, come true with advanced robotic machines playing the part of Thunderbirds 1 - 5 in a real world situation. A real-life rescue service is named after the TV series. The International Rescue Corps is a volunteer organization involved in disaster rescue, based in Grangemouth, Scotland.
ACIDIFICATION - ADRIATIC - ARCTIC - ATLANTIC - BALTIC - BAY BENGAL - BERING - CARIBBEAN - CORAL - EAST CHINA
ENGLISH CH - GOC - GUANABARA - GULF GUINEA - GULF MEXICO - INDIAN - IRC - MEDITERRANEAN - NORTH SEA - PACIFIC - PERSIAN GULF - SEA JAPAN
STH CHINA - PLASTIC - PLANKTON - PLASTIC OCEANS - SEA LEVEL RISE - UNCLOS - UNEP WOC - WWF

AMAZON - BURIGANGA - CITARUM - CONGO - CUYAHOGA - GANGES - IRTYSH - JORDAN - LENA - MANTANZA-RIACHUELO
MARILAO - MEKONG - MISSISSIPPI - NIGER - NILE - PARANA - PASIG - SARNO - THAMES - YANGTZE - YAMUNA - YELLOW