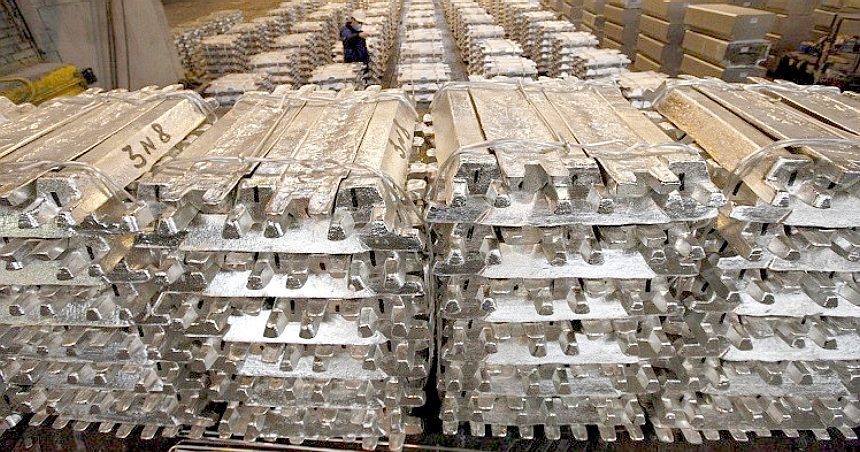 RAW MATERIALS - Aluminium is the most widely used non-ferrous metal. Global production of aluminium in 2005 was 31.9 million tonnes. It exceeded that of any other metal except iron (837.5 million tonnes). The forecast for 2012 was 42–45 million tonnes, driven by rising Chinese output.

Aluminium is almost always alloyed, which markedly improves its mechanical properties, especially when tempered. For example, the common aluminium foils and beverage cans are alloys of 92% to 99% aluminium. The main alloying agents are copper, zinc, magnesium, manganese, and silicon (e.g., duralumin) and the levels of these other metals are in the range of a few percent by weight.

Aluminium is remarkable for the metal's low density and for its ability to resist corrosion due to the phenomenon of passivation. Structural components made from aluminium and its alloys are vital to the aerospace industry and are important in other areas of transportation.

Aluminium is theoretically 100% recyclable without any loss of its natural qualities. According to the International Resource Panel's Metal Stocks in Society report, the global per capita stock of aluminium in use in society (i.e. in cars, buildings, electronics etc.) is 80 kg (180 lb). Much of this is in more-developed countries (350–500 kg (770–1,100 lb) per capita) rather than less-developed countries (35 kg (77 lb) per capita). Knowing the per capita stocks and their approximate lifespans is important for planning recycling.
HOW MUCH WILL A SEAVAX COST TO BUILD ?
We are asked this question all the time. So just how long is a piece of string?
The production of any machine depends on a number of things:
A. Business overheads (office and workshop premises)
B. Total labour costs (office and production staff)
C. Raw material costs (metals, consumables)
D. Equipment costs (mechanical and electrical parts & fittings)
E. Plant & tooling
F. Development costs (design and development)
G. Intellectual property costs (protection)
H. + Contingency
All of the above are variable costs, depending on geographical location and just as importantly, if the machines are being built for profit, or to be used philanthropically. Component parts may be produced by subcontractors to reduce startup costs, with big savings on plant purchases.
The most expensive items are:
1. Batteries
2. Aluminium alloys
3. Solar panels
4. Wind turbines
5. Motors and pumps
6. Hydraulics
7. Navigation equipment
8. Robotics
9. Software
NOT FOR PROFIT OPERATIONS STILL NEED BUFFERS
Even charities need financial security. The difference between a:
A. Not-for-profit operation and a
B. Commercial enterprise ....
Is that a not-for-profit (NFP) operation will not give dividends to shareholders via 'B' shares (or similar). There will be no B shareholders. A NFP will still need to remain in credit at the bank or it cannot operate. But the balance sheet will reflect an operation that is not geared up to making money. There will need to be sufficient reserves for research and development, but that is to deliver the objectives more efficiently, or to resolve problem areas, lobby and the like.
HOW MUCH DO WE NEED FOR THE MANTA-RAY PROTOTYPE ?
Any prototypes will cost several times that of a production unit. Prototyping involves making a boat and fitting it out, then testing the equipment and refining the operating systems.
Improvements, adjustments and specification upgrades are all noted and incorporated in the design of a production vessel.
The cost of building our prototype depends on many variables. How much do we want to do ourselves and how much should we out-source. Outsourcing will speed up production, but cost more. Will companies donate materials, will other companies sponsor us by providing materials, etc.
If we had to purchase all materials and equipment and pay for all development and labour costs, we estimate the cost of our prototype will be in the region of £7 million pounds. With goodwill and cooperation between companies, this may fall by as much as £4.5 million, to £2.5 million pounds. Even this figure might be reduced with merchandising and commercial sponsorship. The good news is that with a little more development, a mix of crowd-funding and sponsors may see the prototype hit the water within the next 18 months.
HOW MUCH WILL PRODUCTION SEAVAX BOATS COST ?
A production SeaVax must be based on actual manufacturing cost, not sponsorship or crowd funding. Our target figure for a production ship is between £2.09 - 3 million pounds ($3 - 4.31 million dollars). This may only be achieved with fabrication based in Asian countries, where most ships are built these days for economic reasons. Some European shipyards may give Asia a run for their money.
It will not be possible to get these guesstimates any more accurate, without first proving the prototype SeaVax, from which firm prices may be obtained for replication.
LINKS & REFERENCE

http://
ACIDIFICATION - ADRIATIC - ARCTIC - ATLANTIC - BALTIC - BAY BENGAL - BERING - CARIBBEAN - CORAL - EAST CHINA
ENGLISH CH - GOC - GULF GUINEA - GULF MEXICO - INDIAN - IRC - MEDITERRANEAN - NORTH SEA - PACIFIC - PERSIAN GULF - SEA JAPAN
STH CHINA - PLASTIC - PLANKTON - PLASTIC OCEANS - SEA LEVEL RISE - UNCLOS - UNEP WOC - WWF

AMAZON - BURIGANGA - CITARUM - CONGO - CUYAHOGA - GANGES - IRTYSH - JORDAN - LENA - MANTANZA-RIACHUELO
MARILAO - MEKONG - MISSISSIPPI - NIGER - NILE - PARANA - PASIG - SARNO - THAMES - YANGTZE - YAMUNA - YELLOW

Youtube - Ally boat building