D
.

.

.

.

D

.

.

.

D

ATLANTIC

.

OCEAN

.

D

PACIFIC OCEAN

.

ATLANTIC

OCEAN

INDIAN OCEAN

.

D

.

.

.
FLEET PATROL EXAMPLE - This map of the world shows SeaVax™ and PlastiMax vessels going about their business keeping the oceans clean of plastic. In the event of an oil spill disaster, the closest SeaNet™ fleet could be diverted to recover leaked oil.
There are many suppliers of emergency response services who can supply oil skimmers and booms to help contain spillages. In addition, aircraft might be hired to spray dispersants onto an affected ocean area, including Boeing 727s, Hercules and WACAF services, currently running at around $8,250 per hour plus Nimbus or other dispersant costs. There is a standby charge of $9,000 a day while aircraft are not being used, totaling $3.28 million dollars. But this is for dispersal of oil, not recovery. Dispersed oil continues to pose an ecological risk. Oil that is not dispersed chokes marine mammals birds and fish.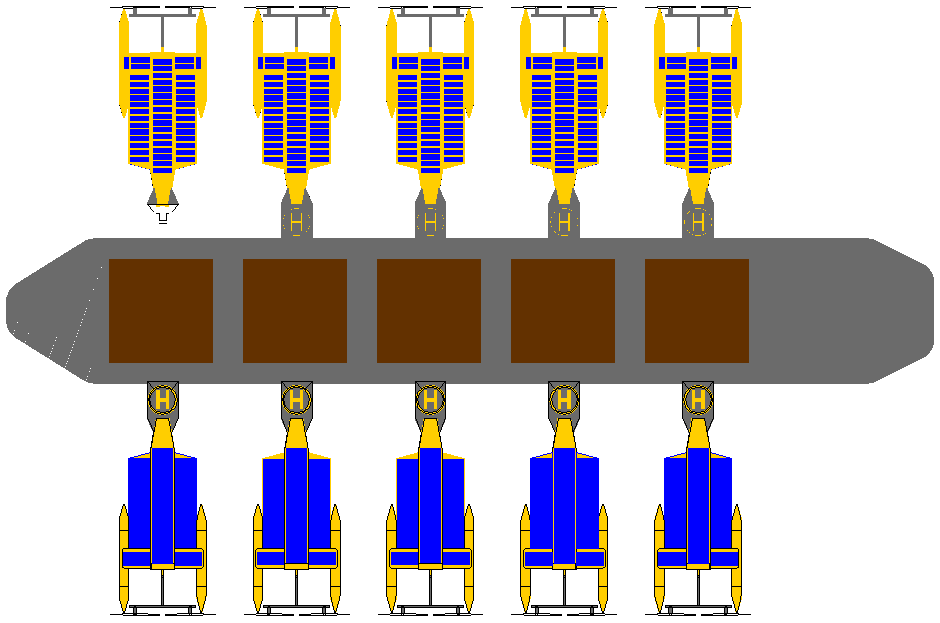 PLASTIMAX BULK CARRIER LAYOUT - The above diagram shows you a plan view of a bulk carrier (drawn to scale) with 10 SeaVax ships docked with the PlastiMax bulk carrier. This diagram is to give you an idea of scale. Ten SeaVax ships could discharge up to 1,500 tons of oil at a time. If the docking and transfer time is roughly an hour - and then re-deployment for recovery is another two hours, one SeaVax could harvest 1,200 tons of oil in a day. Ten could recover 12,000 tons of spill a day. That is sufficient to cope with the leakage rate of the Deepwater Horizon disaster, that was estimated to be 62,000 barrels a day, or around 9,500 tons a day.
Each PlastiMax would need to return to port for discharge of its 50,000DWT capacity every five days. Where the well leaked for 87 days, that would mean having to cope with 826,500 tons of crude, equal to 17 tanker loads, which roughly equals the total spill in the total time. In other words, 10 SeaVax and 2 PlastiMax (to allow for overlaps) may well have coped with the BP catastrophe. The cost of 10 SeaVax and 2 PlastiMax ships could be as low as $100 - 200 million dollars. Compare this contingency figure to the total cost to the oil giant of the incident of $60.9 billion dollars. Having thought on that for a bit, what possible reason could any oil producer offer - for not having a fleet of SeaVax out at sea equipped with an oil handling module?
Criminal and civil settlements and payments to a trust fund had cost BP $42.2 billion to February 2013. Then in September 2014, a U.S. District Court judge ruled that BP was primarily responsible for the oil spill because of its gross negligence and reckless conduct. In July 2015, BP agreed to pay $18.7 billion in fines, the largest corporate settlement in U.S. history.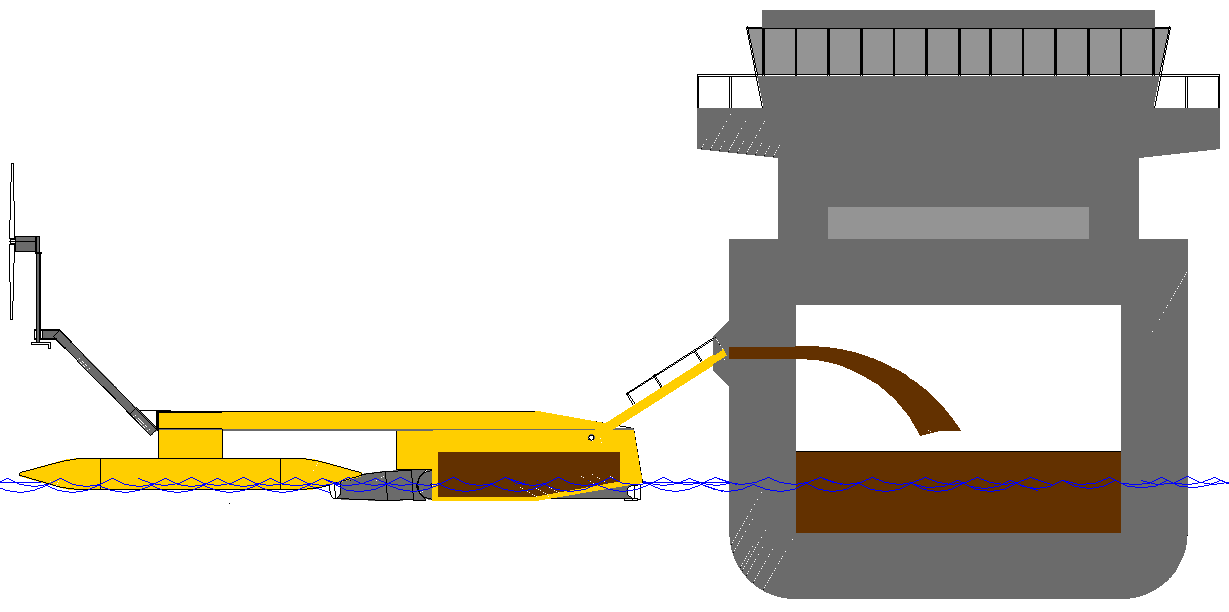 SEAVAX DISCHARGE - In this diagram we see a SeaVax coupled to a PlastiMax tanker, with recovered crude oil being pumped from one ship to another. Being solar and wind powered, means that recovery operations do not add to global warming and acid oceans, while effecting a rescue operation.
PLASTIMAX END VIEW - This diagram shows a PlastiMax heading toward us with two SeaVax drones coupled to the carrier, with its holding tanks full. When operating normally looking for plastic waste, SeaVax ships would be able to detect oil in seawater, and so report potential oil seepage problems.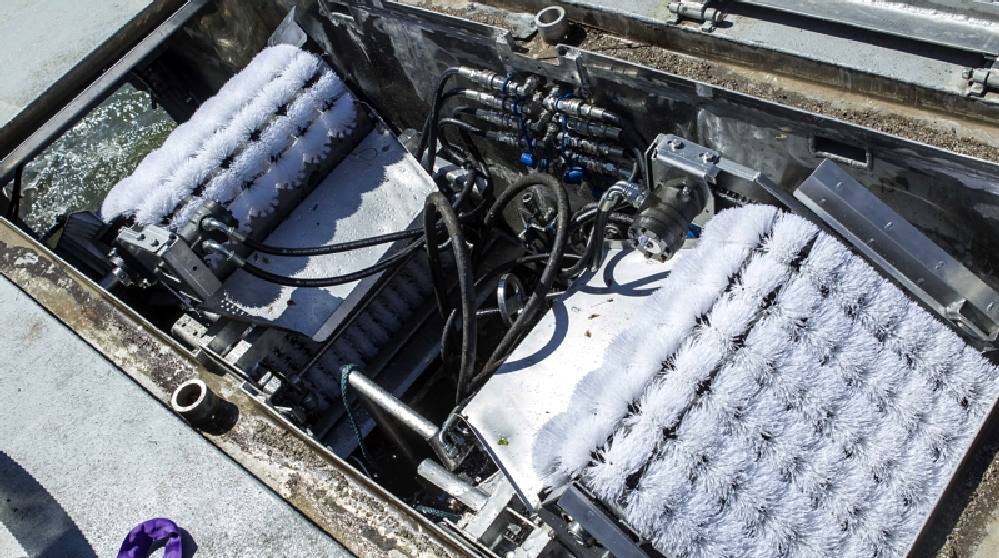 SEAHOW - Our project manager looks at this possible solution to increasing the yield of oil recovered from a spill with a suitably modified SeaVax™. There are several methods used to separate oil from seawater, but this system offers many advantages that we have yet to research thoroughly, mainly because our priority is to launch our prototype vessel before building alternative work machines on our zero carbon platform.
The SeaHow 'InbuiltRecoverer' is a vessel integrated skimming system designed for work boats from 15 metres to large vessels beyond 100 metres. It can be retro-fitted. A unique 2-brush solution consists of two brushes that enable simultaneous recovery of oils with different levels of viscosity. Brush cassette gathers the more viscous oil, while the brush drum located underneath the brush cassette gathers the lighter oil. The patented oil scraper can be adjusted during the operation, ensuring efficient oil recovery regardless of the quality of the spilled oil.
SeaHow skimmer oil collection capacities have been certified in accordance with the ASTM Standard. The patented brush-comb solution of the skimmers allows several oil types, including diesel oil, are collected efficiently.
The thermoplastic oil collecting brushes tolerate heavy use in extreme temperatures from -50 °C to +170 °C. The brush drum is made of some of the best brush components on the market – the high-quality bristles are easy to maintain and can be cleaned fast with hot steam at up to +170 °C. The replacement of a damaged bristles is claimed to be fast and easy. The skimmers are operated by a SeaPack power unit equipped with an oil transfer pump. The pump is sized to correspond to the oil collection capacity of the skimmer. This fits well with our present designs for our SeaVax.

The weight of a SeaHow brush cassette is only one third of a traditional unit. In a typical double installation this could result in a weight saving of up to 300 kg, significantly decreasing energy requirement in the long term.
Contacts: Research & Development, International Sales Lauri Nordström, Phone +358 40 731 5444. Product Management, International Sales Kalle Bask, Phone +358 207 030 317. Sales & Business development Caius Grann, Phone +358 207 030 316.
THE SEAVAX ALTERNATIVE
SeaVax ships might contain an oil recovery module and use the same holding tanks that would normally be used to store plastic waste, for emergency displacement by oil. The holding tanks have a nominal capacity of 150 metric tons, so 150 cubic meters if filled with water.
Crude oil varies in density from 790 - 973 kg/m3. Plastics vary between 913 - 1467 kg/m3. Consequently, the capacity of SeaVax to store crude oil before offloading is in excess of 150 metric tons.
By way of example, if docking and suction times came to three hours per cycle, then ten SeaVax drones could recover 12,000 tons of spill a day. That would be sufficient to cope with the leakage rate of the Deepwater Horizon disaster, that was estimated to be 62,000 barrels a day, or around 9,500 tons a day. It would take 17 rounds trips for a PlastiMax bulk carrier to deal with this magnitude of oil spill.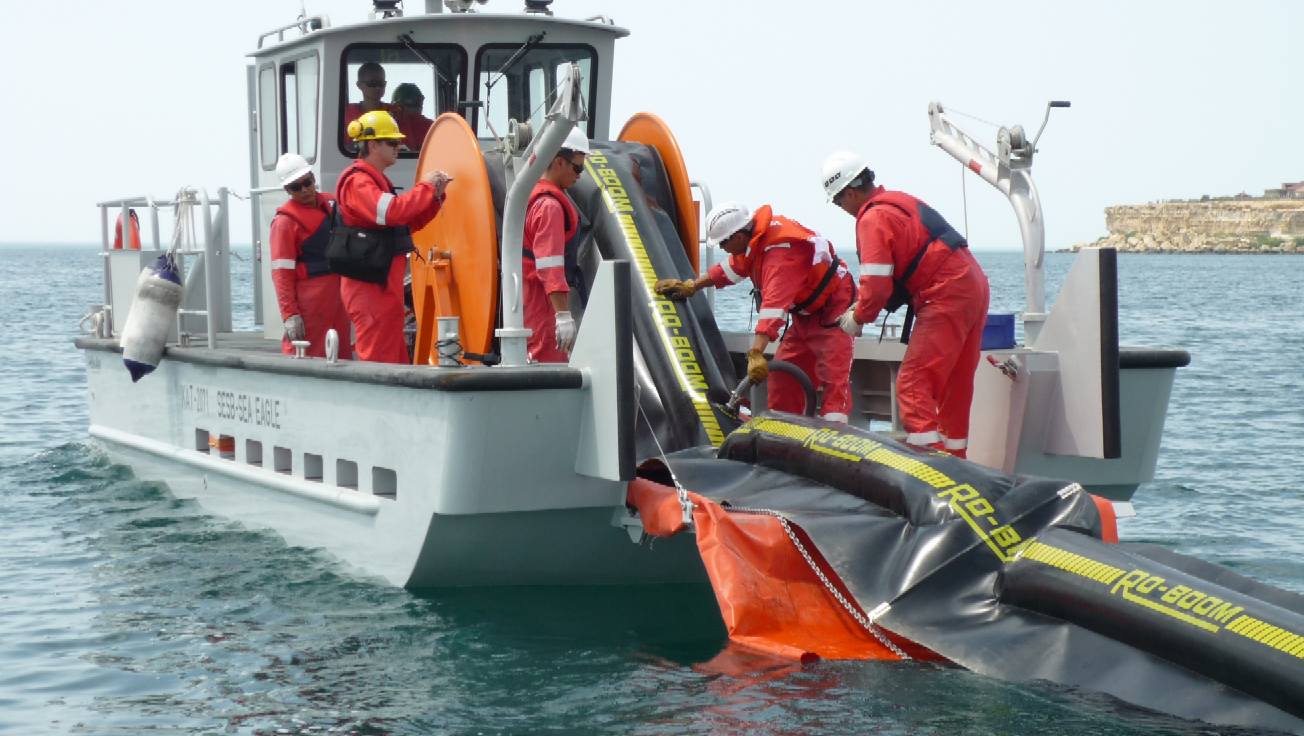 SEA EAGLE - An oil spill response vessel plays out a boom to contain an oil spill, inflating sections as it goes. This is an example of a conventional response to an oil spill. Containment can be an effective measure, so long as there are pumps at hand to remove any oil contained.
OIL COMPANY ATTITUDES
The real problem is not that the technology does not exist to cope with oil spills more effectively, it is that some oil companies would rather continue to operate recklessly - and not pay for the development that would have been needed to have a solution like SeaVax waiting in the wings.
We hope that that might change. With public support we might remain available for consultation and at least have a theoretical solution in place, along the lines of this example. An insurance policy against loss, is hardly sufficient when our ecology suffers no matter who is paid out and who does not receive their dividends. We cannot rely on shareholder pressure to require oil companies to act responsibly.
Sadly, it is bound to require legislation to force profit driven oil exploration to do the right thing. One might imagine the difficulty involved in seeking international cooperation from the oil producing countries in putting such statute in place. It is an election promise that is unlikely to win sufficient votes to become a President or a Prime Minister. When it comes to Kingdoms, democracy does not come into the frame. Surprisingly, there are some rulers who are more likely to do the right thing than elected officials, because they do not have to play the odds game, only wrestle with their conscience.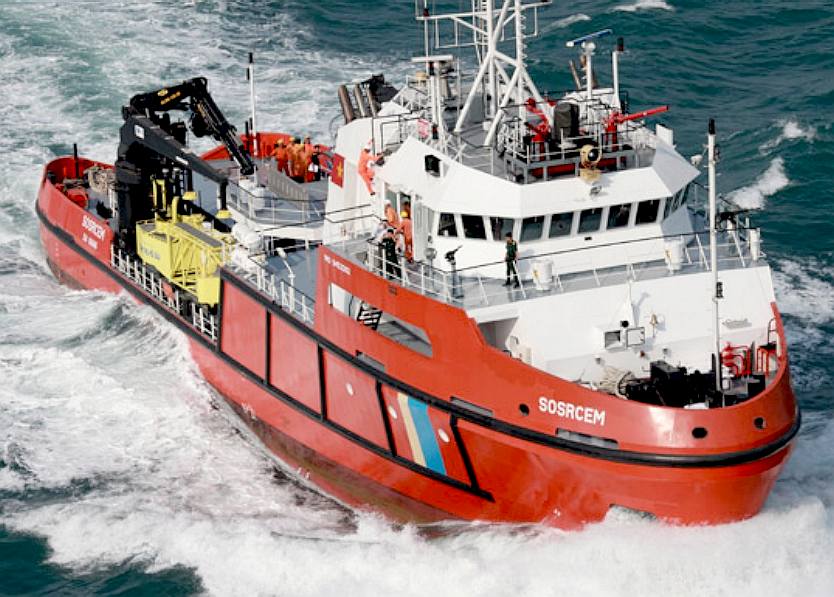 DAMEN MPV - Another conventional response vessel from some years ago, the SOSRCEM has "SeaDarq" radar that detects differences in wave patterns, allowing the vessel to identify oil patches day and night, making the vessel highly effective.

The Damen-designed Multi Purpose Vessel is particularly suited for oil spill response, operated in Vietnam. The ship is fitted with two large sweeping arms and was the first oil spill response vessel of this type to be operated in Asia.

Built by Song Thu shipyard in Danang in Vietnam under a Damen license, the MPV 5212 is deployed by Vietnam's Oil Spill Response Center for Central Vietnam. The Vietnamese Authorities were to order another two oil spill response vessels and all three will be deployed along the coast of Vietnam.

SOSRCEM, has a length of 52.40 m and molded beam of 12 m it has a recovered oil tank capacity of 360 cu.m. Main engines are two CAT 3512 diesels.

Damen Technical Cooperation (DTC) provided the engineering and material package and the drawings for the MPV 5212 to allow Song Thu to build the complete vessel.

The MPV 5212 is actually based on a previous Damen-designed oil spill response vessel, the 80 m Arca, which is stationed in the port of Scheveningen and owned by the Dutch Ministry of Transport. Built in 2003, this vessel has already proven its ability to handle oil spills and has worked on several major incidents over the years including the Erika and Prestige disasters.
LINKS & REFERENCE
Meritaito Ltd
P.O. Box 111, (Porkkalankatu 5)
FI-00181 Helsinki, Finland
The Guardian environment bp oil spill
The Guardian 2015 October 29 Gulf oil spill transocean and states agree millions in compensation
TheGuardian 2015 September 11 Goldman Sachs says oil could fall to $20 dollars a barrel
http://www.seahow.fi/
http://www.emexlondon.com/
http://www.emexlondon.com/
https://www.spillcon.com/
http://www.interspill.org/
http://www.theguardian.com/business/2015/sep/11/goldman-sachs-says-oil-could-fall-to-20-dollars-a-barrel
http://www.iea.org/
http://www.deepwater.com/
http://www.theguardian.com/environment/bp-oil-spill
http://www.theguardian.com/environment/2015/oct/29/gulf-oil-spill-transocean-and-states-agree-millions-in-compensation
http://www.saudiaramco.com/
http://www.shell.com/
http://www.rosneft.com/
http://www.exxonmobil.com/
http://www.gazprom.com/
http://www.petrochina.com.cn/
http://www.pemex.com/
http://www.chevron.com/
https://www.kpc.com.kw/
http://www.petrobras.com.br/
http://www.total.com/
https://www.qp.com.qa/
http://www.adnoc.ae/
http://www.bp.com/
http://www.lukoil.com/
http://www.statoil.com/
http://www.pdvsa.com/
http://www.nrc.oil.gov.iq/
http://www.bp.com/
https://en.wikipedia.org/wiki/Deepwater_Horizon_oil_spill
http://www.apsimplepsaltery.com/appendices/material_densities/
http://www.simetric.co.uk/si_liquids.htm
http://nrcc.com/our-services/response-services/oil-spill-response/
http://www.bird-rescue.org/our-work/oil-spill-response-and-preparedness.aspx
http://www.millerenv.com/services/emergency-response/emergency-oil-spill-response/
http://www.oilspillresponse.com/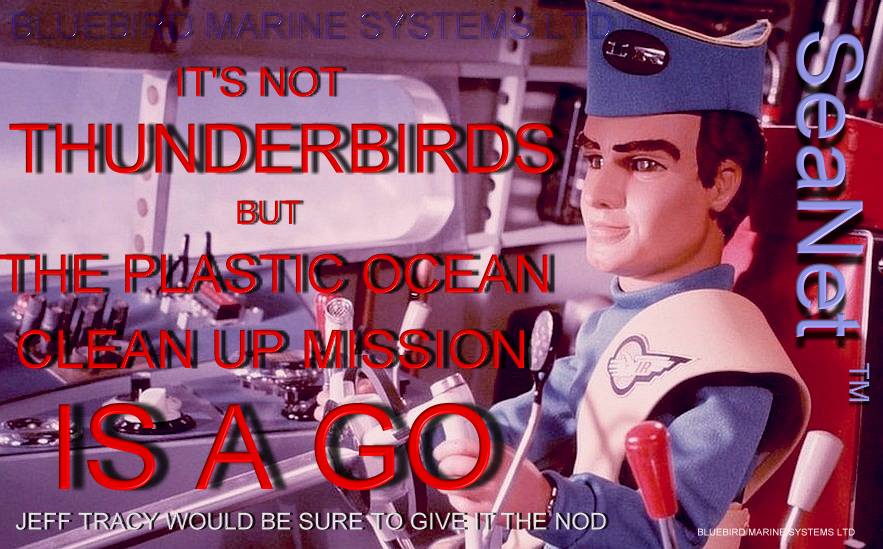 ACIDIFICATION - ADRIATIC - ARCTIC - ATLANTIC - BALTIC - BAY BENGAL - BERING - CARIBBEAN - CORAL - EAST CHINA
ENGLISH CH - GOC - GUANABARA - GULF GUINEA - GULF MEXICO - INDIAN - IRC - MEDITERRANEAN - NORTH SEA - PACIFIC - PERSIAN GULF - SEA JAPAN
STH CHINA - PLASTIC - PLANKTON - PLASTIC OCEANS - SEA LEVEL RISE - UNCLOS - UNEP WOC - WWF

AMAZON - BURIGANGA - CITARUM - CONGO - CUYAHOGA - GANGES - IRTYSH - JORDAN - LENA - MANTANZA-RIACHUELO
MARILAO - MEKONG - MISSISSIPPI - NIGER - NILE - PARANA - PASIG - SARNO - THAMES - YANGTZE - YAMUNA - YELLOW

AUTONOMOUS DOCKING IN SPACE