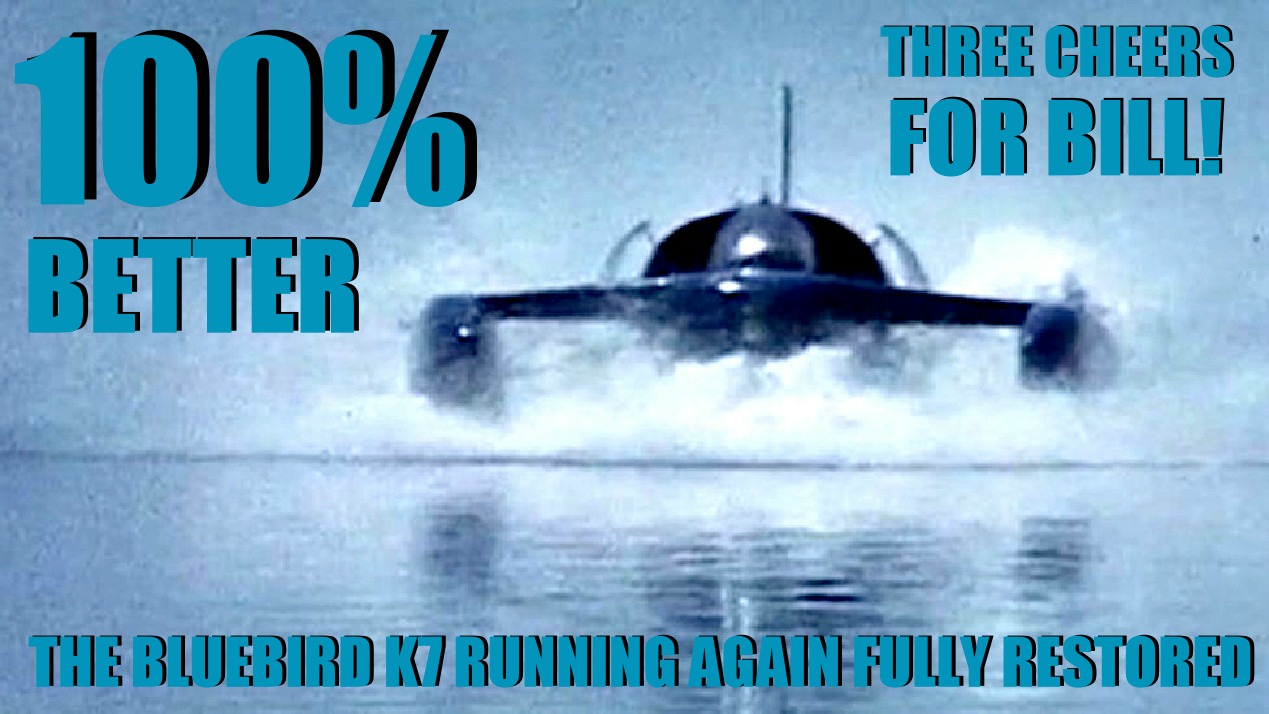 A bitter dispute as to ownership and rights to operate, has broken out and is still unresolved at time of writing (25-01-2023). We are sure all fans of Bluebird land and water speed record vehicles, will be pleased to see the K7, above, running again on water. As many readers will know, Bill Smith has spent 15 years of his life restoring the jet powered Bluebird, the passion of Donald Campbell, until he pushed the design too far in 1967. Despite agreement as to operational rights, the Ruskin Museum in Cumbria is now seeking to default on that agreement, without offering Mr Smith compensation for his fifteen years of project management and time spent actually working on the fated hydroplane.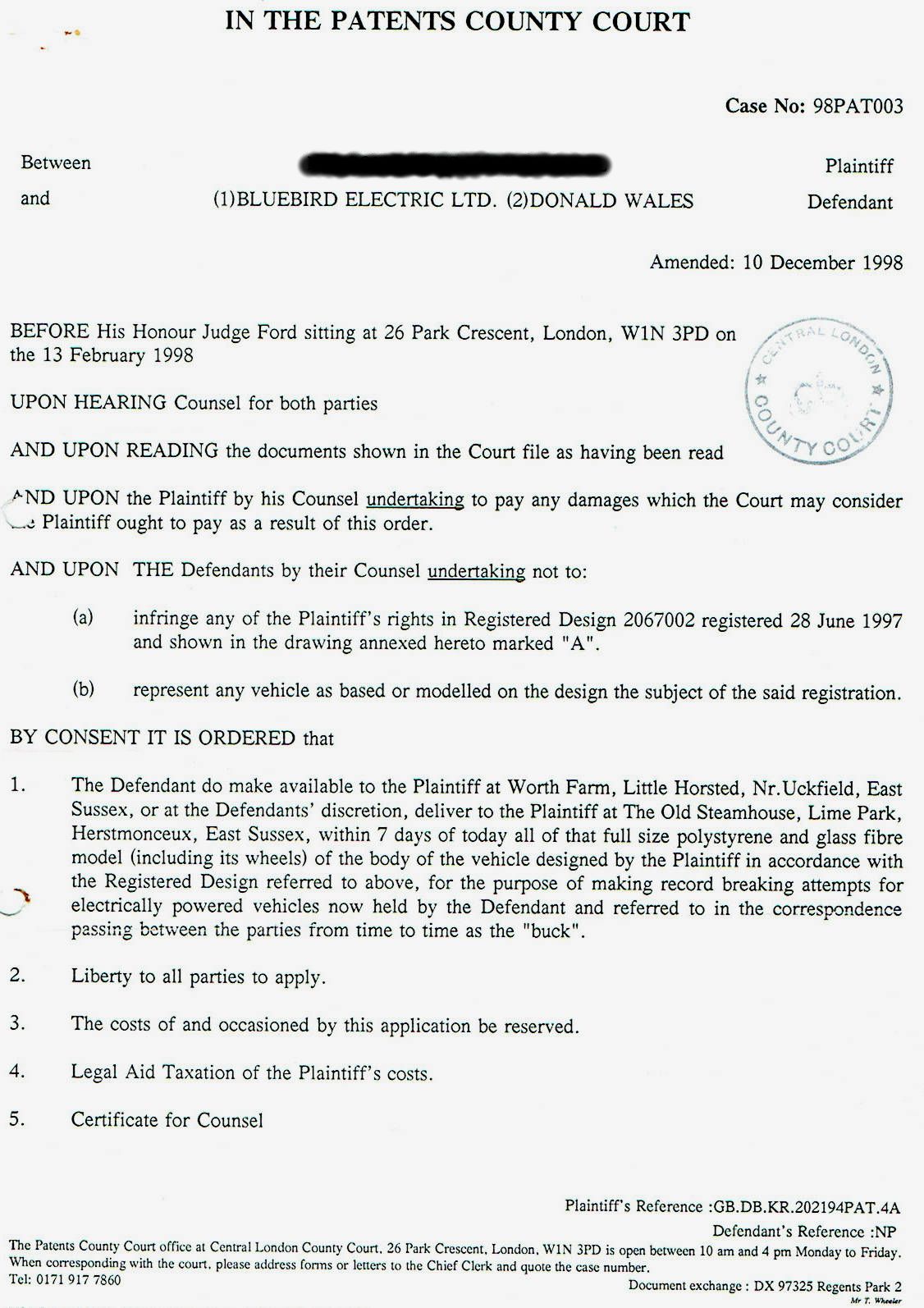 This might seem like a one off dispute, until you look back in time at the various disputes between Sir Malcolm Campbell and Rolls-Royce, Donald Campbell and Ken Norris, and Don Wales and the designer/builder of the Bluebird Electric racing cars. Taken in that context, the present dispute is just another in a chain, that seems to have passed down the family as an embedded DNA profile. Of course that is just speculation, whereas the history of disputes is indisputable. When it comes to paying, just like the addiction to speed, it seems to run in the family, not to honour agreements, allegedly. In the case above, the designer was owed £62,000 pounds in 1997. This sum was agreed. There is a tape recording (and transcript) of Don Wales admitting the debt, but deciding not to pay. We wonder if Bill Smith had the foresight to record conversations. We wonder if there is anything in writing. If not, what a trusting soul the amateur diver was. You may remember Robert the Bruce and William Wallace being betrayed? Sixty-two thousand pounds was the value of the designer's house in Polegate - in 1997/8. How many people can afford to take that kind of hit in their lives? These are cold hard indisputable facts. It is also a fact, that Don Wales knew a high up Councillor at Wealden District Council. And that illegally, they were providing data protected papers to Mr Wales in connection with the above litigation. In addition, Sussex police were aiding and abetting this Council, perpetuating a long-term planning fraud by the local authority. Yes, almost unbelievable, but it is true 0 wheels within wheels. Just like the fast track Covid procurements, with £millions in an offshore account, allegedly. Corruption is rife in the UK at the very highest levels. Not unique of course, with the EU also infected.
The K7 salvaged in 2001 and on its final run of legend 4 January 1967 - pictures 34 years apart.
ITV.COM 23 FEBRUARY 2023 - LEGAL PAPERS SERVED TP GET DONALD CAMPBELL'S BLUEBIRD BACK TO CUMBRIA

The Ruskin Museum has issued legal proceedings against Mr William Hammerton (Bill) Smith and The Bluebird Project to gain possession of Donald Campbell's Bluebird K7.

The museum and Bill Smith have been engaged in a long-running tug-of-war over the vessel in which water-speed record-breaker Donald Campbell died at Coniston Water in 1967.

It was gifted to the museum by the Campbell family in 2006, and then handed over to Mr Smith on the understanding that, once restored, it would be returned to Coniston.

But Bluebird K7 remains in the North East.

The row centres around the conditions for Bluebird being returned to the museum after Mr Smith's team on Tyneside has restored it.

Sealed legal papers have been served on both parties on Thursday 23 February 2023.

Deputy Chairman of the Ruskin Museum Jeff Carroll said: "It is with regret that we have had to take this action to gain physical possession of Donald Campbell's record-breaking boat which was gifted to the museum by the Campbell family in 2006.

"We have taken this action with the blessing and full support of the Campbell Family Heritage Trust.

"This action comes only after several years of trying to persuade Mr Smith and his organisation to honour the original agreement and allow K7 to be brought back to Coniston so that she can be displayed in the bespoke Bluebird Wing of the museum which cost in excess of £750,00 to build and equip."

Mr Carroll continued: "The Ruskin Museum would have preferred that this matter be resolved without the need to resort to Litigation however we have been left with no choice but to issue in order to find a resolution for all.

He added: "We have not taken this decision lightly and it is very much a last resort to assert our legal rights.

"We have an obligation to the many people and organisations who contributed to the Bluebird Wing; to those who wish see Bluebird K7 in Coniston; to those who donated in good faith to the restoration project; to those who granted planning permission for the Bluebird Wing, and to the Campbell family who gifted the boat to us and wish to see her reside in her spiritual home, as close as possible to her brave pilot."

ITV Granada has been in touch with The Bluebird Project for comment.

Bluebird K7 is a jet engined hydroplane which Britain's Donald Campbell set seven world water speed records between 1955 and 1967.

K7 was considered revolutionary when launched in January 1955.

Campbell and K7 were responsible for adding almost 100 miles per hour to the water speed world record, taking it from existing mark of 178 miles per hour to just over 276 miles per hour.

Donald Campbell died when his much modified Bluebird K7 flipped over and crashed on Lake Coniston as he tried to raise the record to over 300 miles per hour on 4 January 1967.

The wreckage was recovered from Lake Coniston in March 2001.

Donald Campbell's body was recovered 28 May 2001 and later that year he was given a funeral service at St Andrews Church in Coniston.

[This appears to us to be very one sided reporting, almost as if written by Ruskin Museum. There is no mention of the value of Bill Smith's costs in restoration. We feel sure this should have been included in an article described as fair and balanced reporting. Discrimination is unlawful, according to Article 14 of the Human Rights Act 1998. Mr Smith is entitled to a fair hearing, according to Article 6, of the European Convention. Press take note!]
SALVAGE OF BLUEBIRD K7

The wreckage of Campbell's craft was recovered by Bill Smith and his team of divers on the 8th of March 2001. That was over 20 years ago as of today's date (February 2023). Royal Navy divers located the sunken hull in 1967, but could not find DC. At that time the nation was in shock, and no member of the family pushed for recovery such that the hull rested in peace for 34 years before curiosity got the better of locals.
Following the raising of the the largest section of the boat, representing approximately two-thirds of the main hull, Donald Campbell's body was recovered in May of 2001. There then followed a heck of a hullabaloo between the remaining family members, much reported in the press, to include the threat of litigation, where Filching Manor Motor Museum owner Paul Foulkes-Halbard had paid coin of the realm for salvage rights - but this little detail seemed to have been overlooked in the rush to claim the wreck, where at the time it looked like lottery money may be forthcoming for a project of some sorts. As you can imagine, with Lottery money in the offing, the scramble for rights must have been incredible. Gina Campbell no offence, but not exactly a classic vehicle restorer, bequeathed the wreck to the Ruskin Museum, on the understanding that Bill Smith's team would restore the K7, on the basis of the right to operate her.
That was how the story unfolded, and now we hear legal papers have been served on restoration manager, Bill Smith. We think most readers will agree that without Bill Smith's offer to restore the K7, the Lottery bid to build a display unit, would not have succeeded. Hence, the Ruskin Museum and Campbell Trust, owe Bill a massive debt of gratitude. How then did they propose paying him back?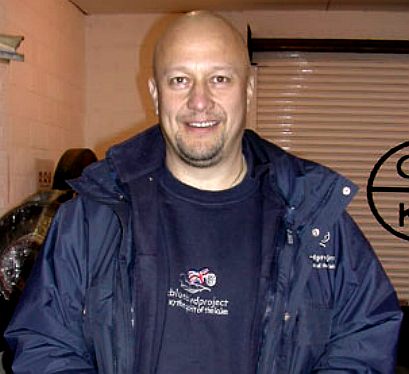 Bill Smith - Bluebird restoration project manager and salvage diver, wearing the embroidered sweatshirt with union jack emblem. Bill is a practical hands on type of chap with a serious range of skills that he brings to the table, on any project that he is involved in. Another attribute worthy of mention is his stamina; both mental and physical. You need this blend of qualities to see projects like the K7 restoration through.
JANUARY 10 2005 - NEWS & STAR
HOPES are high that lottery funding could be granted to allow Donald Campbell's legendary boat Bluebird to be restored and put on display in the Lake District.

Campbell's daughter Gina has threatened to dump Bluebird back in Coniston, where it crashed on January 4, 1967, or sell it on an internet auction site.

She says she won't allow the wrecked boat to be put on public display and agrees it should be restored before it goes into the Ruskin Museum in Coniston village.

Now a revised application has been submitted to the Heritage Lottery Fund (HLF) following the failure last March of an initial bid for £940,000.

Fresh hopes have been expressed this week that Bluebird could be restored and put on display by 2008. A decision from the HLF is expected in June.

Campbell died aged 46 when Bluebird overturned in spectacular fashion that fateful morning in 1967. The speed ace was a popular figure in the Lake District which he frequently visited for water speed record attempts.

Controversy surrounded the decision to raise the wreck from the lake bed in 2001 after it had lain there undisturbed for 34 years.

It is currently in the North East workshop of underwater surveyor and amateur diver Bill Smith who discovered the wreck and fronted the project to restore it. [Important that bit]

Ms Campbell says Bluebird was a feat of engineering and should only be displayed in restored condition.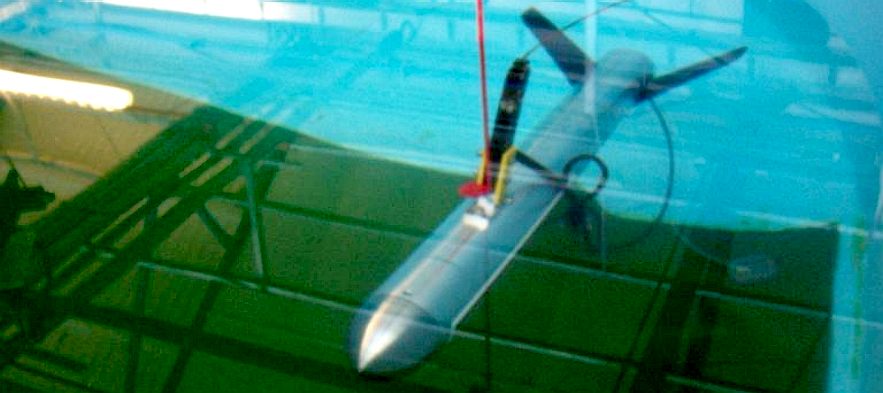 SONAR SURVEY - Using the latest technology the team upgraded their equipment to road test a bit of kit that improved on the old sonar, in being able to read the lake bed in one sweep from a central course, where previously it took several trips up and down in a grid pattern, to be able to re-create an image of the lake bed from a mosaic of scans all knitted together digitally. This sonar performed flawlessly, but that performance was let down when a £40 computer hard-drive decided to fail leaving them without a system at all.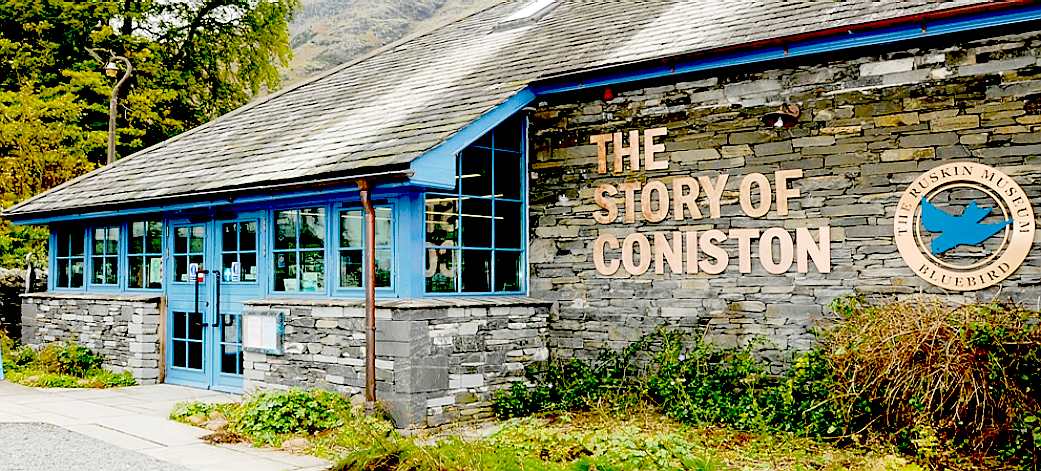 This is where the legal action is reaching boiling point
CONTACTS
The Ruskin Museum
Coniston, Cumbria
England, LA21 8DU

Tel: 01539 441164
Fax: 01539 441132

Emails: information@ruskinmuseum.com
accounts@bluebirdproject.com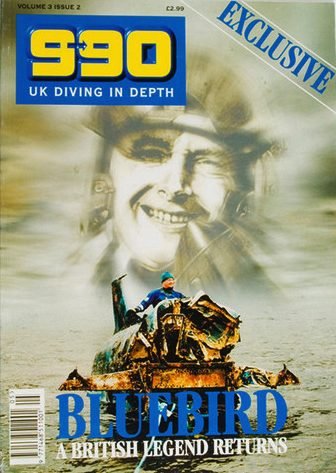 COMMENT - The K7 is no longer design protected, meaning that anyone can build an improved boat or a replica for themselves or their event, etc. It is no different to building a scale model in its appreciation of the art. It is also no different to building a classic car replica.
But why? When Donald Campbell proved what Ken Norris feared most; that the Bluebird had design limitations. Clearly, it would be unrealistic to build a replica with built in limitation, just as the plans to run the original K7 again - are folly, save only for nostalgic occasions at a safe slow speed.

Let us not forget that the relatives of Donald Campbell did nothing to preserve the K7. It remained in the Lake until someone else found it and raised it. You may think that that should have been left to the family of DC and we note that there is a Malcolm Campbell Heritage Trust, but we have yet to see a dedicated website listing their achievements? There is of course time for that and we have a hat in readiness to take off as and when.
Restoring the original K7 somehow takes away the horror of the inevitable somersault that took the life of a very brave man, some said suicidal and others that the flip was a scam - it was not of course - it happened.
Restoration though is in some measure like saying that the fatal run never happened and all that the wreckage represented is now lost, save for photographs (and maybe a log) of the restoration. This is much the same situation as when Babs was dug up from the beach at Pendine, when maybe it should have been left as a memorial - and a replica taken its place in the Museum. This view should not detract from the superb efforts of Bill Smith and his crew, but is rather the observation of many. Now that the K7 is risen like a phoenix, obviously we are extremely pleased that the project is in such capable hands.

The anniversary was for the CN7 and K7, with Tonia Bern-Campbell as a guest speaker - what a special treat for Donald Campbell enthusiasts.
Donald Campbell looked to embrace future technology and put it to the test.

The K777, piloted by Jim Noone. It seemed a little nose heavy during trials, suggesting that some re-trimming might be in order. This was a problem that Leo Villa and Donald Campbell came across, sometimes resorting to weights. There is a knack to getting the sponsons to rise above their bow wave. We note that most radio control models of the K7 do not have difficulty getting onto the plane.
Campbell's last words on his final run were, via radio intercom:

" Pitching a bit down here...Probably from my own wash...Straightening up now on track...Rather closer to Peel Island...Tramping like mad...and er... Full power...Tramping like hell here... I can't see much... and the water's very bad indeed...I can't get over the top... I'm getting a lot of bloody row in here... I can't see anything... I've got the bows out... I'm going!....ugh "

INVITATION - If any member of a speed king family (or ongoing project) would like to have their/your say, we will publish their/your comments verbatim as a right of reply protected by Articles 9 and 10 of the ECHR - and we look forward to hearing from them/you. Otherwise, we assume that reporting by ourselves and the media is accurate and does not cause offence.
SIR MALCOLM CAMPBELL'S BLUE BIRDS
DONALD CAMPBELL'S BLUEBIRDS
Jetstar (not a bluebird)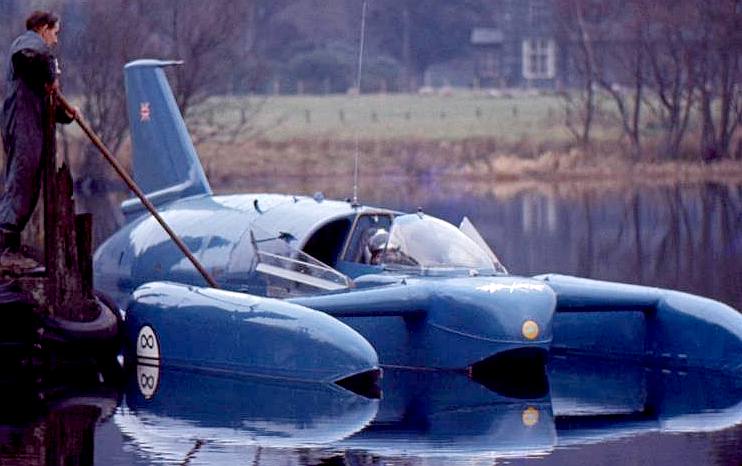 Donald Campbell's K7 world water speed record boat, Lake Coniston 1967
LINKS & REFERENCE
https://www.itv.com/news/granada/2023-02-23/legal-papers-served-to-get-donald-campbells-bluebird-back-to-lake-district
https://uk.news.yahoo.com/legendary-bluebird-speedboat-coming-york-104339795.html
https://www.itv.com/news/granada/2023-02-23/legal-papers-served-to-get-donald-campbells-bluebird-back-to-lake-district
https://uk.news.yahoo.com/legendary-bluebird-speedboat-coming-york-104339795.html
Bluebird