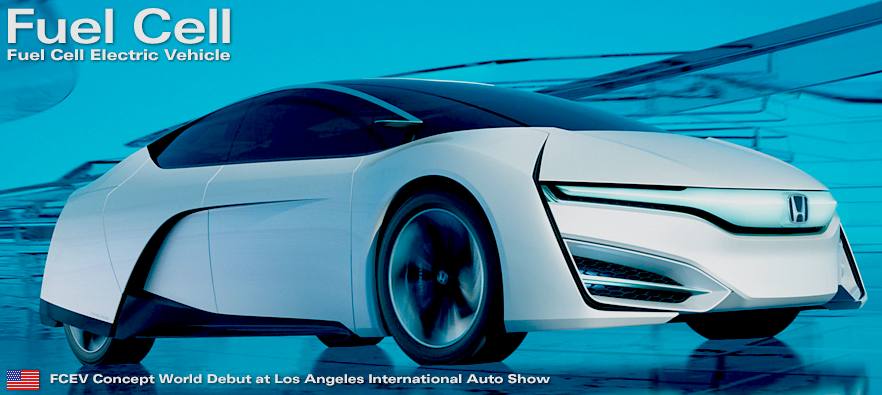 25 June 2012 - Germany is spending more than 40 million Euros to build a network of filling stations for hydrogen and fuel cell cars. The network is to be completed by 2015, when hydrogen and fuel cell cars are expected to be widely available.
The 5th European PEFC & H2 Forum is the 19th Conference in the Series to include an Exhibition & Demonstration Area. Since 2011 EFCF has been fully dedicated to these subjects and fosters them exclusively to be able to claim that after 2013 to be the leading European meeting place.
TOPICS:

- HYDROGEN FUEL CELLS like PEFC, HTPEM, AFC, PAFC
- DIRECT ALCOHOL FUEL CELLS like DMFC
- MICROBIAL FUEL CELLS
- HYDROGEN Sustainable PRODUCTION, STORAGE & INFRASTRUCTURE

VENUE

30 June – 3 July 2015
Kultur- und Kongresszentrum Luzern KKL
Lucerne, Switzerland

Chairman of the Conference: Prof. Dr. sc. Frano Barbir
Conference Language: English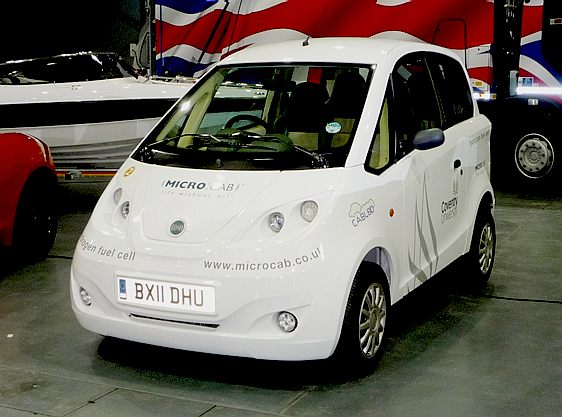 MICRO CAB - Coventry University's hydrogen powered taxi concept
CONFERENCE INFORMATION

The 5th EUROPEAN PEFC & H2 FORUM will be a highlight of the year for those involved with HYDROGEN FUEL CELLS (H2FC like PEFC, HTPEM, AFC, PAFC,…), DIRECT ALCOHOL FUEL CELLS (DAFC like DMFC) and for the first time also MICROBIAL FUEL CELLS (MBFC). HYDROGEN production, storage & infrastructure (H2PSI) are also fully included. In 2013, the EUROPEAN PEFC&H2 FORUM was Europe's largest event dedicated to these H2FC, DAFC and H2PSI topics exclusively and has evolved to the leading European meeting place.
The Topics of science, engineering, materials, systems, testing, applications and markets will range from:

• FC catalysts – FC membranes & other components
• Characterization of FC materials
• Durability and degradation mitigation strategies
• FC diagnostics & modelling
• Stack and system integration, operation strategies
• H2 production with emphasis on electrolysis techniques, e.g. PEM and alkaline
• H2 storage material and systems including theory and modelling
• H2 infrastructure and demo sites systems, operation and costs
• Fuel processing and hydrogen purification
• FC power trains and vehicles
• Portable applications and early markets
• Combined heat and power
• Major regional & company developments
• Demonstration and deployment – success stories
• Assessment, applicability & education

The venue is once again the attractive "Kultur- und Kongresszentrum Luzern" - KKL on the waterfront of the charming Lake Lucerne in the heart of Switzerland.

Mercedes-Benz already offers a zero-emission fuel cell B-Class compact, called the F-Cell, that is already available for leasing in Germany and in California. The Honda FCX Clarity fuel cell sedan also is available for leasing in California. The FCX Clarity won the Green Car of the Year Award in 2009.

The 5th EUROPEAN PEFC & H2 FORUM CONSISTS OF:

> a Fuel Cell and Hydrogen TUTORIAL on Tuesday, June 30th,

> two parallel Lecture Series from Wednesday, July 1rd to Friday, July 3th and

> a Fuel Cell EXHIBITION open from 4pm Tuesday to 12pm Friday.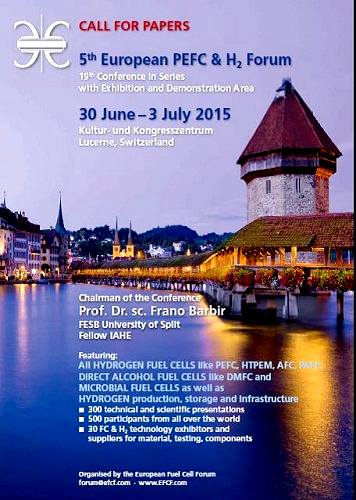 EXHIBITOR LIST 2013
ALMUS AG
Morgenacherstrasse 2F
5452 Oberrohrdorf
Switzerland
Hagenower Strasse 73
19061 Schwerin
Germany

Belenos Clean Power Holding Ltd
Rue des sors 3
2074 Marin-Epagnier
Switzerland
http://www.belenoscleanpower.com/
Nenzlingerweg 5
4153 Reinach
Switzerland
17, rue des Martyrs
38054 Grenoble Cedex 9
Mercedesstrasse 137
70327 Stuttgart
https://www.daimler.com/technology-and-innovation/drive-technologies/fuel-cell

Deutsches Zentrum für Luft- und Raumfahrt (DLR)
Institut für Technische Thermodynamik, Elektrochemische Energietechnik
Pfaffenwaldring 38-40
70569 Stuttgart
Germany

Diamond Lite S.A.
Rheineckerstr. 12 / P.O. Box 9
9425 Thal
Switzerland
Leuschnerstrasse 45
70176 Stuttgart
Germany
Überlandstrasse 129
8600 Dübendorf
Switzerland
Wilhelm-Jonen-Str.
52428 Jülich
Germany

Haute Ecole d'Ingénierie et de Gestion du Canton de Vaud (HEIG-VD)
Institut d'Energie et de Systèmes Electriques
Route de Cheseaux 1
1401 Yverdon
Switzerland
http://iese.heig-vd.ch/en-gb/home/Pages/home.aspx
Rudower Chaussee 29
12489 Berlin
Germany
c/o EMPA
Überlandstrasse 129
8600 Dübendorf
Switzerland
HyET B.V. – Hydrogen Efficiency Technologies
Leemansweg 15
6827 BX Arnhem
The Netherlands
KNF FLODOS
Wassermatte 2
6210 Sursee
Switzerland

National University of Singapore & eMobility Ltd.
119 Clementi Road
Blk l, #11-15 Kent Vale
129801 Singapore
Singapore
http://www.eng.nus.edu.sg/ero/news/index.php?id=980
Vogelsangstrasse 24
8307 Effretikon
Switzerland
Belpstrasse 37
3030 Bern
Switzerland
Danziger Straße 8
73035 Göppingen
Germany
Arbouville
28310 Rouvray-Saint-Denis
France
Waldstrasse 5
82418 Murnau-Westried
Germany
Schuerlistrasse 8
8344 Bäretswil
Switzerland
Thüringer Strasse 12
96317 Kronach
Germany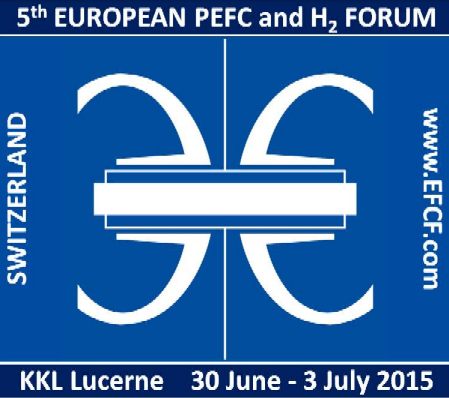 COMMITTEES OF THE EUROPEAN FUEL CELL FORUM

Scientific Advisory Committee

• Dr. Naveed Akhtar, AFC Energy plc., UK
• Prof. Frano Barbir, FESB, University of Split, Croatia (Chair)
• Dr. Felix Barreras, LITEC CSIC-University of Zaragoza, Spain
• Dr. Isotta Cerri, Toyota, Belgium
• Dr. Angelo Esposito, EIFER, Germany
• Prof. Andreas Friedrich, DLR, Germany
• Dr. Günther G. Scherer, PSI (emeritus), Switzerland
• Dr. Graham Hards, Johnson Matthey Fuel Cells, UK
• Prof. Daniel Hissel, FCLAB Uni de Franche-Comte, France
• Prof. Deborah Jones, CNRS, France
• Prof. Joannis Kallitsis, University of Patras, Greece
• Dr. Pertti Kauranen, VTT Technical Research Centre, Finland
• Prof. Anthony Kucernak, Imperial College, UK
• Prof. Werner Lehnert, FZJ, Germany
• Prof. Hongtan Liu, University of Miami, USA
• Dr. Jurgen J. Louis, Shell Global Solutions International B.V., NL
• Prof. Matthew Mench, University of Tennessee Knoxville, USA
• Prof. Kenji Miyatake, University of Yamanashi, Japan
• Prof. Mogens Mogensen, TU of Denmark, Denmark
• Philippe Mulard, Air Liquide (Total), France
• Thierry Priem, CEA-LITEN, France
• Dr. Jürgen Rechberger, AVL List GMBH, Austria
• Prof. Thomas Schmidt, PSI, Switzerland
• Dr. Joachim Scholta, ZSW, Germany
• Dr. Gaetano Squadrito, CNR-ITAE, Italy
• Prof. Robert Steinberger-Wilckens, Uni of Birmingham, UK
• Dr. Francesco Triulzi, Solvay Speciality Polymers, Italy
• Prof. Huamin Zhang, Dalian China Institute, China

Scientific Organising Committee

• Prof. Frano Barbir, FESB, University of Split, Croatia (Chair)
• Prof. Gojmir Radica, FESB, University of Split, Croatia
• Dr. Ivan Tolj, FESB, University of Split, Croatia
• Prof. Daniel Hissel, FCLAB Uni de Franche-Compte, France
• Dr. Angelo Esposito, EIFER, Germany
• Dr. Joachim Scholta, ZWS, Germany

REGISTRATION
On-site registration starts 4pm on Tuesday followed by the Welcome Reception from 6 to 7pm.

The Forum is known for its relaxed atmosphere, good food services and unique entertainment. All participants will receive the Electronic Proceedings at the time of registration. Social gatherings like the "Swiss Surprise", or the "Dinner on the Lake" on board beautifully restored paddle wheel steamers create excellent opportunities for networking and to cultivate friendships.
LUCERNE, SWITZERLAND
...

FUEL CELL STORE
Fuel Cell Store features some of the newest products and technologies from renowned international vendors in educational, science, or leisure applications. Founded in Boulder, Colorado in 1999, Fuel Cell Store is a pioneer of and the longest operating retail site of the fuel cell industry. They offer a diverse and expansive fuel cell and renewable energy product line on the web, including products catering to educational, research and testing, and industrial applications.
FCS CONTACTS
Fuel Cell Store
1902 Pinon Drive, Suite B
College Station, Texas 77845

Monday - Friday: 8:00am to 5:00pm (GMT: -6 Hours)

USA Telephone: +1 (855) 251-0016
International Telephone: +1 (979) 703-1925
Horizon Fuel Cell Properties

Number of Cells

120

Rated Power

5000W (5kW)

Rated Performance

72V @ 70A

Hydrogen Supply Valve Voltage

12V

Purging Valve Voltage

12V

Blower Voltage

24V

Reactants

Hydrogen and Air

Ambient Temperature

5 - 30C (41 - 86F)

Max Stack Temperature

65 C (149 F)

Hydrogen Pressure

0.45 - 0.55 Bar

Humidification

Self-humidified

Cooling

Air (integrated cooling fan)

Controller Weight

2500g (± 100g)

Stack Weight (with Fan & Casing)

30kg ± 200g

Hydrogen Flow Rate at Max Output

65 L/min

Stack Size

350 x 212 x 650mm (13.8" x 8.3" x 25.6")

Hydrogen Purity Requirement

≥ 99.995% (dry H2)

Start up time

≤ 30s (ambient temperature)

Efficiency of System

40% at 72V

Low Voltage Protection

60V

Over Current Protection

90A

Over Temperature Protection

65 C

External Power Supply

24V (±1V), 8A-12A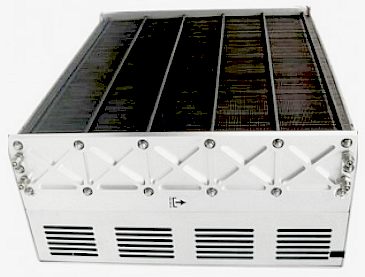 A 5kW PEM stack from Horizon, is available from the Fuel Cell Store via the internet. It operates at 72 volts and weighs 32.5kg all in at a retail cost of £22,000 dollars. Such a system cannot begin to compete cost wise with lithium batteries. An EV would need at least 10kW, and that is with batteries to cope with acceleration demands. A 20kW/hr lithium battery cartridge would cost in the region of $15-20,000, including controllers and mechanics.
ECOSTAR DC50 LINKS A-Z INDEX
EXTERNAL LINKS & REFERENCE
http://www.efcf.com/
http://www.horizonhydrogeneenergie.com/
http://www.fch-ju.eu/news/new-website-programme-horizon-hydrog%C3%A8ne-energie-h2e
The Telegraph finance business club fuelling the dream of clean hydrogen cars
Fuel Cells Works 2011 Cella hydrogen based synthetic fuel with no carbon emissions
http://www.hfc2015.com/
http://www.chfca.ca/resources/events/
http://www.nrel.gov/
http://evworld.com/news.cfm?newsid=30338
http://fuelcellsworks.com/news/2011/01/27/cella-hydrogen-based-synthetic-fuel-with-no-carbon-emissions/
http://www.productivgroup.com/
http://www.stfc.ac.uk/
http://welychem.com/
http://www.pnnl.gov/
http://www.microcab.co.uk/
http://www.vtol-technologies.com/
http://www.ox.ac.uk/
http://www.mira.co.uk/
http://l2aerospace.com/
http://www.unipart.co.uk/
http://www.hydrogenlondon.org/
http://www.bartlett.ucl.ac.uk/energy
http://www.thomas-swan.co.uk/
http://cellaenergy.com
http://cellaenergy.com/our-materials/
http://www.telegraph.co.uk/finance/businessclub/10082671/Fuelling-the-dream-of-clean-cars.html

PATENT SYSTEM - The Ecostar DC50 hydrogen car on the drawing board @BMS. Using hydrogen fuel instead of lithium batteries, could give this electric car a significant range advantage over the Tesla S EV for the Cannonball Jogle. At the moment the Bluebird™ cartridge system is the only way a car can swap between technologies as the flick of a switch. BMS are looking at methods of implementing hydrogen refueling in their designs for service stations of the future. One obvious disadvantage with hydrogen cars, is that they cannot store energy collected from sunlight.

Contact Technical: bluebird@bluebird-electric.net or phone UK:

+44 (0) 1323 831727 or +44 (0) 7842 607865