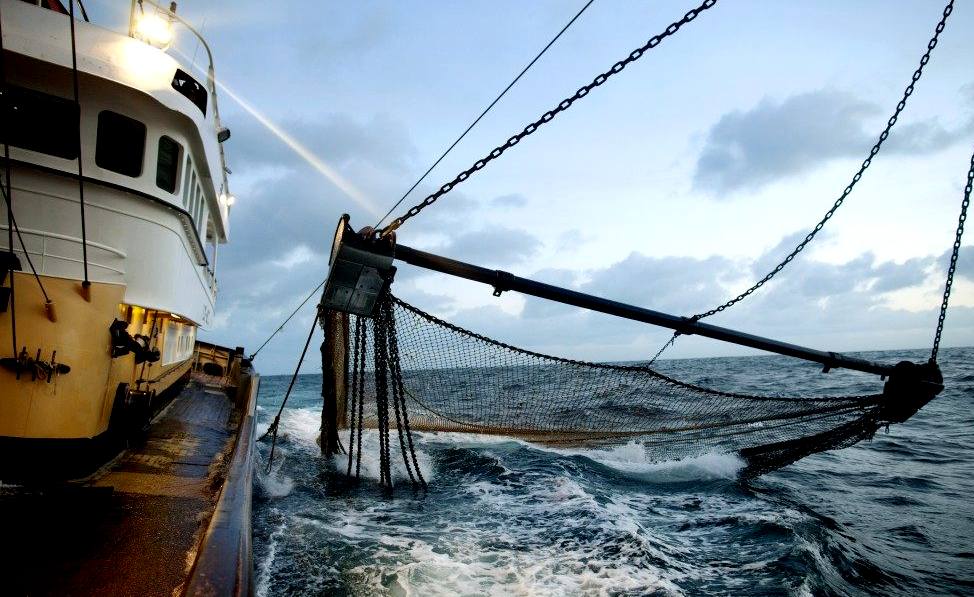 We need fish for food that are toxin free. To ensure fish stocks we need to eliminate plastic waste from the food chain before we poison ourselves.
There are 10 Inshore Fisheries and Conservation Authorities (IFCAs) in England. The 10 IFCA Districts cover English coastal waters out to 6 nautical miles from Territorial Baselines. Although autonomous the 10 IFCAs have a shared 'vision' to "lead, champion and manage a sustainable marine environment and inshore fisheries, by successfully securing the right balance between social, environmental and economic benefits to ensure healthy seas, sustainable fisheries and a viable industry". The IFCAs have shared powers and duties which are found in the Marine and Coastal Access Act, 2009.

Under s.153 of the Marine and Coastal Access Act 2009 (1) The authority for an IFC district must manage the exploitation of sea fisheries resources in that district. (2) In performing its duty under subsection (1), the authority for an IFC district must - (a) seek to ensure that the exploitation of sea fisheries resources is carried out in a sustainable way, (b) seek to balance the social and economic benefits of exploiting the sea fisheries resources of the district with the need to protect the marine environment from, or to promote it recovery from, the effects of such exploitation, (c) take any other steps which in the authority's opinion are necessary or expedient for the purpose of making a contribution to the achievement of sustainable development, and (d) seek to balance the different needs of persons engaged in the exploitation of sea fisheries resources in the district.

IFCAs are funded by Local Authorities and this funding is, in part, underpinned by DEFRA via an Area Based Grant of c.£5million annually. Since the IFCAs were created in 2011 they have been responsible for transforming the way fishing activities are undertaken in Marine Protected Areas and have introduced 17 byelaws to protect the most vulnerable features within European Marine Sites. Southern IFCA for example has introduced measures which restrict Bottom Towed Fishing Gear from 25% of the entire IFCA District. IFCAs are also progressing measures to balance the needs of the commercial and recreational fisheries and examples of emerging plans are seen in Devon and Severn IFCA.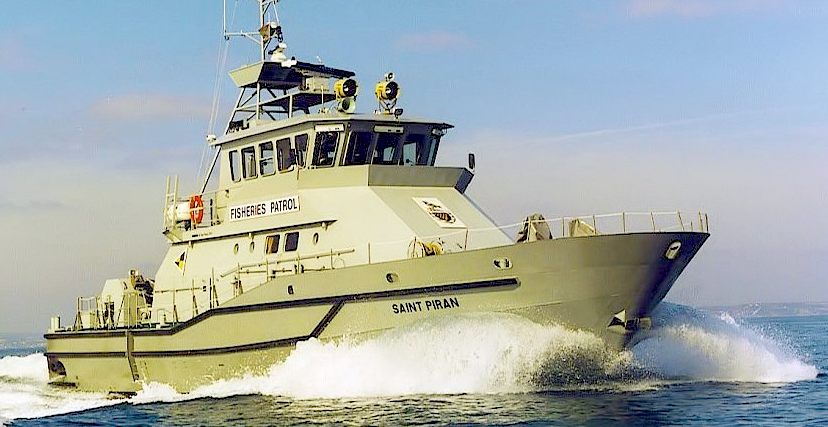 The aim of the Association of Inshore Fisheries and Conservation Authorities (The Association) is to assist and promote the regional IFCAs to ensure that the authorities develop a leading and effective national role in fisheries and conservation management in line with the IFCA vision. In order to achieve this the A-IFCA will:

> Engage with the regional IFCA Officers and members
> Engage with Statutory bodies
> Promote the work of the IFCAs
> Engage with the media
> Engage with other influential bodies such as the Non Governmental Organisations (NGOs)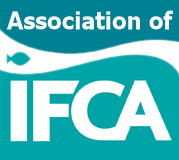 IFCA CONTACTS
Association of IFCAs
127 Nowton Road
Bury St Edmunds
Suffolk, IP33 2DA
Dr Stephen Bolt - Chief Executive Officer
stephenbolt@association-ifca.org.uk

Michelle Woodley - Personal Administrator to CEO
michelle@association-ifca.org.uk
THE AIFCA TEAM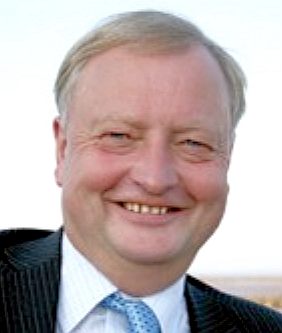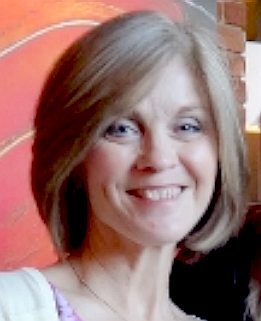 Dr Stephen Bolt MCIWEM, MIOB was appointed as the first Chief Executive Officer of the Association of Inshore Fisheries and Conservation Authorities (IFCAs) in September 2011. Stephen has a wide ranging environmental background, with an academic foundation in Marine Biology including expertise in crustacean ecology and physiology and marine conservation. He has published over 35 scientific papers and worked internationally on ecologically sensitive areas including working under the Canadian arctic ice. He also has particular expertise in sustainability and water related legislation. He has held senior roles in the Water Industry including being Head of Environmental Standards before moving into commercial Environmental Consultancies as Business Manager for Integrated Water and Environmental Management and subsequently Regional Managing Director. Stephen is a Marine Management Organisation appointee on the Eastern IFCA Committee and is deeply committed to Marine Conservation and Fisheries.
Michelle Woodley - Personal Administrator to the CEO, joined the Association of IFCAs in August 2012, in a newly formed role as the Association's part-time administrative assistant to Dr Stephen Bolt, CEO. Michelle has a BSc (Honours) in Health and Nutrition. She has worked in the voluntary sector and in both private and public sectors. Michelle has a keen personal interest in the natural world, including conservation and the environment, and especially enjoys coastal areas.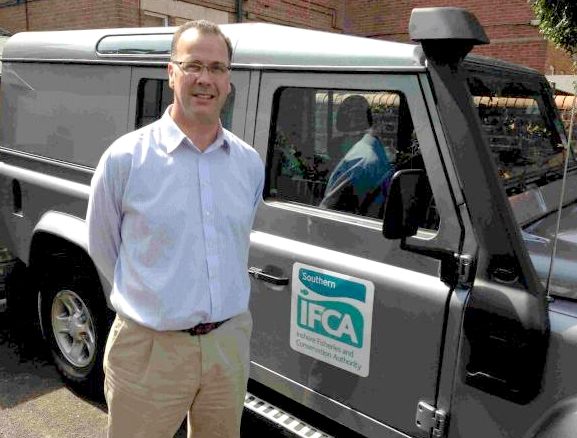 NEIL RICHARDSON - Mr Richardson said there are health and safety issues with the removal of shellfish and they therefore work closely with the borough of Poole Environmental Health Officers to ensure that fish that is being sold for human consumption is being sourced legally. "These regulations are important as they allow fisheries and conservation officers to ensure the correct sizes of fish and shellfish are taken. The rules support the important fishing industry in the local area." "Southern IFCA is committed to protecting the fishery to ensure healthy seas, sustainable fisheries and a viable industry."
BOURNEMOUTH ECHO - Prosecutors from the Southern Inshore Fisheries and Conservation Authority (IFCA) said that a 34-year-old fisherman from Hamworthy, discarded his catch of shellfish when asked to stop on December 27 last year. He then prevented a fisheries and conservation officer from carrying out an onboard inspection, the court heard.
After the hearing Neil Richardson, deputy chief officer for the Southern IFCA is quoted as saying that the fisherman: ".... pleaded guilty and apologised." "He stated that he would be more compliant and work with IFCA Officers when inspected in the future."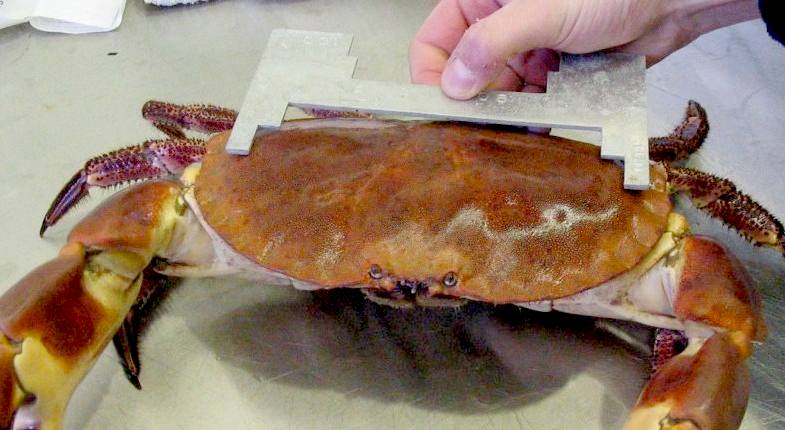 SHELLFISH - This cock-crab is being measured for size, but should also be measured for toxic substances to ensure that it is fit for human consumption.
The Poole fisherman was ordered to pay £1,040 in fines after throwing his catch overboard and stopping fisheries officers from inspecting his boat, he admitted two charges of obstruction in Poole Harbour, in contravention of Section 292(4) of the Marine and Coastal Access Act 2009, during a hearing at Bournemouth Magistrates Court.
Magistrates were told that on January 9 the fisherman intentionally obstructed another fisheries and conservation officer in the performance of his duty, in that he failed to stop to allow his vessel to be boarded and inspected again.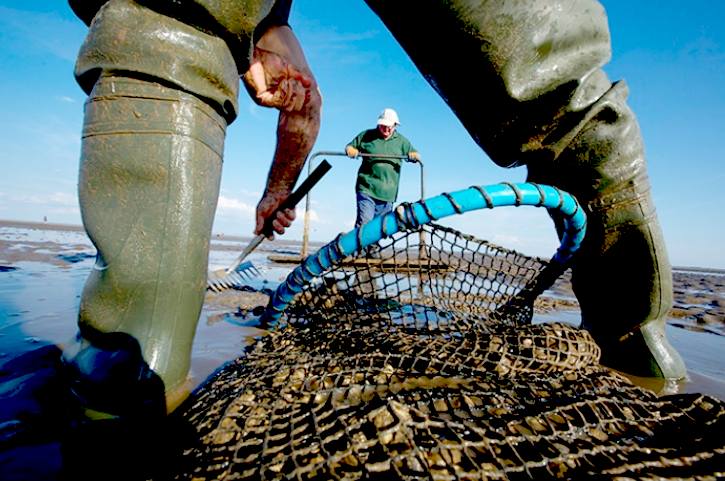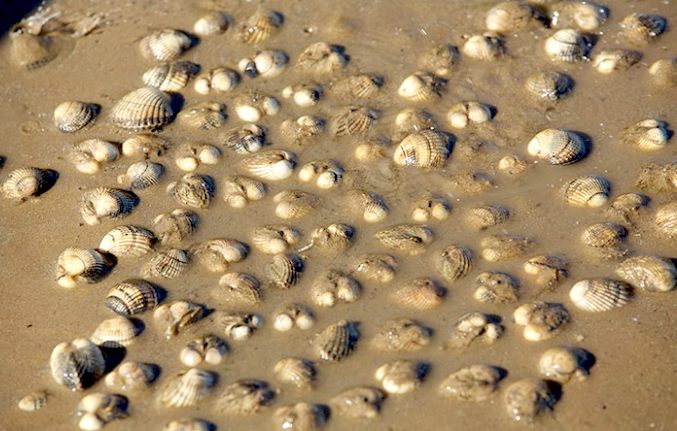 LYTHAM COCKLERS GET BACK TO WORK - THE GUARDIAN AUGUST 2013

The beds were opened off the Lancashire coast for only the third time in over two decades, allowing a 12 day window for licensed permit holders to operate. Cockle fisherman working with tramps and rakes to harvest their catch on sandbanks at the Foulnaze Cockle Fishery off the Lancashire coast.

The best fishermen can bag up to 350kg a day. They sell directly, for around £2 per kg, to quad bike mounted buyers from Welsh and Spanish tinning factories. In 2011 there was a 'gold rush' at Foulnaze as thousands of both veteran cocklers and inexperienced opportunists set sail from Lytham, a small coastal town.

The 150 or so men who remain - now all tightly regulated and needing 500 annual permits - this year (2013) report poor stock levels. Many local fishermen predict this may be their final season at Foulnaze as they fear, in an effort to replenish stocks, the north west inshore fisheries and conservation authority will shut the beds for the final time in their working lifetimes.

During the 2011 'gold rush', boats from as far afield as Russia came to fish the Foulnaze Bank. One fisherman at the time described it as 'a complete free for all'.

It can be a dangerous industry. Two years ago, cockle beds in the Fylde were closed after lifeboats had to be called out 26 times to assist cockle pickers in trouble amid fears of another Morecambe Bay style tragedy following the 2004 disaster when 21 Chinese cockle pickers drowned.

Staff at Fylde council are providing extra litter bins, portable toilets and litter patrols and will guide cocklers' vehicles to the designated parking areas to minimise congestion on neighbouring streets.

Other rules to be followed include the fact that activities are limited to specified times and all boats must have qualified skippers.

Cockle picking in the area was banned last year. Two men were fined after illegally fishing cockles off the Fylde coast. Fisherman in boats can work all day and night - a bumper crop of cockles can secure them £1,000 a day each.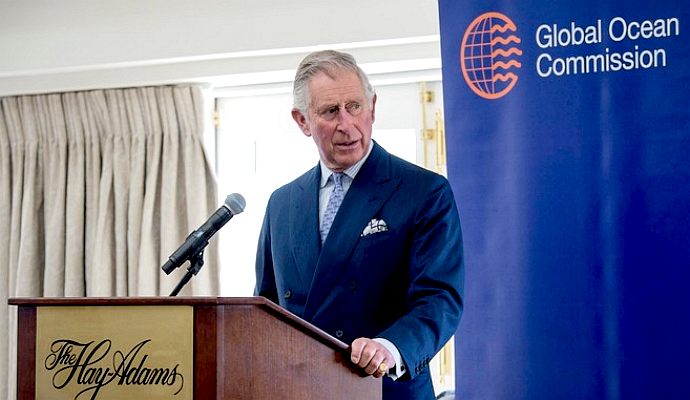 HRH Prince Charles of Wales at an event in Washington DC, talking about polluted oceans, a speech that many have seen as a benchmark of reason.
GLOBAL OCEAN COMMISSION - PROPOSAL 5 - KEEPING PLASTICS OUT OF THE OCEAN
Plastics are a major source of pollution on the high seas and a health threat to humans and the environment. This reflects poor handling and waste management practices on land and requires a combination of political and regulatory action supported by an increase in consumer awareness.

It is important to intensify efforts to address the variety of sources of marine pollution (persistent organic pollutants, hydrocarbons, heavy metals, nitrates, radioactive substances, marine debris, etc.). In particular, the Commission calls for coordinated action by governments, the private sector and civil society to eliminate plastics entering the global ocean including by:

1. Minimising single-use plastics by direct government intervention and consumer incentives.
2. Creating incentives to promote recycling and extend producer responsibility.
3. Establishing time-bound, quantitative reduction targets.
4. Achieving improved waste management.
5. Promoting consumer awareness.
6. Replicating local initiatives to restrict or ban certain unsustainable uses of plastic materials and clean-ups.
7. Addressing lost and discarded fishing gear, in particular FADs, to avoid abandonment.
8. Encouraging XPRIZE-like innovation around substitution, waste avoidance, recycling and clean-ups.
9. Exploring taxation and other levies to establish a Global Marine Responsibility Fund.

WHY IS THIS IMPORTANT?

Given its mandate and its focus on the high seas, the Commission debated long and hard as to whether we should seek to address the problem of marine pollution at all, bearing in mind that it is estimated that 80% of all inputs of marine pollution come from land-based activities.

Nevertheless, we could not ignore that plastics are by far the most abundant and problematic type of marine debris in terms of the number of items. The amount of plastic in the ocean has risen sharply since the 1950s, with a tenfold increase every decade in some places. Scientists expect this trend to continue, given the increasing use of disposable plastic packaging and containers. In addition, the projected massive growth in plastic production is enhanced by the falling cost of plastic resin, which has become cheaper with the expansion of natural gas production.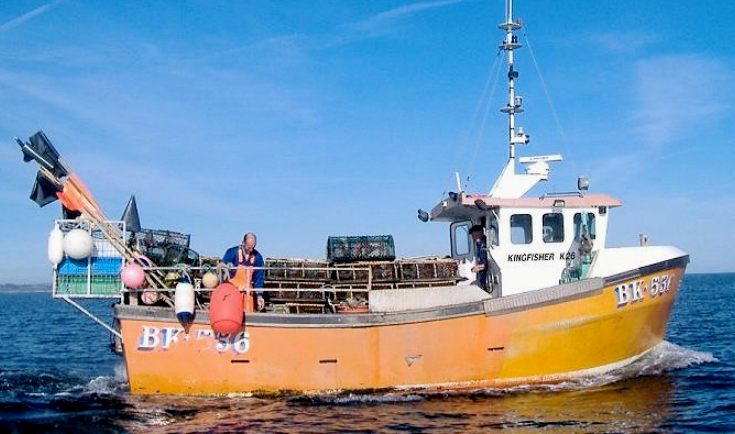 WHAT NEEDS TO BE DONE?

Given that the vast majority of plastic entering the ocean is from land-based sources, which reflects poor handling and waste management practices on land, tackling these problems requires a combination of political and regulatory action supported by an increase in consumer awareness. The Commission is therefore calling for more coordinated action by governments, the private sector and civil society to stop plastics from entering the global ocean in the first place. Plastics pollution does not respect borders or boundaries, it affects everyone and needs to be addressed collectively.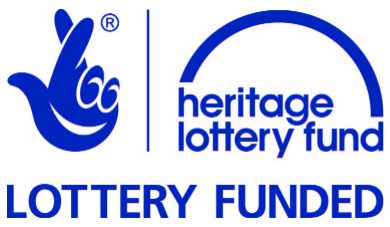 MARINE COASTAL HERITAGE COURSES
The Marine and Coastal Heritage Programme has been established to provide work-based training in marine conservation and community engagement for both recent university graduates and people from local communities of west Cumbria.
The three year project, led by Cumbria Wildlife Trust in conjunction with the Wildlife Trust for Lancashire, Manchester and North Merseyside and the North Western Inshore Fisheries and Conservation Authority, is financed by the Heritage Lottery Fund under the Skills for the Future scheme. This project aims to provide people with the skills to pursue a career in marine heritage – a specialised area of the environmental sector.
Each year, six Trainee Marine and Coastal Conservation Officers (four in the final year) will be chosen to embark on a range of taught courses and gain on-the-job experience. During their placements on the project, the trainees will receive in-house and external training in marine conservation and community engagement. This will enable them to develop the specialist marine knowledge and inter-disciplinary skills necessary to gain employment in the sector. The trainees will have the opportunity to work with staff from all partner organisations and those that we share close links with such as the National Trust, Natural England and the RSPB.
Their training and development is divided into several areas, although there is a lot of overlap between them: i) community engagement ii) scientific training and surveying iii) education, and iv) practical conservation. As a Wildlife Trust we specialise in community engagement and therefore there is a strong focus on this area within the placement. The trainees also have the chance to take a personal approach to their training through the development of Individual Training Plans.
Some of the aspects that the training programme covers are:
• Community engagement and education
• Heritage interpretation and education
• Volunteer management skills
• AQA unit awards
• Species identification
• Habitat surveys
• Practical conservation
• Personal projects
Placements for recent university graduates
These placements will offer recent university graduates with a degree in a marine or coastal related subject the opportunity to apply and broaden their knowledge and experience in a working environment.
These placements will be full time roles (35 hours per week) for a 9-month period and will include a combination of training courses and on-the-job experience. During the placement trainees will receive a monthly bursary allowance and be provided accommodation for half of their placement duration (four and a half months) while living at South Walney Nature Reserve.
To be considered for a graduate trainee placement you must:
* be committed to gaining a career in marine conservation;
* be able to take up a full time placement for 9 months on the date specified (cannot be changed)
* demonstrate how you meet the trainee specification
* have access to a vehicle and be willing to use it on Trust business
* have a marine and/or coastal related degree
Note: The application deadline for the second cohort of graduate trainees has now passed. The recruitment process will continue until mid April with the traineeships starting in May 2015.
If you have not applied for this years graduate trainee position but you are still interested in the position, recruitment for the third and final cohort of graduate trainees will begin in January 2016.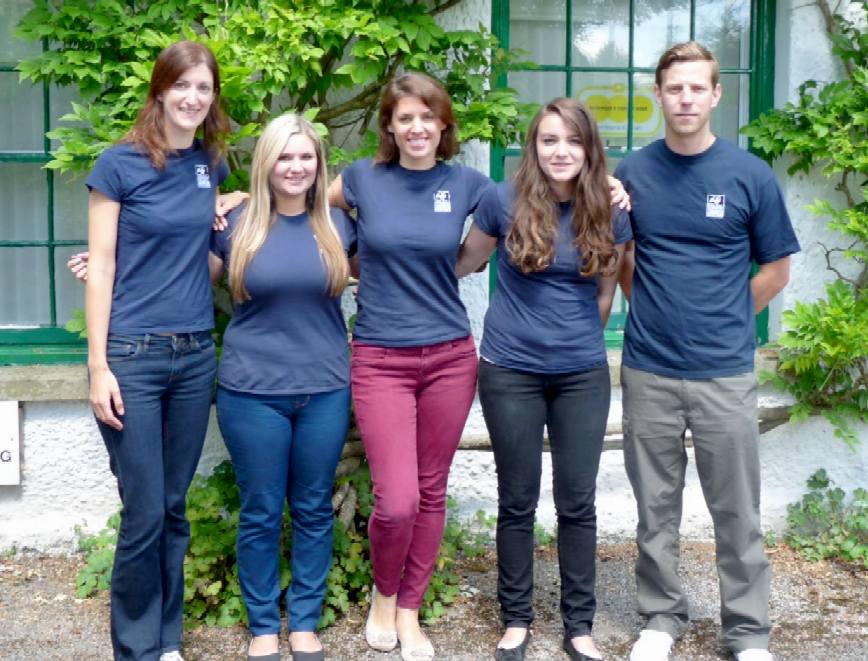 Placements for people from local communities in west Cumbria
These placements will offer people from west Cumbria with an interest in the marine environment (but no degree-level qualification) the opportunity to gain a range of work-based, accreditations through the AQA Unit Award Scheme in marine and coastal subjects.
These placements will be run on a part time basis (21 hours per week) for 12 months and will provide a theoretical grounding in UK marine conservation issues. Trainees will also undertake a number of relevant training courses and on-the-job experience alongside graduate trainees.
Accommodation on a part time basis will be offered to trainees for the duration of their placement at South Walney Nature Reserve in addition to receiving a monthly bursary allowance.
Note: Individuals with a degree-level qualification will not be eligible for these placements and should apply for the graduate placement as detailed above. This 2015 non-graduate placement has now begun. Recruitment for the 2016 placements will begin in October 2015.
Building on past success
The Marine and Coastal Heritage Programme builds upon the hugely successful Marine Graduate Training Programme that hosted twelve graduate trainees between May 2011 and May 2014. After completing placements on the previous programme, our trainees (formerly Marine and Coastal Conservation and Community Engagement Officers) have gone on to secure paid employment with some of the most prominent and influential organisations within the UK marine conservation sector, including Natural England, the Joint Nature Conservation Committee (JNCC) and the Inshore Fisheries and Conservation Authorities (IFCAs). Most trainees have done so within six months of completing their placement. To learn a little more about our past trainees, their time spent with the Trust and what they have gone on to do take a look at our Trainee Case Studies page. You can also hear from some of our recent trainees in our Marine Graduate Training Programme video.

LINKS
Wikipedia Inshore_Fisheries_and_Conservation_Authority
The Guardian environment fishing-lytham-cockle-picking-lancashire
Bournemouth Echo news Fisherman_who_threw_away_catch_so_inspectors_could not_check_it_fined
Cumbria wildlife trust marine-and-coastal-heritage-programme
https://www.gov.uk/government/organisations/natural-england
http://www.hlf.org.uk/
http://www.theguardian.com/environment/gallery/2013/aug/11/fishing-lytham-cockle-picking-lancashire
http://www.cumbriawildlifetrust.org.uk/discover-learn/marine-and-coastal-heritage-programme
http://en.wikipedia.org/wiki/Inshore_Fisheries_and_Conservation_Authority
http://www.association-ifca.org.uk/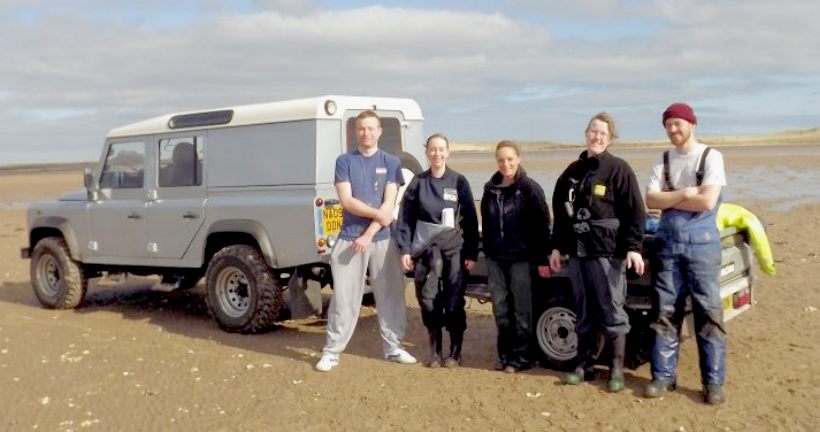 Partners
Department for Environment Food and Rural Affairs
Marine Management Organisation
Centre for the Environment, Fisheries and Aquaculture Science
Other useful links
Joint Nature Conservation Committee (JNCC)
Marine Conservation Society (MCS)
Marine Stewardship Council (MSC)
Welsh Assembly Government Fisheries
New Under Tens Fishermens Association (NUTFA)
National Federation of Fishermen's Organisations (NFFO)
Centre for the Environment, Fisheries and Aquaculture Science (CEFAS)
International Council for the Exploration of the Sea (ICES)
International Maritime Organization (IMO)
ACID OCEANS - ARCTIC - ATLANTIC - BALTIC - BERING - CARIBBEAN - CORAL - EAST CHINA - ENGLISH CH
GOC - GULF MEXICO - INDIAN - MEDITERRANEAN - NORTH SEA - PACIFIC - PERSIAN GULF - SEA JAPAN
STH CHINA - PLANKTON - PLASTIC - PLASTIC OCEANS