UNITED NATIONS ENVIRONMENT PROGRAM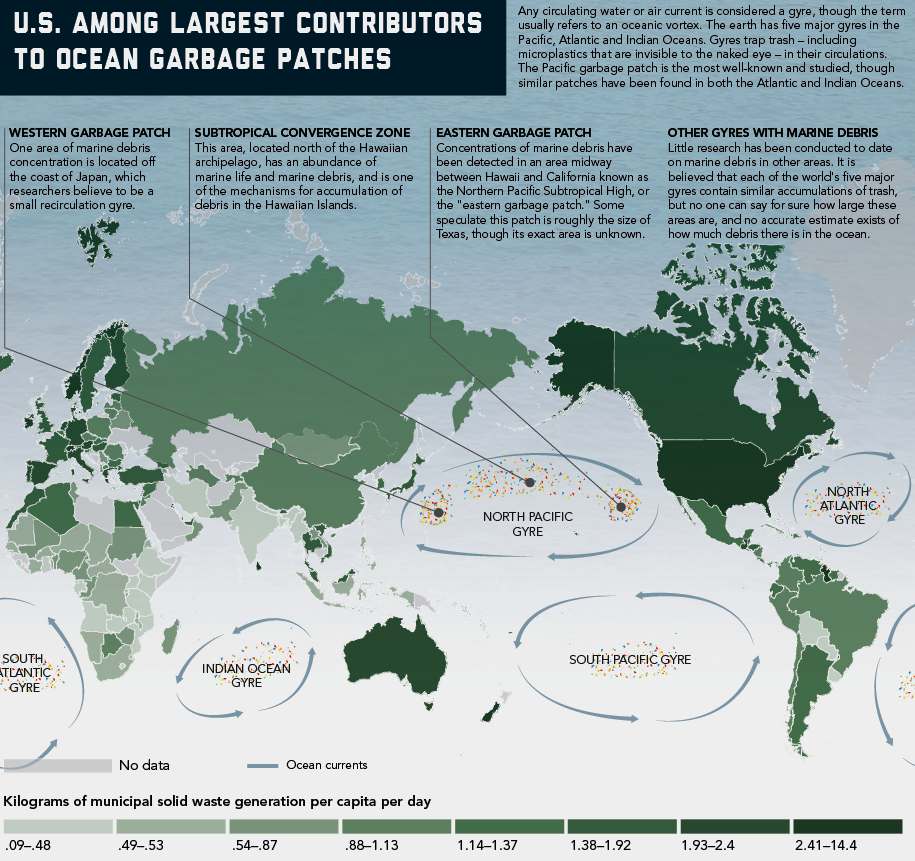 This world map derived from a National Geographic source, shows that the North Pacific Gyre is by far the largest - and divided into three regions, the western, sub-tropical-convergence zone and eastern garbage patches. We estimate these patches collectively to be around 80,000 tons in mass.
UNITED NATIONS REPORT JUNE 2014

The eleventh edition of the United Nations Environment Programme (UNEP) Year Book looks at ten issues flagged as emerging by previous reports over the past decade, including plastic waste in the ocean.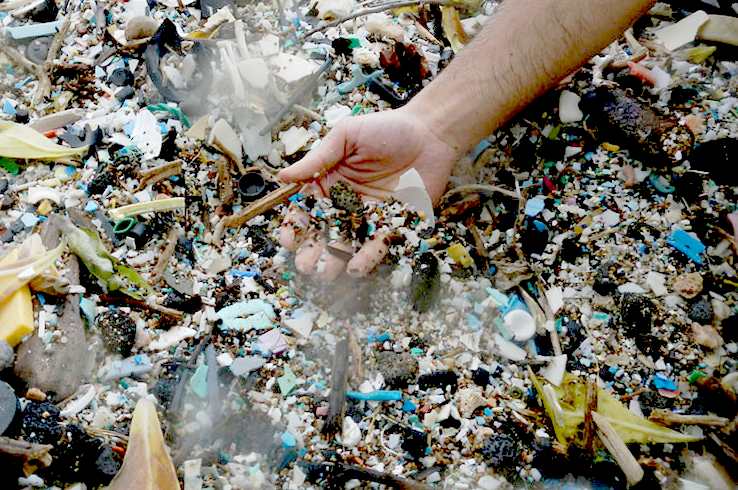 It all goes back to our dependence on oil. The by product, plastic, is so useful that we could not do without it today. For that reason, we need to take responsibility for our needs, by making provision to clean up our mess sustainably. We cannot afford fleets of trawlers manned by humans to scoop up the harmful soup, and that is where semi-autonomous robots could come to the rescue.
Each year, oil companies remove approximately 3.7 trillion gallons of oil from the earth. This oil is transported by barges, ocean going tankers, and pipelines to refineries and storage facilities. It is inevitable that accidental leaks and spills will take place on a regular basis, where oil is mostly transported across vast oceans. That is the first stage of oil pollution. The second stage is oil byproduct pollution from plastic.
Since 2011, when the UNEP Year Book process last looked at plastic waste in the ocean, concern has grown over microplastics (particles up to 5 mm in diameter, either manufactured or created when plastic breaks down). Their ingestion has been widely reported in marine organisms, including seabirds, fish, mussels, worms and zooplankton.

One emerging issue is the increasing use of microplastics directly in consumer products, such as microbeads in toothpaste, gels and facial cleansers, the Year Book says. These microplastics tend not to be filtered out during sewage treatment, but are released directly into rivers, lakes and the ocean.

Communities of microbes have been discovered thriving on microplastics at multiple locations in the North Atlantic. This "plastisphere" can facilitate the transport of harmful microbes, pathogens and algal species. Microplastics have also been identified as a threat to larger organisms, such as the endangered northern right whale, which is potentially exposed to ingestion through filter-feeding.

Production trends, use patterns and changing demographics are expected to cause increasing plastic use, and both reports call for companies, institutions and consumers to reduce their waste.

Valuing Plastic finds that consumer goods companies currently save US$4 billion each year through good management of plastic, such as recycling, and that there is potential for greater savings. However, plastic use disclosure is poor: of 100 companies assessed, less than half reported any data relevant to plastic.
Youtube ocean pollution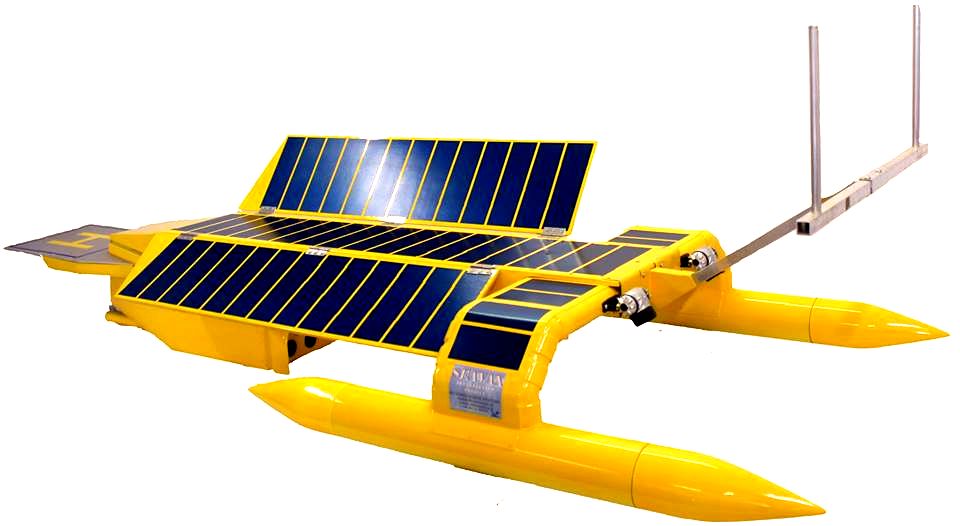 A SEAVAX DRONE - This is a raw proposal for a robot ship that is designed to vacuum up plastic waste from the ocean based on the Bluefish ZCC concept. The vessel is solar and wind powered - and shares component with other ZCC variants. The front end (left) is modified so that there is a wide scoop area, into which plastic waste is funneled as the ship moves forward. The waste is pumped into a large holding bay after treatment, then stored until it can be off-loaded. The rear of the ship (right) carries two large wind turbines that generate electricity in combination with deck mounted solar panels (shown here in blue) to power the onboard processing machinery. The system can be semi-autonomous, such that in robot mode they alert HQ to any potential problems and share data as to progress for backers. A whole cleanup mission can be controlled from land, with visuals and data streams. A SeaVax would operate using a search program called SeaNet.
LINKS
National Geographic 2014 ocean garbage patch plastic pacific debris
The Telegraph Great Pacific Garbage Patch has increased 100 fold since the 1970s
Plosone ocean pollution article Fjournal pone 0111913
The Guardian 2014 December full scale plastic worlds oceans revealed first time pollution
Robotics Tomorrow ocean pollution
Daily Dot technology ocean cleaning drone
Interiorholic gadgets ocean robot cleaner
PSFK 2012 marine robots clean oceans
http://www.unep.org/
http://www.unep.org/environmentunderreview/
http://news.nationalgeographic.com/news/2014/04/140414-ocean-garbage-patch-plastic-pacific-debris/
http://www.plosone.org/article/info%3Adoi%2F10.1371%2Fjournal.pone.0111913
http://www.roboticstomorrow.com/content.php?post_type=1919
http://www.dailydot.com/technology/ocean-cleaning-drone/
http://www.interiorholic.com/other/gadgets/ocean-robot-cleaner/
http://www.psfk.com/2012/07/marine-robots-clean-oceans.html
http://www.unep.org/environmentunderreview/
ARCTIC - ATLANTIC - BALTIC - BERING - CARIBBEAN - CORAL - EAST CHINA - ENGLISH CH - GULF MEXICO
GOC - INDIAN - MEDITERRANEAN - NORTH SEA - PACIFIC - PERSIAN GULF - SEA JAPAN - STH CHINA