Mike Poole and David Maclean - Autonaut launch and recovery
MARINE TECHNOLOGY NEWS 14 JUNE 2016 - AUTONAUT 5m COMPLETES PERFORMANCE TRIALS
The brand new AutoNaut 5m vessel has undergone testing in QinetiQ's Ocean Basin at the Haslar Marine Technology Park. The new design was put through its paces in a range of wave conditions to evaluate the performance of the patented AutoNaut Wave Foil Technology at the 5m size.

AutoNaut's wave foil system passively harvests the energy from the pitch and roll of waves at sea, providing elegant, silent propulsion with zero emissions. Using the waves in this way ensures that power generated by solar panels or fuel cells is available for sensor payloads and AutoNaut's custom autopilot system, designed by H-Scientific Ltd.

The trial was organized by QinetiQ's Maritime Autonomy Centre (QMAC), headed up by campaign lead, Bill Biggs who said, "We were really excited to be putting the new 5m through its paces and helping MOST (AV) to more fully characterize the performance of their technology. We are looking forward to supporting the Plymouth trials, and to working with MOST (AV) and other members of the maritime autonomy community at the Unmanned Warrior demonstrations in Scotland this October."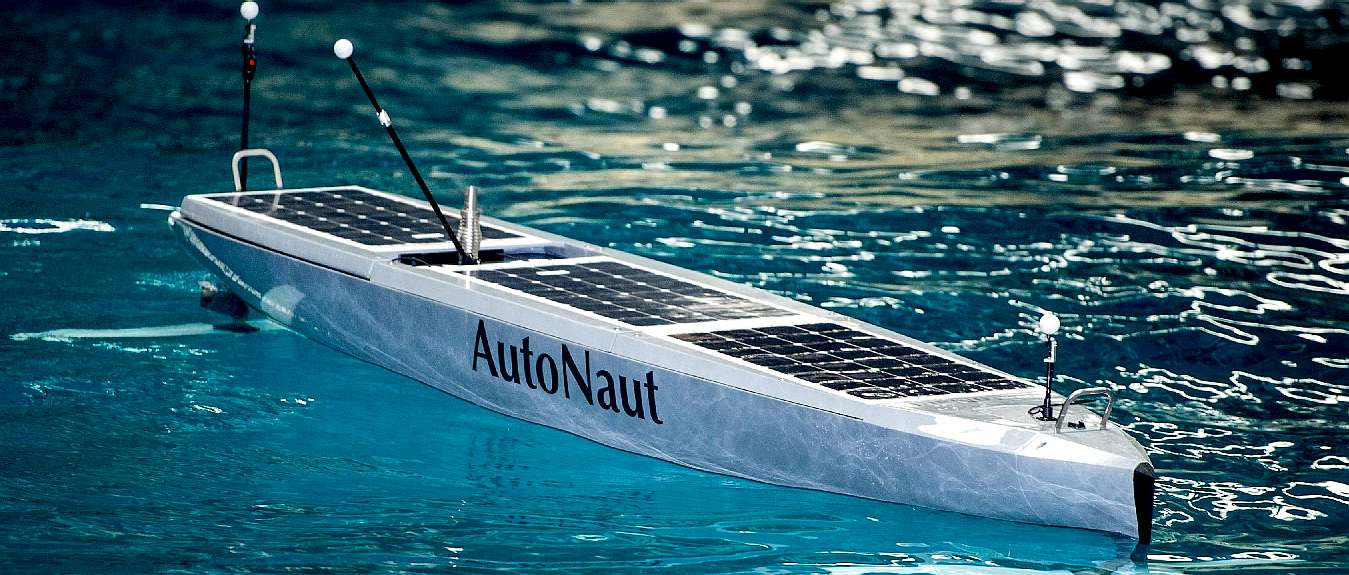 DEVELOPMENT - Using only energy from nature, the largest of the AutoNaut family is able to collect and transmit ocean data reliably, where speed is not as important as solid performance. QinetiQ's giant water basin is an ideal venue for such evaluations.
Dan Alldis, MOST (Autonomous Vessels) Design Manager said, "This is not the first time we have had an AutoNaut in the wave tank, as we completed a significant testing round with our original prototype 3m vessels. This round of testing allowed us to validate our speed and motion scaling calculations from previous testing, and provided us with a chance to test new wave foil configurations."

Alldis continued, "We tested in wave heights up to 0.6m and saw speeds upwards of 3.5 knots which is extremely encouraging. We aim to collect further performance data in 'real' waves off Plymouth this summer as we go into the second phase of our surveillance capability trials."

The trials used the Qualysis Motion Capture System to collect high resolution speed and 6-axis motion data, which provided a comprehensive data set to feed into the ongoing AutoNaut R&D program.

"This was a great opportunity to test a full size AutoNaut in controlled conditions, providing an extremely valuable dataset assisting with our ongoing 5m vessel development," Alldis said. "Initial analysis of the results is encouraging and align with our calculations, and we look forward to proving our findings in an oceanic environment later this month."
SUCCESSFUL FIRST MISSION 4 NOV 2014
The AutoNaut USV has arrived back in the Isles of Scilly after a 13 day autonomous mission in which she weathered a 70 mph Atlantic storm while gathering scientific data.

"This was a major test for AutoNaut" said Director David Maclean of MOST (Autonomous Vessels) Ltd which produces the AutoNaut. "To have delivered on time, on budget and to a very tight schedule; and for our unmanned surface vessel (USV) to have gone straight out into the Atlantic and followed her programme through a gale and a storm is a really solid achievement."

"We are delighted to have proved the robustness and reliability of the AutoNaut in these storm conditions in conjunction with the National Oceanography Centre (NOC) MASSMO project which involved seven other autonomous vessels gathering scientific data."

Wave propulsion means AutoNaut can provide very long endurance. She is designed for autonomous data gathering using a wide range of off-the-shelf sensors for science, the military, and offshore gas & oil and renewables industries.
On this voyage AutoNaut 'Gordon', built for the National Oceanography Centre (NOC), was towing a 25m hydrophone array at a depth of 4m, as well as carrying an AirMar weather station, a pyronometer to measure sunlight, two cameras for seabird and marine litter survey work, and a WetLabs Triplet Puck measuring chlorophyll and other aspects of sea water quality.

Russell Wynn, Senior Scientist at NOC said: "We are delighted that the AutoNaut has successfully completed its first major offshore mission, and that the scientific sensors including the towed array have been safely recovered. It is encouraging to see that the novel camera system has already captured high-quality images of seabirds in the offshore environment, and we are excited about analysing the data in the coming weeks."

This 13 day voyage was also a first ocean test for the NarcineArray manufactured by J+S Ltd of Barnstaple and Aberdeen. The 25m array is designed to listen for cetaceans as well as ships, and scientists involved in NOC's MASSMO deployment also hope to get useful data as the array crossed tidal mixing fronts off the Isles of Scilly.

Alex Key, Business Development Manager for J+S Ltd said: "The deployment of a NarcineArray™ with the AutoNaut is a major achievement for both the towing vessel and the array. It clearly illustrates that miniaturising the technology to suit this new evolving market, and enabling collection of data not previously available through traditional methods is the way forward in our ability to measure and monitor the ocean. The collaboration of the AutoNaut and NarcineArray has allowed this to happen. It is also positive proof that the miniaturised NarcineArray is 100% ruggedized, able to withstand rough and challenging ocean going conditions. We look forward to our continued collaboration with MOST (AV) on this and other ground breaking scientific projects."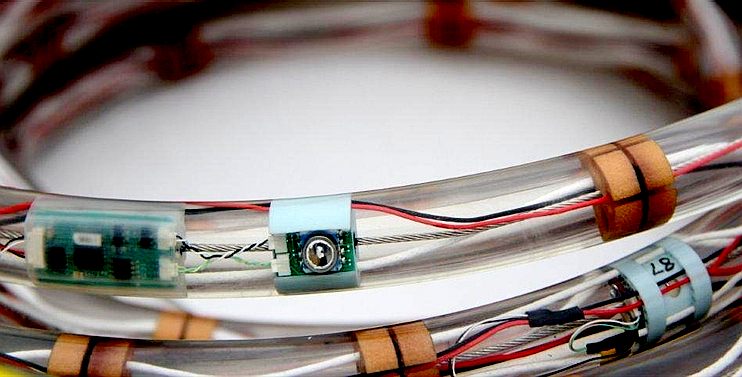 NarcineArray is a product family of small diameter passive acoustic line arrays suitable for static or towed applications that can be configured to specific customer requirements. J+S have made use of their knowledge and experience of larger diameter arrays to develop this highly adaptable product that is uniquely suitable to today's underwater environment. When compared with a conventional towed array, NarcineArray provides a significant reduction in power consumption, diameter (down to 16mm), weight and drag. This means that the array can be deployed and recovered far more easily, often without any specialist handling equipment. Because of the reduced weight, drag and power consumption NarcineArray can also be deployed from a much greater range of vessels, from conventional surface vessels to Unmanned Surface Vessels (USVs) and Unmanned Underwater Vehicle (UUVs).
Mike Poole Director of MOST (AV) added: "the combination of NarcineArray and AutoNaut has great potential. This trial has proven conclusively that the 3.5m AutoNaut has the wave-power to manage this amount of drag in rough ocean conditions and to remain completely controllable by the pilots ashore guiding her via Iridium satellite communication. We look forward to working with J+S to develop the concept to meet customer requirements."

AutoNaut also harvests solar energy at sea to power her state of the art electronics, and carries a methanol fuel cell for additional power when required.

The new unmanned surface vessel (USV) uses 'motion-from-the-ocean' to propel herself, silently, with zero emissions. "AutoNaut is revolutionary," said Mike Poole, "because it is the first commercial use of this particular wave propulsion technology which can be scaled from a 1 metre hull to a ship. Such zero emission power, using the energy of the waves to propel a vessel, has great future potential for the marine world."

David Maclean said, "We raised much interest in AutoNaut as we developed the concept through prototypes and testing, and launched at Oceanology International in London last March. This new production boat's first real ocean test is a great demonstration of the solid engineering reliability we and the market demand. We are hugely proud of what our small team has achieved. Now that AutoNaut is storm-proven we are keen to explore the many uses already identified across a growing global market for the autonomous data gathering made possible by AutoNaut's unique capabilities."

NOC's MASSMO project involved the mass deployment from the Scillies of five unmanned surface vessels and three underwater 'gliders'. Equipped with a range of different sensors this NOC fleet focused its attention on tidal mixing fronts off the Scillies and half way out to the continental shelf break. These fronts where waters mix are areas rich in plankton, which attract fish and birds.

In a second phase of the MASSMO project in early November, AutoNaut 'Gordon' will be deployed off Plymouth to monitor tagged fish. This phase of the research project is being run from the Marine Biological Association in Plymouth and will last a week. A small hydrophone will be towed to listen for signals from the fish tags, as a first stage in a 10 year project to study fish behaviour in the area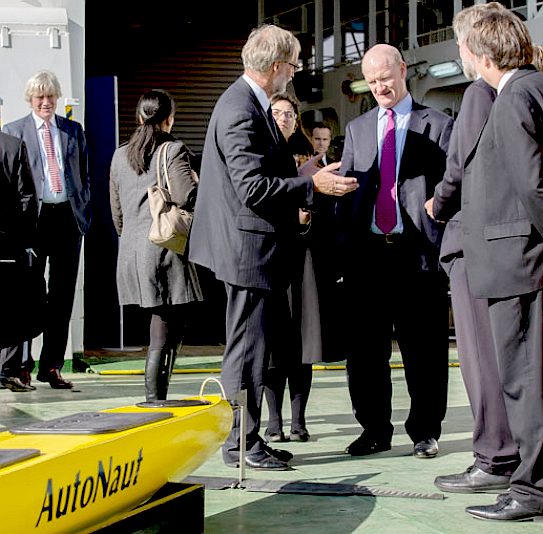 AutoNaut, the revolutionary wave propelled vessel for ocean research, was launched at Oceanology International in London in March 2014. Built by MOST (Autonomous Vessels) Ltd for very long endurance autonomous data gathering the 3.5 metre AutoNaut also harvests solar energy at sea to power her state of the art electronics. The new unmanned surface vessel (USV) uses motion from the ocean to propel herself, silently, with stability and zero emissions. Fresh back from sea trials with AutoNaut in Scotland founder Directors David Maclean and Mike Poole are on hand at Oi 2014, stand D445, to explain her potential and answer questions as visitors get their first chance to see the unique vessel.
THE COMPANY
AutoNaut™ is this company's brand name for its unmanned vessels. It all started in 2012 when David Maclean of MOST Ltd, and Michael Poole of Eco-nomic Ltd came together to develop and market the AutoNaut wave propulsion system as an autonomous vessel designed for scientific ocean research, commercial data gathering, and defence applications.
MOST (AV) Ltd. began trading on 1st January 2013 with the grant of a worldwide exclusive licence from Eco-nomic Ltd (who hold a patent for the system) and the grant of £400k from the National Oceanography Centre for Phase 2 of their call to develop a 'Long Endurance Marine Unmanned Surface Vehicle' (LEMUSV).
Their mission has since been to become the global leader in autonomous wave propelled vessels. They wanted to build a reputation for robust engineering and electronics, and dedication to customers. MOST (AV) aim to stay at the forefront of this technology through long term commitment to R&D.
This company says that their disruptive technology coincides with an increasing world market for autonomous capability. In particular a market for low cost (relative to manned ships), zero emission, unmanned surface vessels (USVs), that are able to stay at sea for months and perhaps years, with the potential to cover vast ocean areas - for data gathering missions, etc.
The Autonaut is too small to carry ROVs or other arrays, or weapons, but that could be rectified in the future if as must be the case the technology is at least scaleable to the extent of wave maximums. They intend building the company for the long-term and seek investors who like their concept.
As well as seeking major investors, MOST AV Ltd has taken substantial early investments from 'friends and family' to enable the company to accelerate its commercial potential.

The range of Autonaut products at this time is from 1m to 5m length vessels. There are military and other specialist options and a choice of 'business model' customer options. These include outright purchase with or without payloads, through serviced operation of customer owned platforms, to MOST carrying out data gathering on behalf of customers, using their Autonauts. For some reason the name reminds us of Jules Verne's 20,000 Leagues Under The Sea.
THE DIRECTORS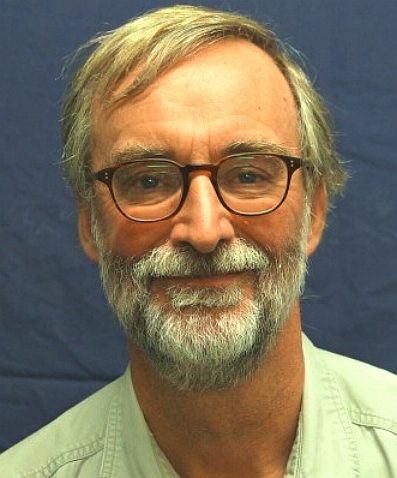 DAVID MACLEAN - EXECUTIVE CEng FIMarEST MRINA Commodore, Royal Navy (retired 2003)
David spent 15 years+ in MoD procurement roles including as T23 Frigate Warship Project Manager (1997-1999) and LPD(R) IPTL (2000-2003). He joined BMT Defence Services Ltd in 2004, setting up BMT Defence Services (Australia) Pty in Melbourne in 2005 and becoming Defence Director for the holding company, BMT Group Ltd, in 2006.

In 2008 he co-founded MOST Ltd with James Fanshawe, to undertake technology development and consultancy in fuel efficient ship operations.

With considerable experience in project management, technology development, executive roles and company start-ups, he is a founding executive director of MOST (AV) Ltd, a new micro SME.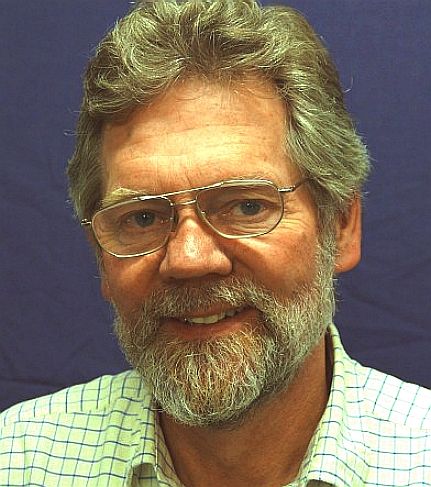 MIKE POOLE - EXECUTIVE
Mike developed the original ideas for the AutoNaut over a number of years (see full story) and design iterations. He has a wealth of practical marine operations experience including 10 years as a professional sailboat skipper with the French shipping company OSCOSA and a DoT Yachtmaster Ocean qualification.

He was a founder/director/chairman of a number of environmental companies and SW region sustainability initiatives including working with the NHS on resource efficiency. Mike holds the patent covering the Background IP on the AutoNaut technology through his private company Eco-nomic Ltd and is a founding executive director of MOST (AV) Ltd.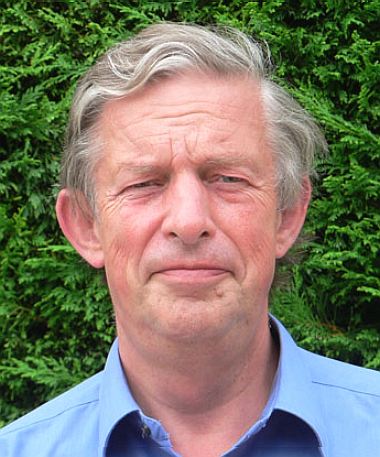 JAMES FANSHAWE CBE - CHAIRMAN (RN Retired)
James is active in a number of roles within the UK maritime industry after a career in the Royal Navy during which he held five commands. He was on the Board of Shoreham Port Authority for 6 years and is currently on the Board of several other companies. He is the President of the UK Anchorites and a Freeman of the City of London.

In 2008 he co-founded MOST Ltd, with David Maclean, and he is leading the MOST (AV) work on the safety of navigation of unmanned surface vessels. He Chairs and is a founding director of MOST (AV) Ltd.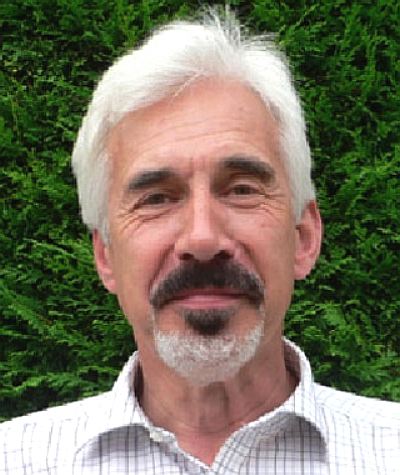 DR MARK SCIBOR-RYLSKI PhD
Mark is an experienced technology/innovation manager with industrial, financial, and engineering skills. He acts as a mentor to environmental businesses in the South West on behalf of the Gatsby Trust. Mark has made many investments, raised funding, acted as a turnaround manager, sold and floated companies, and set up commercial partnerships for them.

He is a director of a number of UK companies. Mark graduated from Imperial College and City University. He is a Chartered Engineer, Chartered Physicist and a founding director of MOST (AV) Ltd.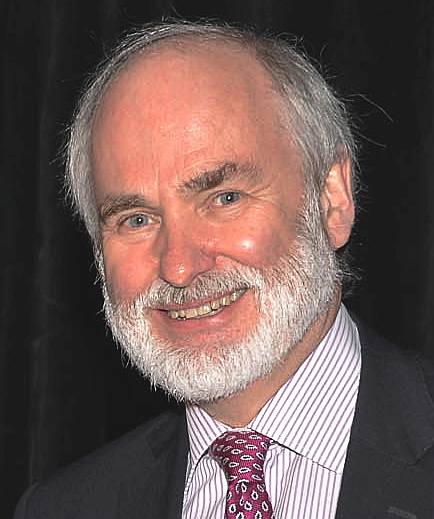 PROF GWYN GRIFFITHS
Gwyn is an associate and Board Advisor to MOST (AV) Ltd. Through Autonomous Analytics Gwyn became a non-executive director of MOST (AV) Ltd in September 2013. He recently retired as Head of Marine Autonomous and Robotic Systems within the National Marine Facilities Division of the National Oceanography Centre, and as Professor in the School of Engineering Sciences, University of Southampton.

He was head of the Ocean Engineering Division from 1993 to March 2003. His knowledge of autonomous vessels, ocean science and fluid systems is permeating all that MOST (AV) undertakes.
THE AUTONAUT USV
The AutoNaut has a scalable wave propulsion technology - this is beyond doubt where foils have been used on fishing vessels such as the Norwegian: Kystfangst and the Russian trawler: Nikolaev. A larger boat could have more speed, except that the WAFT project found that 3 knots was about the gain for wave-foil assisted propulsion. We don't have more details unfortunately - and the two projects share a common bond. That is not to say that the MOST system cannot provide MORE.
AutoNaut's new operating potential includes new ways to deploy a range of sensors. The list will grow but indicatively sensors currently being deployed and discussed with customers are:
MAST – AirMar weather station. Campbell Scientific insolation sensor.
HULL – Teledyne Acoustic Doppler Current Profiler, Wetlabs Triplet Puck, RBR Concerto CDT, a range of multi-beam echo sounders and sonars for pipeline survey, mine detection and other purposes, cytobot and ocean acidification sensors, thermistor and acoustic arrays.
Other applications under test are towing (performed well) and the incorporation of a winch.


Internal layout of the 3.5m Autonaut
AUTONAUT'S SPECIFICATIONS
Platform

Monohull

Dimensions

3.5m LOA, X 0.43m beam

Draft

0.3m

Displacement

120 Kgs

Average speed

2 – 3 knots

Endurance

3+ months

Observability

Silent, minimal visual and radar signature

Transportation / shipping

Two person portable / Air freight compatible

OPERATIONS

Mission control

Autonomous pre-set missions; update via remote control using web interface. Chart based graphic user interface (GUI). Waypoint navigation

Status monitoring

Delivered to remote GUI, with SMS and email alerts for alarms/warnings. Programmable exclusion zones

Autonomous navigation

Waypoint navigation including station keeping & grid transects. Autonomous collision avoidance with AIS

Launch / recovery

Launch from slipway or boat gantry/crane; sail away under local/manual control. Recovery from slipway or alongside by gantry.

NAVIGATION

Heading sensor

Digital compass module

GPS

GPS receiver module

Navigation accuracy

3m minimum

Station keeping

35m radius in sea state 1 (current < 1.0 knot)

POWER

Propulsion

Direct wave powered (pitch and roll). Aux propulsion (~1kt) for flat calm conditions

Battery

720Wh lead gel

Solar PV

125Wp

Generator

45 watt methanol fuel cell, 20 litres fuel (22kWh of power)

Payload power

20W @ 50% duty cycle for 90 days. Peak power 200W for 2 hours

COMMUNICATION

Comms channels

Iridium global sat comm; UHF; local/manual XBEE PRO 913MHz

PAYLOAD

Weight / volume

Dedicated 60kg / 100 litres (double if fuel cell not required)

Architecture

Modular and distributed: through hull, mast up to 2m, towed array

Base payload

AIS receiver, water temp sensor, AirMar 150WX weather station

SAFETY

Emergency location

2 all-round white LEDs. Iridium GPS tracker

Health monitoring

Bilge and temp sensors

Battery compliance

2 separate batteries. Intelligent charge controller to isolate faulty cells

Marine environment

No danger to marine life. Zero emission vessel. All leading edges angled aft to minimise possibility of entanglement; draft 0.3m.
CONTACTS
MOST (Autonomous Vessels) Ltd
Unit A5, The Boatyard
Chichester Marina, Chichester
West Sussex, PO20 7EJ
Tel: +44 (0) 1243 511 421
+44 (0) 1822 840 612
Email: info@autonautusv.com
Website: www.autonautusv.com/
Youtube: http://www.youtube.com/autonautusv

LINKS & REFERENCE
http://folk.ntnu.no/eirikbo/wavepropulsion/index
http://www.theengineer.co.uk/engineers-called-on-to-develop-new-low-carbon-ship-propulsion
http://www.newscientist.com/wavepower-ships-could-bring-cheaper-clean-electricity
http://www.wavepropulsion.com/
Ashburton Guardian (1897). A boat with fins. Volume XVIII, Issue 4281, 30 August 1897.
Bose, N. and Lien, J. (1990). Energy Absorption from Ocean Waves: In Proc. R. Soc. Lond, vol.B 240, pp. 591–605.
Fabre, O. (2008). Japan sailor takes on pacific in wave-powered boat. Reuters, March 17, 2008. Retrieved June 29, 2011.
Gause, J. A. (1966). Flexible fin propulsion for vessels GB Patent 1176559. Sept. 7, 1966. Patented Jan. 7, 1970
Gause, J. A. (1967). Water-borne propulsion system flexible fin members US Patent 3,453,981. Apr. 24, 1967 Jul 8 1969
Unmanned Systems Technology November 2014 Autonaut USV successfully completes first mission
Marine Technology News autonaut
Oceanology International Exhibitors Stand D455 Autonaut
http://www.marinetechnologynews.com/news/autonaut-completes-performance-trials-534262
http://www.oceanologyinternational.com/en/Exhibitors/241045/Autonaut
http://www.marinetechnologynews.com/News/c/autonaut
http://www.unmannedsystemstechnology.com/2014/11/autonaut-usv-successfully-completes-first-mission/
Burnett, R. F. (1979). Wave energy for propelling craft - nothing new. The Naval Architect. Nov. 1979, p. 239.
Dybdahl, K. (1988). Foilpropellen kan revolusjonere skipsfarten. Teknisk Ukeblad/ Teknikk, no. 39, October 1988, pp. 10-11.
Anon.(1983). Wave power for ship propulsion. The Motor Ship, 64(757):67–69.
Berg, A. (1985). Trials with passive foil propulsion on M/S Kystfangst. Project no. 672.138. Technical report, Fiskeriteknologisk Forskningsinstitutt, Fartøyseksjon, Marinteknisk senter, Håkon Håkonsensgt. 34, 7000, Trondheim.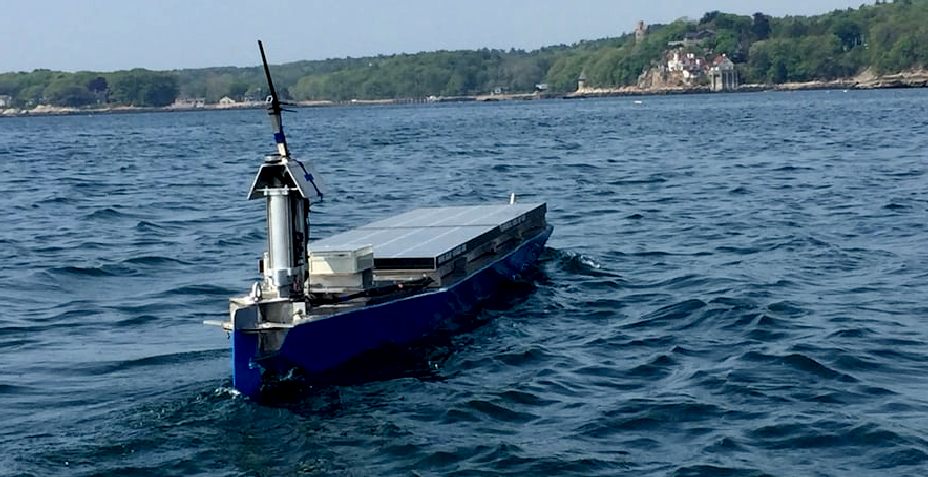 SOLAR VOYAGER - Two hefty PV panels are low in the water so will get a dousing routinely, but should stay clean enough for the crossing. This has not been a problem for the Autonaut. The concept is similar to the SeaCharger below and the Scout seen on this page, but that the Scout attempted to set the Atlantic unmanned record in 2013, whereas the Solar Voyager made her attempt in 2016.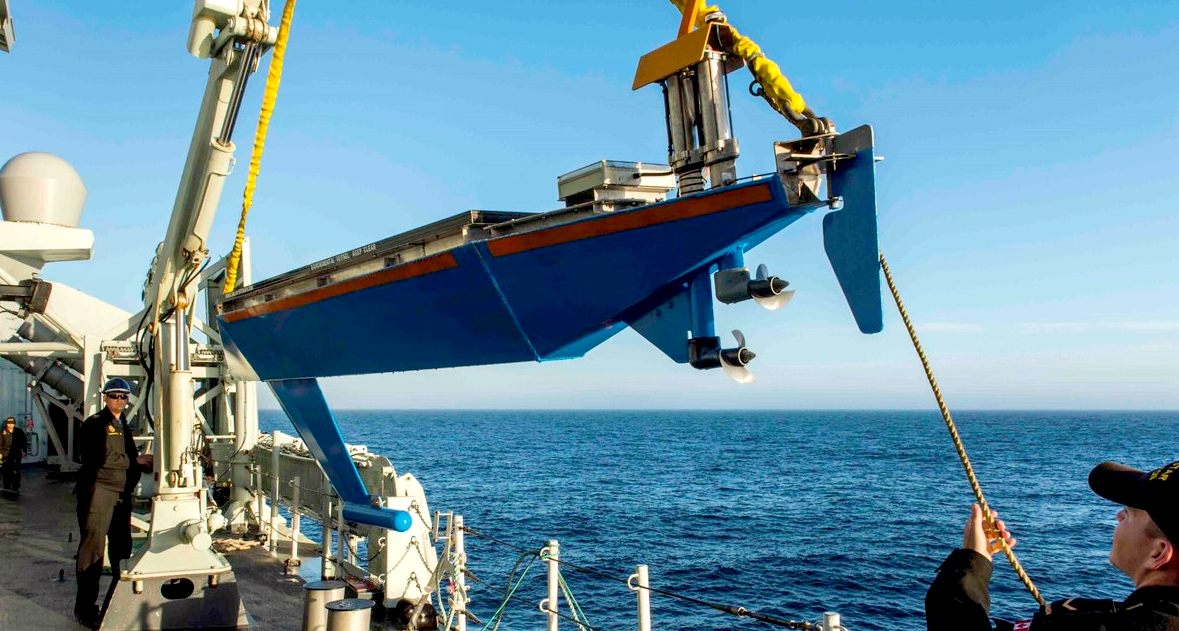 SEACHARGER SOLAR BOAT - Being recovered by a passing ship at sea, this boat is very similar in concept to the Solar Voyager above but attempted to travel across the Pacific to set a record for unmanned endurance boats in 2017. The SeaCharger made it from California to Hawaii, but came a cropper near to New Zealand. Valliant attempts all and there is always room for one more....