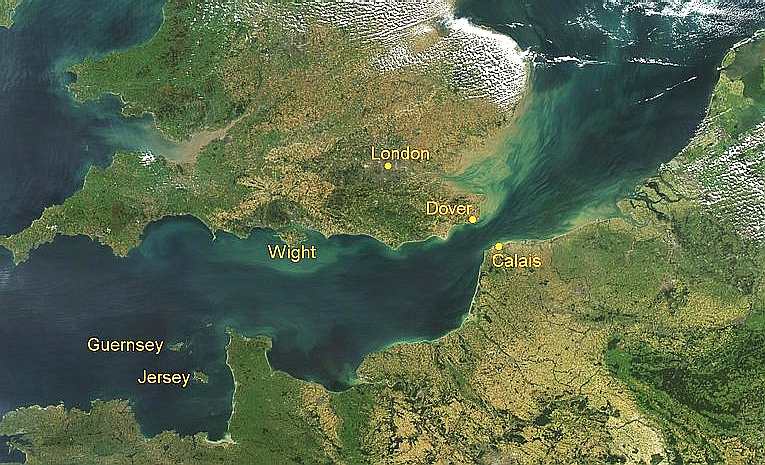 The most dangerous green lane route in the world is between Dover and Calais. It is also a concentration area, or funnel for ocean waste between England and France. Ocean waste recovery may become a profitable venture is the right technology is in place, coupled with the will of local authorities to work together to provide the incentive for business to recycle towards a closed loop economy.
UK COASTAL WASTE, CLOSING THE LOOP
The UN tell us that there is 270,000 tons of plastic floating about in the world's oceans. In terms of processing machinery, that is not a lot. One small plant could deal with that in two years with ease. the problem is not processing, it is collecting it - where it is spread over such wide expanses of ocean.
Around the UK you will see waste on all our beaches, but apart from capture at strategic rivers, such as the Thames, it is unclear how many tons might be recovered from regular Channel patrols.
There are many factors that have contributed to a rise in marine litter: poor waste management practices in ports and marinas, dumping by ships and vessels, not to mention general public attitudes towards littering are all reasons for this growing problem.
The implications of an increase in marine litter are far reaching - affecting both human health and the ecosystem. This is an issue that is present all around the world, but it is time for England to show leadership in coming to terms with this problem. Below are several examples of international efforts to recycle ocean plastics that we should be learning from.
USA - METHOD and ENVISION PLASTICS
Regardless of the true size of the North Pacific gyre, much of the debris from the patch washes onto the shores of Hawaii. Instead of seeing it as pollution, the folks at Method, a San Francisco-based supplier of nontoxic, biodegradable cleaning products, see the plastic as great source of recyclable materials for its containers, reports Forbes.
But how does one collect the plastic trash from the beaches? By soliciting help from a lot of like-minded environmentalists.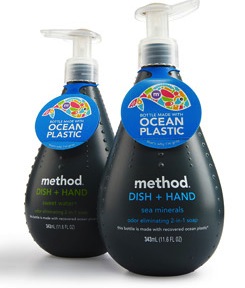 CROWDSOURCED RECYCLING
Method has teamed up with the nonprofit organizations Sustainable Coastlines Hawaii and the Kokua Hawaii Foundation. Workers hand-pick more than a ton of plastic from the polluted beaches. In return, Method donates part of the final products' profits back to the organizations.
Method also works with Envision Plastics, a recycler that uses a process that blends a minimum of 10% of ocean plastic with regular household recycled plastic to create high-quality bottles and containers. The recycler claims that a key ingredient in the process, polyolefin resins (for example, HDPE), does not contain BPA, phthalates, heavy metals, or allergens.
Adam Lowry, Method's "chief greenskeeper," says that the recycling process is not cost-effective, but it was not designed to be, reports The New York Times. "We want to create a conversation about recycling plastics," he says. "The real objective is to make the point that we ought to work with the plastics already on the planet."
Method wants to grow its supply of ocean-drifting plastic. It is training other beach cleanup crews in Southern California and on the East Coast to collect and sort the washed-up plastic. The company pays to have the plastic shipped to its manufacturing facilities in the San Francisco Bay area.
"We've created a crowd source model for collecting plastic," Lowry says. He hopes he can increase the amount of ocean material in the plastic recycling stream by educating other companies that it can be done.
"We're removing the excuse for companies to say they can't use recycled plastic because it's not high-quality enough or too expensive," Lowry says. "That's B.S. - we're doing it with ocean trash."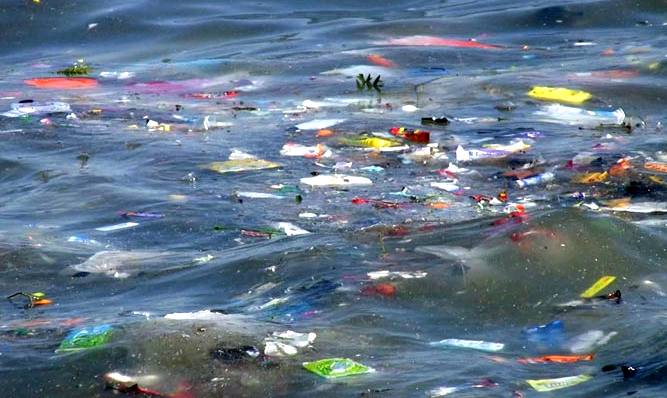 EU - OCEAN PLASTIC IS A PRIME RESOURCE
Similarly, Europeans also are taking plastic out of the oceans to recycle and are using plastic waste to form products that go back into the water. Plastic Recyclate Impression Moulding Engineering (PRIME), a consortium from European countries, is turning mixed polymer waste into materials that are used in flood-barrier panels and other marine construction projects, reports Resource. The consortium is conducting a life-cycle analysis on the panels to see how they compare to traditional flood-barrier panels made from aluminum.
The flood-barrier panels are composed of 80% to 97% mixed plastic waste. The idea for the panels came from a need in the European recycling industry to dispose of its low-grade plastic waste.
"We have seen some very promising results in the manufacture of the panels, and this clearly demonstrates the increasing potential of using mixed polymer waste to create high-end products that can be used in many industries," says Steve Morgan, technical manager at Recoup, a national charity that promotes plastic recycling, and PRIME's dissemination and commercial exploitation manager.
The flood barrier program is just one of PRIME's projects to increase plastic recycling. Like Method, plastic manufacturer Closed Loop Recycling and sustainable cleaning products brand Ecover are creating packaging materials from waste ocean plastic. In another effort, nylon polymer manufacturer Aquafil, sock company Star Sock, and the European Centre for Nature Conservation are recycling abandoned fishing nets into garments and fabrics.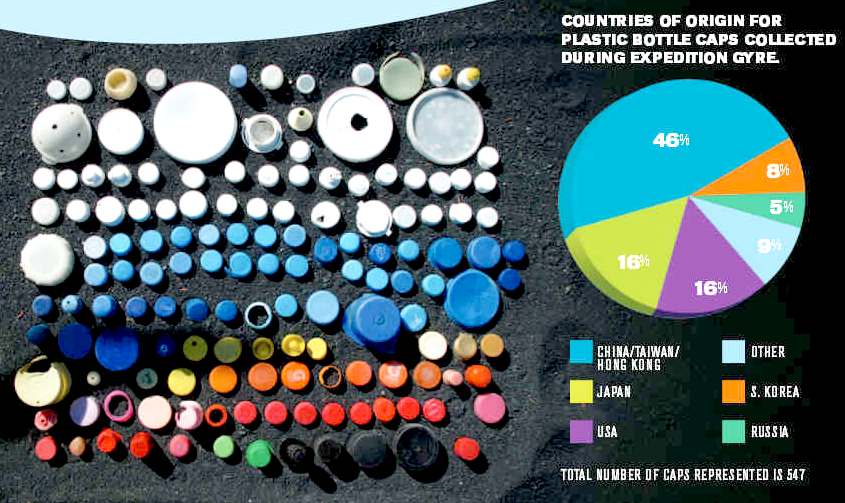 Plastic bottle caps collected during an expedition in Alaska, showing the majority recovered were identified as coming from China/Taiwan.Hong Kong at 46%. The next biggest culprits were Japan and the US at 16% each.
OCEAN PLASTIC COMPOSITION

The majority of samples collected are small fragments less than 1 cm in size – no bigger than your smallest fingernail – with a mass less than 0.15 g, or about 1/10th the mass of a paper clip. In most cases it is impossible to know what kind of object the plastic pieces came from. The most recognizable pieces are fragments of fishing line and industrial resin pellets (the "raw material" of consumer plastic products).
Physical properties of plastic samples collected by SEA in the Atlantic Ocean indicate the collected material is made of HDPE (high density polyethylene), LDPE (low density polyethylene), and PP (polypropylene), which are used to make common household items such as milk jugs, plastic bags, and drinking straws. These materials have a density less than that of seawater, causing them to float on the sea surface.

Other commonly used plastic types such as PET (polyethylene terephthalate), PVC (polyvinyl chloride) and PS (polystyrene solid) are not so common. These plastics have been observed on U.S. east coast beaches, but the materials are denser than seawater and most likely sink before reaching the open ocean. The properties of plastics appear to change during their time at sea, possibly due to sun and sea exposure and to biological growth.
It seems then that it would pay to concentrate a proportion of any robot fleet as shore/river patrols, with the objective to capture PET, PVC and PS, before it is broken down and sinks. This might be in tandem with gyre operations to capture the smaller particles.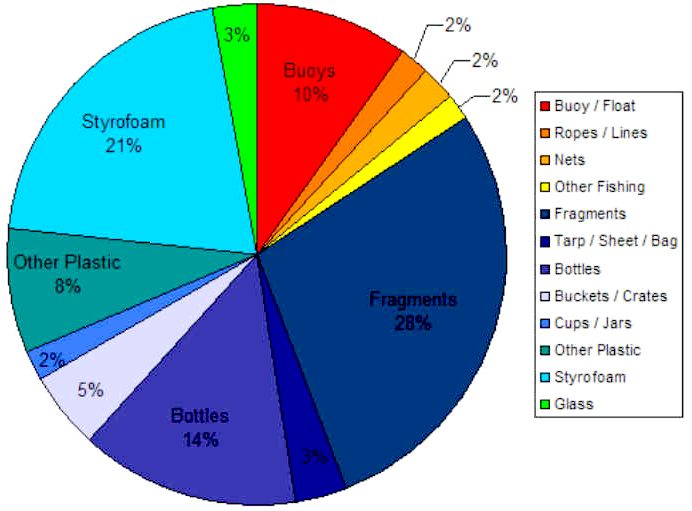 A pie chart of waste sampled from the North Pacific gyre. Surprisingly, Styrofoam amounted to 21% of the catch, but is not mentioned much in reports. Plastic fragments were by far the biggest element at 28%. This tells us that even with dedicated gyre expeditions, a two stage treatment and filtration system is essential.
COMMON PLASTICS ACRONYM & FULL NAME

PET (PETE) = Polyethylene terephthalate soda bottles

PES = Polyester (yes, it's actually a plastic!) polyester clothing

PE = Polyethylene plastic bags

HDPE = High-density polyethylene detergent bottles

PVC = Polyvinyl chloride plumbing pipes

PP = Polypropylene drinking straws

PA = Polyamide (aka nylon) toothbrushes

PS = Polystyrene take-out food containers (aka styrofoam)
TOXICITY
Plastic debris can threaten marine organisms through entanglement, especially by large debris such as derelict fishing gear, and by ingestion in organisms ranging in size from zooplankton to fish and larger animals such as sea turtles and seabirds. Additionally, plastics create a habitat for microorganisms and other species and can transport potentially invasive species to new regions of the ocean. Plastics are known to carry organic toxins such as PCBs, PBDEs, and PAHs, and may be responsible for the transfer these and other chemicals to marine organisms.
Plastic debris affects at least 267 species worldwide, including 86% of all sea turtle species, 44% of all seabird species, and 43% of all marine mammal species. [9] Some wildlife harmed by plastic is threatened, or an endangered species under California or US federal law.
We would have thought that the toxicity and drive for cleaner oceans, would have been sufficient impetus for the Environment Agency to want to talk to us.
FROM FIVE TO SEVEN GYRES
You've heard of the Great Pacific Garbage Patch, a floating plastic soup about 1,000 miles off the coast of California. But did you know that the five ocean garbage patches, also known as gyres – one for each of the major ocean basins - are actually six rotational masses. "Each contains so much plastic that if you were to drag a net through these areas you would pull up more plastic than biomass," according to Erik Van Sebille, who is a Research Fellow at the Australian Research Council Centre of Excellence for Climate System Science.

As if that weren't troubling enough, the new study shows that giant oceanic eddies, some up to 50km across, actually help shift plastics between garbage patches that are thousands of miles apart and in entirely different oceans. Because the oceans are constantly exchanging collections of waste, cleaning up all of the plastic would be nearly impossible, even if we ceased the introduction of new items.

The scientists also concluded that a new garbage patch may already be forming, in an area formerly free from human contamination. "Our research suggests a smaller sixth garbage patch may form within the Arctic Circle in the Barents Sea, although we don't expect that to appear for another 50 years," Van Sebille continued. The sixth gyre (when it is recognized) is actually a potential seventh identifiable rotational mass.

The ability of plastic waste to linger for hundreds of years, coupled with the fact that these patches are constantly exchanging waste, paints a very grim future for our oceans. "…Garbage from any country can end up in any one of these garbage patches. This tells us that no single country is responsible. Ocean garbage is an international problem that requires an international solution," said Dr Van Sebille.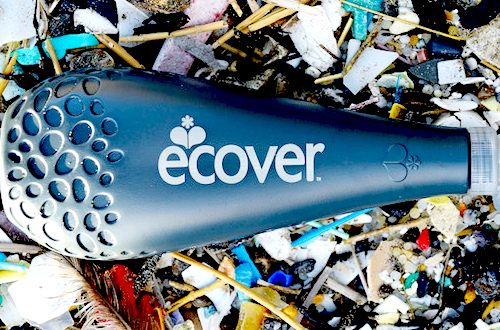 ECOVER, BELGIUM
Right now there are about 46,000 pieces of trash floating around in every square mile of the ocean, which is why Belgian company Ecover is now making their cleaning product packaging from plastic fished out of the sea. Taking plastic right out of the ocean, the company then processes it into detergent and dish soap containers. They are calling their new product the Ocean Bottle in an effort to bring attention to the problem of plastic pollution in our precious waterways.

Ocean waste is a major issue in all parts of the globe. Fish in the northern Pacific alone ingest up to 24,000 tons of plastic waste and every year at least one million sea animals die from ingesting sea waste. Once waste gets into the ocean environment, it can take thousands of years to degrade. Ecover wants to draw attention to the issue while making its own impact on the problem, so they have teamed up with Logoplaste to create their packaging, which will be made out of sugarcane and recycled plastic.

To get the plastic supply, the company will use waste retrieved by fishermen and brought into collection areas or it will rely on boats fitted with special equipment to trawl the sea for waste. These will bring back two to eight tons of trash per trip, which is then sorted and recycled. To begin with, each bottle will be made with 10 percent ocean plastic waste, because the variability in the quality of retrieved plastic makes it hard to guarantee that it is quality enough to stand up to the ingredients that make up cleaning products, but the company hopes to make that number higher in the future.
THE VORTEX PROJECT - SEA SHEPHERD, MARCH 2014
Sea Shepherd has launched the Vortex Project, an unprecedented campaign to clean the oceans of plastic debris and transform it into fashion. The project's first collaboration — launched at NYC's fashion week with partner Bionic Yarn — is G-Star's "Raw for the Oceans," a denim line made of ocean plastic, curated by Pharrell Williams

The New York Fashion Week event is part of Parley for the Oceans, an initiative comprised of artists, activists, tastemakers, entrepreneurs and innovators to address and solve the plastic pollution problem impacting ocean ecosystems. Sea Shepherd is an official partner of Parley for the Oceans and together with Bionic Yarn is cofounder of The Vortex Project.

The Vortex Project takes waste from the oceans and shorelines, and recycles, enhances, and reuses it for yarn, fabric, and other elements in consumer products. Parley collaboration partners will use the reclaimed plastic waste from the oceans to create exclusive products with a unique product story. They will also seek to close the loop by again recycling these products at the end their product life and manufacturing new products in such a way as to not further pollute.

At the launch, highly acclaimed photographer and environmentalist David LaChapelle, creative advisor to Parley for the Oceans, introduced iconic conservationist and Sea Shepherd founder Captain Paul Watson, who gave an extensive State of the Oceans address to the crowd of 300 fashion industry professionals and media gathered in attendance.

Sea Shepherd will lead The Vortex Project in the areas of collecting, scientific innovation and awareness-building, and will work with Sea Shepherd entities worldwide to mobilize teams to help clean up the oceans and beaches.

RAW for the Oceans is a G-Star collection that will be made with Bionic Yarn created out of plastic recycled from the oceans. The collaboration is a long-term creative exploration, where both parties will join to innovate denim and commit to make an impact on the ocean plastic pollution problem. In addition to planned seasonal collections, G-Star will integrate Bionic Yarn material into its product lines wherever possible. The first collection made with recycled plastic from the oceans is slated to be in stores in August, 2014.

Captain Paul Watson is enthused about helping to launch this unique partnership. About the endeavor, he says: "Plastic is choking our oceans and precious marine wildlife at an unprecedented rate. Straws, single-use bags, six-pack rings, drink lids and more are ensnaring marine animals or blocking their digestive systems, killing these magnificent creatures. It's time humanity takes responsibility for our actions and cleans up the mess we've made. We hope this is the first of many meaningful collaborations to come."

Musician and entrepreneur, Pharrell Williams has been the Creative Director of Bionic Yarn since 2009. About the collaboration, he says: "Working with G-Star was an obvious choice because they have a legacy of pushing the boundaries of fashion and denim forward. Bionic Yarn is a company built around performance, and denim is the perfect category to show the world what our product can do. Everyone has jeans in their closet."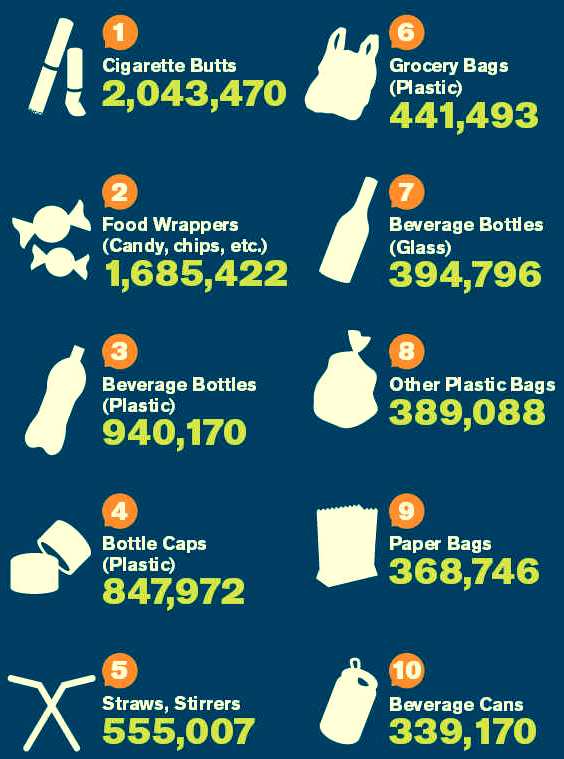 The above diagram shows the top ten items picked up on polluted shores.
REFERENCE
6 C.J. Moore et al., (2001) "A Comparison of Plastic and Plankton in the Pacific Central Gyre," Marine Pollution Bulletin 42: 2 97 - 1300.

7 Kenneth R. Weiss, "Plague of Plastic Chokes the Seas," (2 Aug 2006) LA Times.

8 Richard C. Thompson, "Lost at Sea: Where is all the Plastic?"
SCIENCE Magazine, 838, (May 7, 2004): 304.

9 Laist, D.W. (1997) "Impacts of marine debris: entanglement of marine life in marine debris including a comprehensive list of species with entanglement and ingestion records," in Coe, J.M.. Rogers D.B., (eds.) in Marine Debris — Sources, Impacts and Solutions. NewYork: Springer-Verlag: J.G.B. Derraik at 844.
ACIDIFICATION - ADRIATIC - ARCTIC - ATLANTIC - BALTIC - BAY BENGAL - BERING - CARIBBEAN - CORAL - EAST CHINA
ENGLISH CH - GOC - GULF GUINEA - GULF MEXICO - INDIAN - IOC - IRC - MEDITERRANEAN - NORTH SEA - PACIFIC - PERSIAN GULF - SEA JAPAN
STH CHINA - PLASTIC - PLANKTON - PLASTIC OCEANS - SEA LEVEL RISE - UNCLOS - UNEP - WOC - WWF
AMAZON - BURIGANGA - CITARUM - CONGO - CUYAHOGA - GANGES - IRTYSH - JORDAN - LENA - MANTANZA-RIACHUELO
MARILAO - MEKONG - MISSISSIPPI - NIGER - NILE - PARANA - PASIG - SARNO - THAMES - YANGTZE - YAMUNA - YELLOW

LINKS & REFERENCE
Algalita marine research foundation
http://www.marinedebrissolutions.org
http://marinedebris.noaa.gov/
http://www.algalita.org/
NOAA Marine Debris Program
Marine Debris Solutions
Ocean Conservancy International Coastal Cleanup
International Pellet Watch
United Nations Environment Programme
How a Company Recycles Ocean Plastic Twice the Size of Texas Forbes, 3/14/13
Clean Your Hands and the Pacific The New York Times, 10/10/12
Mixed polymer waste used to build flood defenses Resource, 4/15/13
UK Government packaging producer responsibilities
https://www.gov.uk/packaging-producer-responsibilities
http://www.closedlooprecycling.co.uk/news/closed-loop-recycling-ecover-join-up-to-support-marine-plastic-initiative
http://inhabitat.com/eco-cleaning-company-ecover-is-making-bottles-out-of-recycled-ocean-plastic/
http://www.maritime-executive.com/article/Sea-Shepherd-to-Turn-Ocean-Plastic-Into-Denim-2014-02-09
https://www.polymersolutions.com/psi-newsletter-archive/june-2013/
http://www.channelswimmingassociation.com/
http://en.wikipedia.org/wiki/English_Channel
University-study-highlights-importance-of-cross-english-channel-collaboration
http://www.dimdex.com/en/warship-display.aspx
http://www.maritimeaustralia.com.au/
http://www.pacific2013.com.au/innovation-awards/index.html