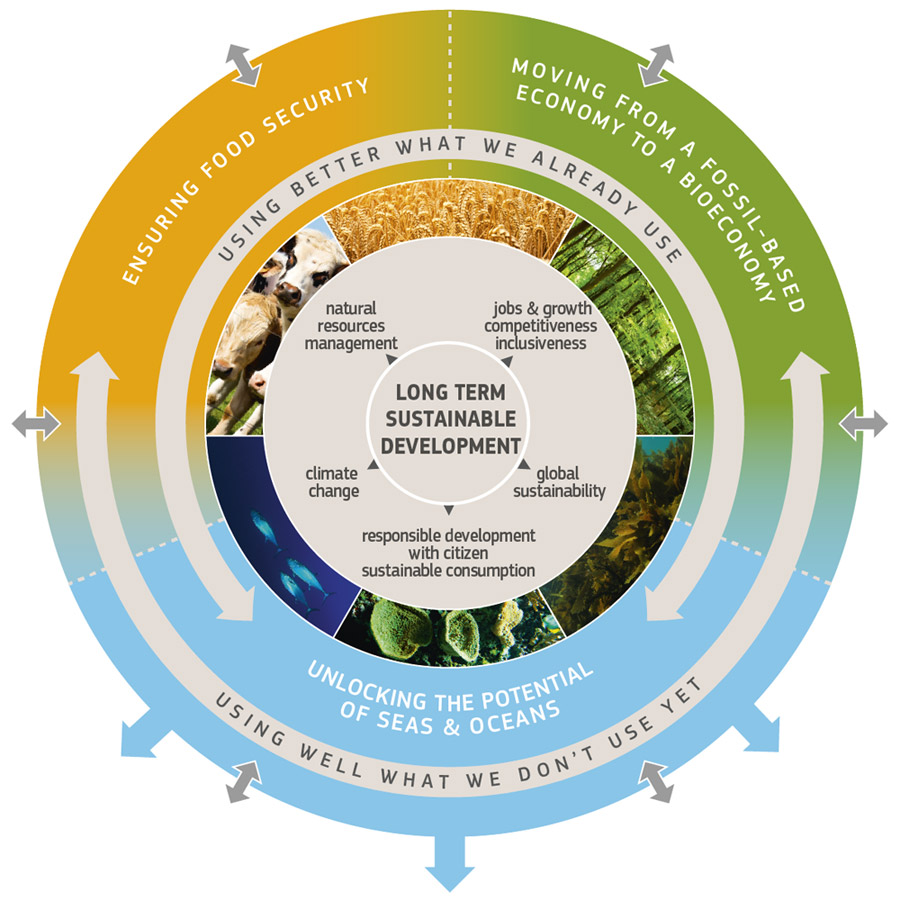 WHAT IS MARINE BIOTECHNOLOGY

Marine biotechnology is the process that involves the marine resources of the world that are studied in biotechnology applications. Its applications are utilized in numerous tasks, such as deriving new cancer treatments from marine organisms to localized seaweed farming. As new pharmaceutical companies focus on developing new drugs from marine resources, professionals are needed that are trained in the disciplines of marine biology, microbiology, chemistry, genomics, bioinformatics, and related fields. Marine biotechnology focuses not only on little known forms of deep ocean life but also on the growing use of marine life in the food, cosmetic, and agricultural industries, such as aquaculture.
The specialty section on Marine Biotechnology is intended to host scientific contributions in marine science that are based on the enormous biodiversity of marine ecosystems and the genetic uniqueness of marine organisms to develop useful products and applications. This fully comprehensive definition of Marine Biotechnology includes the functional diversity of marine life, the genetic pool of marine organisms, marine natural products, marine biochemical processes, marine biomolecules and any technological applications intended for development and specific use by industry. Submissions are encouraged from marine biologists, chemists, biotechnologists and other professionals from the applied marine research sector as well as from scientists from the public or private research sectors to make Marine Biotechnology an international publication resource for related disciplines. We encourage article submissions that are:
(i) related to the study and application of extremophiles and other microorganisms from different submerged ecosystems,
(ii) about genetic manipulation of marine species of interest,
(iii) related to marine -omics, from metagenomic technologies -now offering promising new strategies for marine biodiscovery- to metabolomics (mass spectrometry, NMR, etc.) for enzyme-function discovery.
Submissions of methodology papers focusing on the description of novel methodological aspects, practical protocols, expression systems and screening methods, as well as chemical engineering of biological processes performed by marine biocatalysts and all bio-catalytically oriented studies suitable to reveal advantages of marine biodiversity are also encouraged. Attention is also paid to marine biomolecules and contributions reporting on bioprocesses for waste management research concerning fishery and seafood related industries. Furthermore, marine polysaccharides are one of the most abundant renewable "bulk" biomaterials from the marine environment.
Therefore, studies about their discovery and sourcing, bioactivity, structure-activity relationship, fine structural details, etc. are highly anticipated. Other bioactive compounds, including marine nutraceuticals, polypeptides, as well as secondary metabolites, are part of the overall research effort into natural products discovery and contributions on different scientific aspects of this research (discovery and functions, bioactivity, compatible production, etc.) will also be hosted in Marine Biotechnology.
EMPLOYMENT OPPORTUNITIES
Many biological scientists are involved in marine biotechnology today. These scientists work on various genome projects by isolating genes and determine their function. There are many topics the student can study within the field, as well as a variety of specializations to choose from. A marine biotechnologist may focus on one particular species, organism, organism behavior, or ecosystem. One area of focus is in the biomedical field. Many new drugs are produced from marine organisms. A marine biotechnologist may work in the defense industry, developing nontoxic coatings that prevent the buildup of organisms that negatively affect ships and intake pipes that are used in power plants.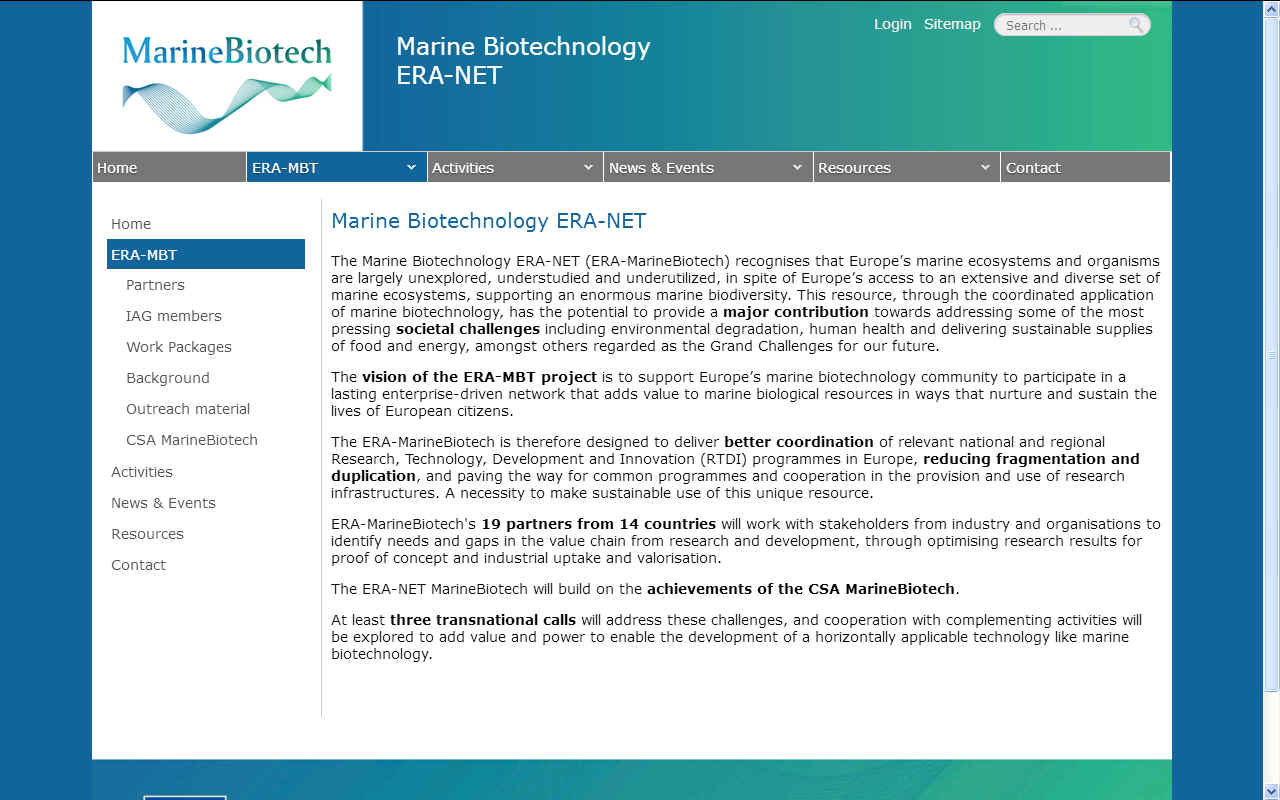 The Marine Biotechnology ERA-NET (ERA-MarineBiotech) recognises that Europe's marine ecosystems and organisms are largely unexplored, understudied and underutilized, in spite of Europe's access to an extensive and diverse set of marine ecosystems, supporting an enormous marine biodiversity. This resource, through the coordinated application of marine biotechnology, has the potential to provide a major contribution towards addressing some of the most pressing societal challenges including environmental degradation, human health and delivering sustainable supplies of food and energy, amongst others regarded as the Grand Challenges for our future.
The vision of the ERA-MBT project is to support Europe's marine biotechnology community to participate in a lasting enterprise-driven network that adds value to marine biological resources in ways that nurture and sustain the lives of European citizens.
The ERA-MarineBiotech is therefore designed to deliver better coordination of relevant national and regional Research, Technology, Development and Innovation (RTDI) programmes in Europe, reducing fragmentation and duplication, and paving the way for common programmes and cooperation in the provision and use of research infrastructures. A necessity to make sustainable use of this unique resource.

ERA-MarineBiotech's 19 partners from 14 countries will work with stakeholders from industry and organisations to identify needs and gaps in the value chain from research and development, through optimising research results for proof of concept and industrial uptake and valorisation.
At least three transnational calls will address these challenges, and cooperation with complementing activities will be explored to add value and power to enable the development of a horizontally applicable technology like marine biotechnology.


Project Coordinator
Steinar Bergseth
The Research Council of Norway
Division for Innovation
Stensberggata, 26
Oslo 0131
Norway
stb@rcn.no
+47 22037323 +47 22037323
+47 97066883

info@marinebiotech.eu
WHAT IS THE BLUE ECONOMY?
The development of the Blue Economy holds immense promise for the Indian Ocean region. The Indian Ocean is the world's preeminent seaway for trade and commerce. It is also endowed with a wealth of natural resources, which are, as yet, largely untapped. The development of the Blue Economy in the Indian Ocean region is expected to yield a number of benefits for IORA Member States, including:

* Providing a boost to coastal and national economies
* Generating new employment, skill-sets and capacities
* Promoting entrepreneurship in new areas of economic activity
* Facilitating the interconnectedness of the regional economy
* Utilising the vast, untapped potential of the Indian Ocean
* Contributing to sustainable development and climate change mitigation

As an Ocean-based community, IORA would be greatly str
POPULATION GROWTH ESTIMATES
Current UN projections show a continued increase in population in the near future (but a steady decline in the population growth rate), with the global population expected to reach between 8.3 and 10.9 billion by 2050. UN Population Division estimates for the year 2150 range between 3.2 and 24.8 billion; mathematical modeling supports the lower estimate. Some analysts have questioned the sustainability of further world population growth, highlighting the growing pressures on the environment, global food supplies, and energy resources. Solutions for feeding the nine billion in the future are being studied and documented. One out of every seven people on our planet go to sleep hungry. People are suffering due to overpopulation, 25,000 people die of malnutrition and hunger related diseases everyday.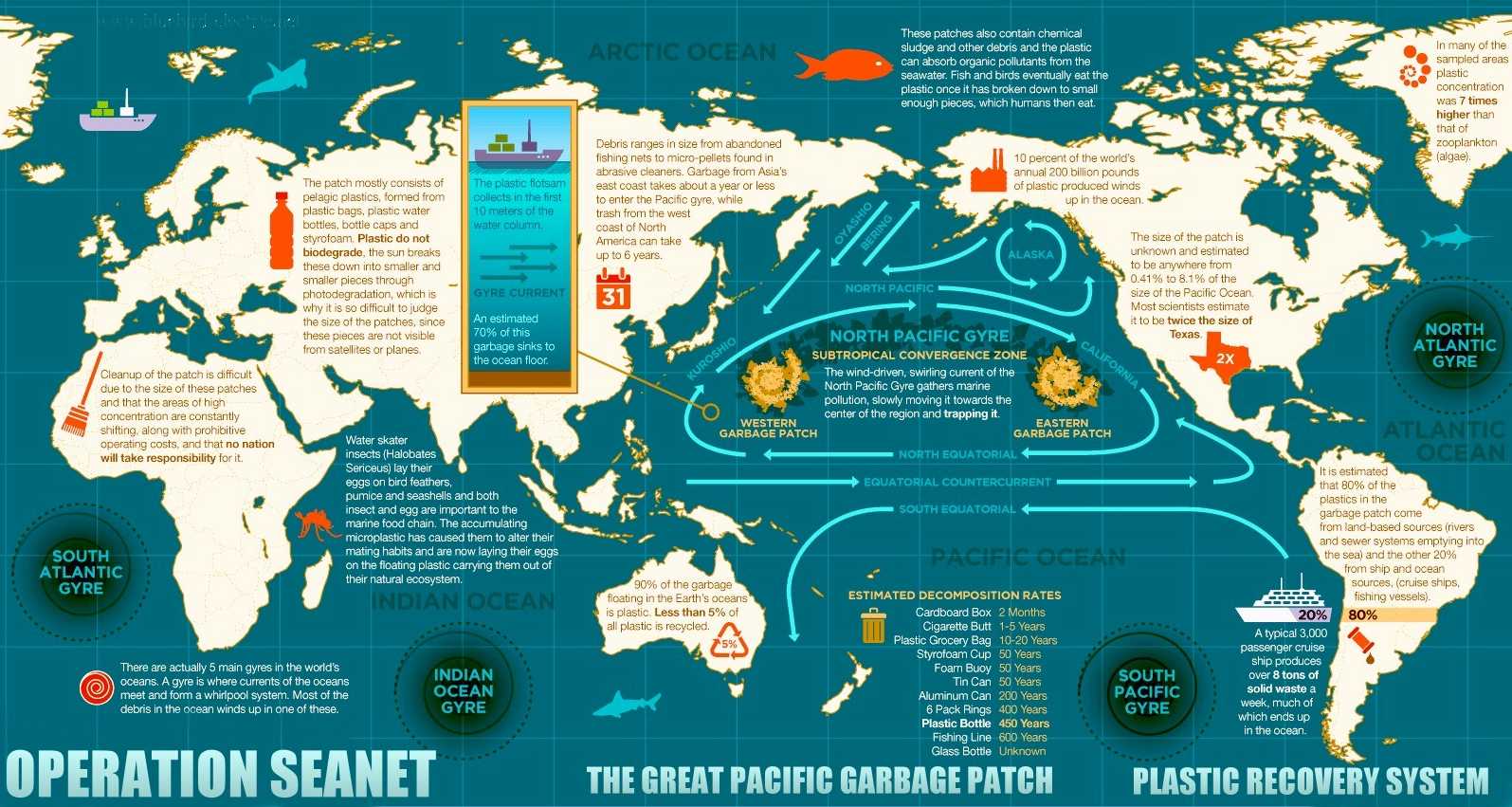 The North Pacific gyre is just one of several swirling trash zones (gyres) in our oceans, and it's where a lot of our plastic litter ends up. While these debris patches aren't visible piles of floating trash in the water, they are inverted mountains - a bit like landfill sites at sea - hidden from view. The reality of what they are and how they got there is mind boggling and extremely harmful to marine life. We can't (at the moment) do much about nuclear waste in the oceans (except appeal to reason), but we can act to vacuum up solids.
WORLD SECURITY SUMMIT ON FOOD SECURITY

The World Summit on Food Security held in Rome in 1996, aimed to renew a global commitment to the fight against hunger. The Food and Agriculture Organization of the United Nations (FAO) called the summit in response to widespread under-nutrition and growing concern about the capacity of agriculture to meet future food needs. The conference produced two key documents, the Rome Declaration on World Food Security and the World Food Summit Plan of Action.

The Rome Declaration calls for the members of the United Nations to work to halve the number of chronically undernourished people on the Earth by the year 2015. The Plan of Action sets a number of targets for government and non-governmental organizations for achieving food security, at the individual, household, national, regional and global levels.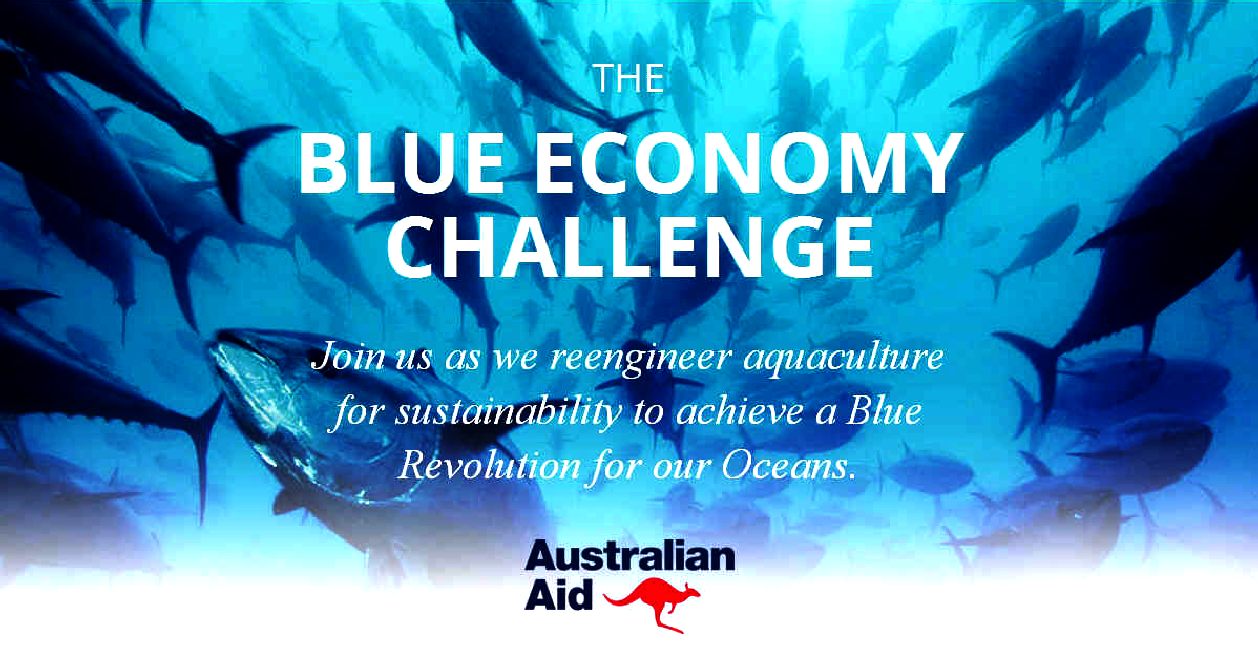 UN FOOD & AGRICULTURE - ON UNLOCKING THE POTENTIAL OF THE SEAS

Today's fisheries sector hosts a multibillion dollar industry that is a vital source of food and nutrition, employment, trade, economic wellbeing and recreation.

The concept of a "blue economy" came out of the 2012 Rio+20 Conference and emphasizes conservation and sustainable management, based on the premise that healthy ocean ecosystems are more productive and a must for sustainable ocean-based economies.

To support a shift to this new approach, FAO launched the Blue Growth Initiative, through which it will assist countries in developing and implementing blue economy and growth agendas.

Why blue growth?
Blue growth looks to further harness the potential of oceans, seas and coasts to:
* Eliminate harmful fishing practices and overfishing and instead incentivize approaches which promote growth, improve conservation, build sustainable fisheries and end illegal, unreported and unregulated fishing

* Ensure tailor-made measures that foster cooperation between countries

* Act as a catalyst for policy development, investment and innovation in support of food security, poverty reduction, and the sustainable management of aquatic resources.
How will it be implemented?

Aquaculture – promote policies and good practices for farming of fish, shellfish and marine plants in a responsible and sustainable manner

Capture fisheries – support implementation of the Code of Conduct for Responsible Fisheries (CCRF) and related instruments to restore fish stocks, combat IUU and promote good fish production practices and growth in a sustainable manner

Seafood systems – promote efficient seafood value chains and improved livelihoods

Eco-system services – Promote regulatory regimes and approaches to restore vital coastal habitats, biodiversity and eco-system services (incl. carbon capture, storm and wave defenses, tourism etc).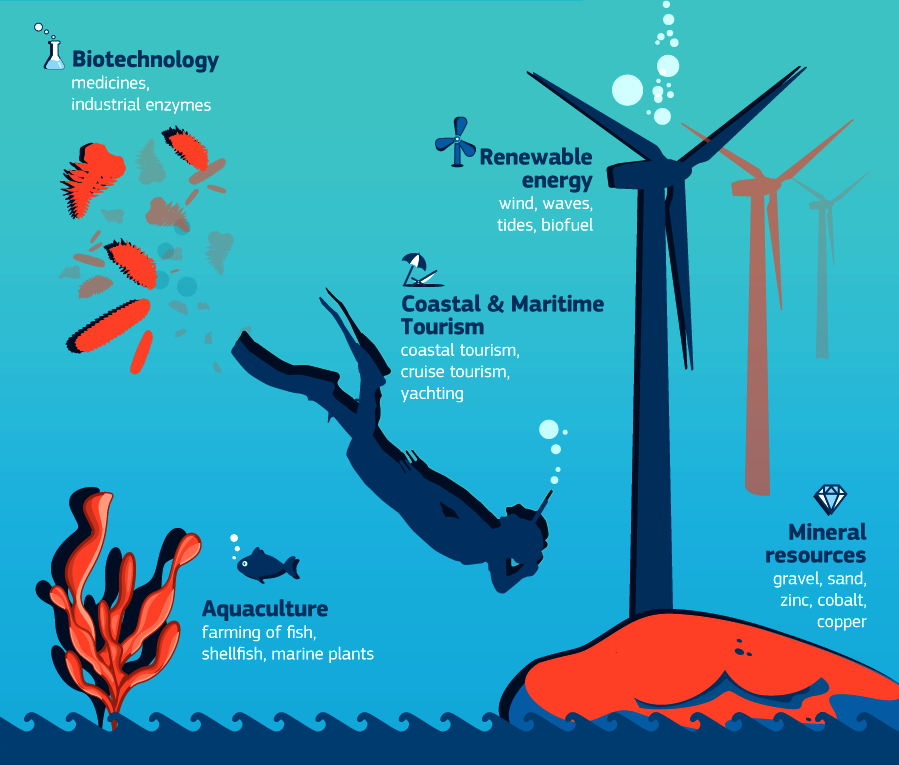 ACIDIFICATION - ADRIATIC - ARCTIC - ATLANTIC - BALTIC - BAY BENGAL - BERING - CARIBBEAN - CORAL - EAST CHINA
ENGLISH CH - GOC - GUANABARA - GULF GUINEA - GULF MEXICO - INDIAN - IRC - MEDITERRANEAN - NORTH SEA - PACIFIC - PERSIAN GULF - SEA JAPAN
STH CHINA - PLASTIC - PLANKTON - PLASTIC OCEANS - SEA LEVEL RISE - UNCLOS - UNEP WOC - WWF

AMAZON - BURIGANGA - CITARUM - CONGO - CUYAHOGA - GANGES - IRTYSH - JORDAN - LENA - MANTANZA-RIACHUELO
MARILAO - MEKONG - MISSISSIPPI - NIGER - NILE - PARANA - PASIG - SARNO - THAMES - YANGTZE - YAMUNA - YELLOW
LINKS & REFERENCE
http://www.marinebiotech.eu/marine-biotechnology-era-net
https://en.wikipedia.org/wiki/Food_security
http://www.worldbank.org/en/topic/foodsecurity/
http://www.foodsecurity.ac.uk/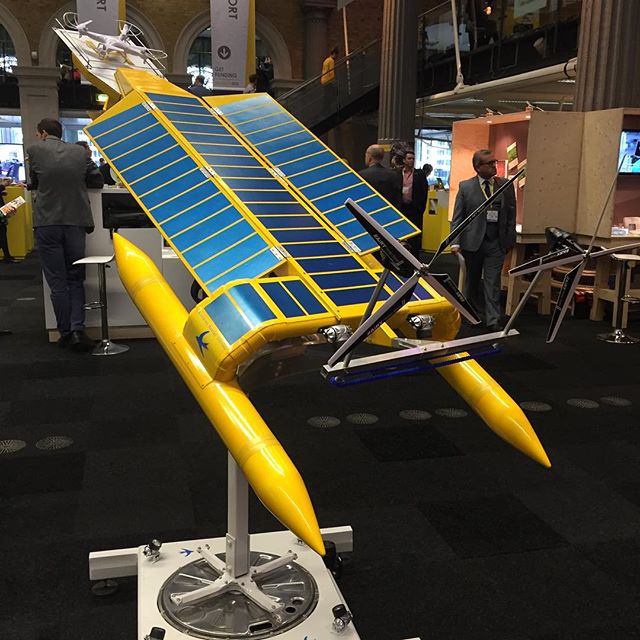 SEAVOLUTION - Continuous monitoring of the oceans and constant plastic patrols is a potential cure for pollution build uo, for which the SeaVax ZCC (Zero Carbon Cruiser) platform, a concept under development, is a robotic ocean workhorse that holds the potential to provide a part solution to blue growth. The SeaVax concept is based on a stable trimaran hull design that is under development in the UK.