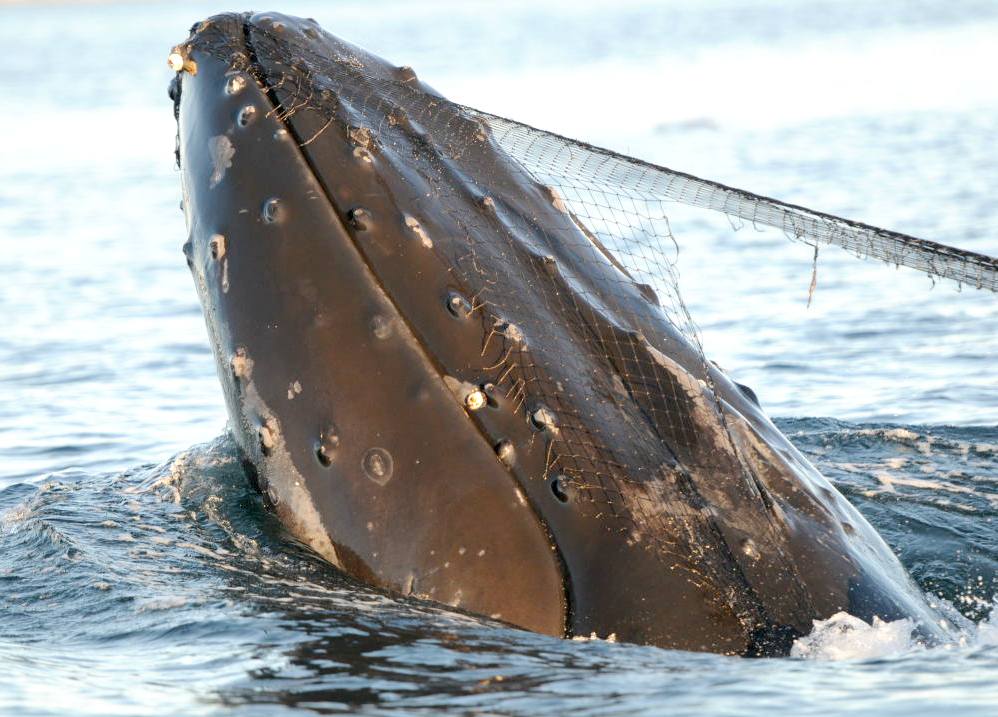 HUMPBACK WHALE - Marine life needs to be protected against ocean pollution. Ocean pollution includes plastic, nets and oil spills. Technology with the potential to alleviate such issues should be accelerated as a high priority.

Oceana is said to be the largest international ocean conservation and advocacy organization. Oceana works to protect and restore the world's oceans through targeted policy campaigns.

Oceana bases its policy campaign goals on science to achieve concrete and measurable results through targeted campaigns that combine policy, advocacy, science, law, media, and public pressure to prevent collapse of fish populations, marine mammals and other sea life caused by industrial fishing and pollution. Campaigns are designed to produce clear, identifiable policy changes within a 3–5 year timeframe.

Oceana is headquartered in Washington, D.C. and has North American offices in New York City; Juneau, Alaska; Anchorage, Alaska; Portland, Oregon; Monterey, California; Boston; and Los Angeles. In Europe, Oceana has offices in Brussels, Belgium and Madrid, Spain. The South American office is in Santiago, Chile and the Central American office is in Belmopan, Belize.

HISTORY
Oceana was established in 2001, by a group of leading foundations - The Pew Charitable Trusts, Oak Foundation, Marisla Foundation (formerly Homeland Foundation), and the Turner Foundation. Those foundations discovered through a study commissioned in 1999, that less than one-half of one percent of all resources spent by environmental non-profit groups in the United States went to ocean advocacy. Thus Oceana was created to identify practical solutions to the problems facing the oceans and to make those solutions happen.
The organization was not started from scratch, as the Ocean Law Project - also initiated by The Pew Charitable Trusts - was absorbed into Oceana in 2001, as the Oceana's legal arm. In 2002, Oceana merged with American Oceans Campaign, founded by actor/environmentalist Ted Danson, to more effectively address their common mission of protecting and restoring the world's oceans. Danson remains a committed and active member of Oceana's Board of Directors.
CAMPAIGNS
* The Ocean Pollution campaign is working to stop major sources of ocean pollution including oil, mercury, aquaculture and shipping emissions.

* The Responsible Fishing campaign is working to promote sustainable fishing practices, which includes stopping destructive bottom trawling and illegal fishing gear, limiting bycatch, ending fishing subsidies and protecting overfished species such as bluefin tuna and krill.

* The Sharks campaign works to protect sharks through policy, science and legal work. Oceana is pushing for true shark finning bans, species-specific shark management and reduced shark bycatch.

* The Sea Turtles campaign works to protect sea turtles from extinction by reducing sea turtle bycatch, protecting habitat and develop legislation to protect sea turtles.

* The Climate and Energy campaign works to stop ocean acidification, promote clean alternative energy such as offshore wind, and end offshore drilling.

* Oceana also campaigns to protect vulnerable places in the world's oceans, including the Arctic, the Aleutian Islands, Chile's Juan Fernandez Islands, Punta de Choros and Patagonia, and the Mediterranean.

* Every year since 2005, the organization has led an on-the-water expedition in the Mediterranean to document vulnerable marine habitats. In 2010, Oceana spent two months on the water in the Gulf of Mexico investigating the long-term effects of the Deepwater Horizon oil spill.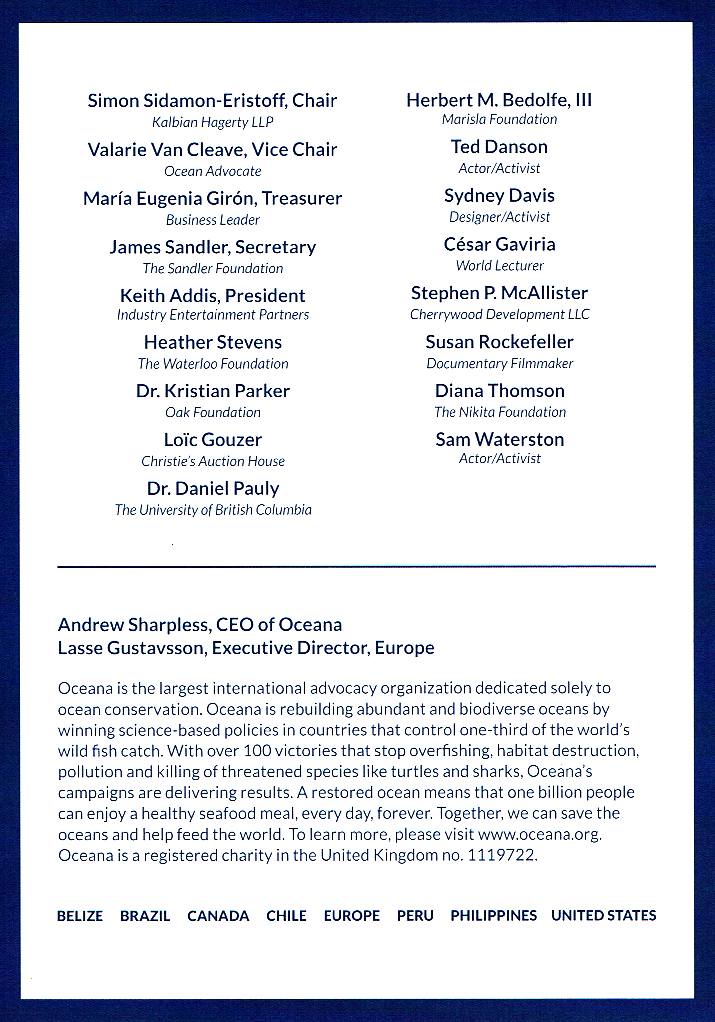 KEY PEOPLE

Andrew Sharpless, CEO
James Simon, Executive Vice President and General Counsel
Michael Hirshfield, Chief Scientist and Strategy Officer
Dr. Kristian Parker, Chair
Ted Danson, Founding Board Member
Xavier Pastor, Senior Vice President
Lasse Gustavsson, Senior Vice President and Executive Director, Europe
Susan Murray, Director, Pacific
Alex Muñoz, Vice President, South America
OCEANA UK

OCEANA CAMPAIGNS TO PROTECT AND RESTORE THE WORLD'S OCEANS. OUR TEAMS OF MARINE SCIENTISTS, ECONOMISTS, LAWYERS AND ADVOCATES WIN SPECIFIC AND CONCRETE POLICY CHANGES TO REDUCE POLLUTION AND TO PREVENT THE IRREVERSIBLE COLLAPSE OF FISH POPULATIONS, MARINE MAMMALS, AND OTHER SEA LIFE.

Charity Number: 1119722
Date Registered: 2007-06-19
Company Number: 103CEE
Contact Name: MR JAMES F SIMON
Telephone: +1 (202) 833-3900
Address: C/O OCEANA, INC., 1350 CONNECTICUT AVE., NW, WASHINGTON, DC
Website: http://www.oceana.org
Email: info@oceana.org
Social Networking: Twitter
TRUSTEES
MS ANA BARREIRA, MS ANNE ALEXANDER ROWLEY, SARA ROBINSON

Charity Commission Classifications

ANIMALS, ENVIRONMENT/CONSERVATION/HERITAGE, THE GENERAL PUBLIC/MANKIND, OTHER DEFINED GROUPS, PROVIDES ADVOCACY/ADVICE/INFORMATION, SPONSORS OR UNDERTAKES RESEARCH, EDUCATION/TRAINING

Icnpo Classifications: Environment
Governing Document: MEMORANDUM AND ARTICLES OF ASSOCIATION INCORPORATED 2 OCTOBER 2006.


FOOD SECURITY
Restoring the ocean could feed 1 billion people a healthy seafood meal every day.

What animal protein requires no fresh water, produces little carbon dioxide, doesn't require arable land and provides healthy protein at a cost per pound lower than beef, chicken, lamb or pork, making it accessible to the world's poor? The answer: wild fish.

Unfortunately, studies show that irresponsible fishing has reduced many wild fish populations to historically low levels right at the moment when the world needs its oceans more than ever.

There are already 7 billion people on Earth, and this figure is expected to grow to a staggering 9 billion people by 2050. The planet must produce 70 percent more food to meet the coming hunger needs, according to the United Nations Food and Agriculture Organization. Right now, 795 million people on this planet suffer from hunger, and we don't have enough arable land and fresh water to feed 2 billion more without incurring severe losses to the natural world.

But there is a solution. Studies show that by implementing better and proven management measures we can potentially increase the global fish catch by up to 15 percent from current levels. We can rebuild ocean biodiversity and abundance and be able to feed a billion people a healthy seafood meal each day.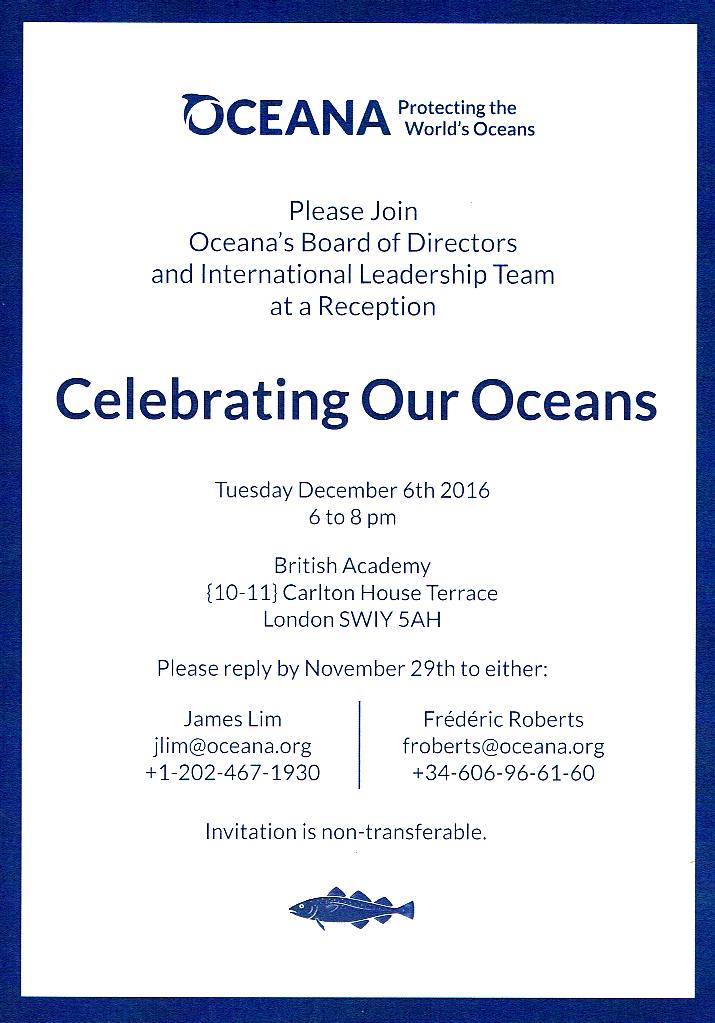 CELEBRATING OUR OCEANS RECEPTION - VENUE, CARLTON HOUSE

The facilities developed at Carlton House Terrace by the British Academy serve as a versatile setting for conferences, seminars, promotional launches and academic and business meetings. They also provide the most perfect relaxed and more formal surroundings for weddings, cocktail parties and other special occasions.

Carlton House Terrace is a classically-styled terrace separated by the Duke of York's Memorial at Waterloo Place. The British Academy moved to this distinguished building to extend its work encouraging academic excellence by funding research and furthering discourse and innovation in humanities and social science subjects.

Carlton House Terrace was constructed during the late 1820s and early 1830s on land previously occupied by Carlton House, the residence of the Prince Regent, who became George IV. The Roman Classical styled terrace was conceived by architect John Nash with two aims in mind: to provide good views of St James's Park for residents and to provide an impressive backdrop to both the Royal Park and the Mall.

As soon as it was finished, Carlton House Terrace became one of the most fashionable addresses in London. Although the terrace was badly damaged during World War II, much of the interior of Number 10 has survived from the early years of the 20th Century, when the 2nd Viscount Ridley commissioned a significant French classical style remodelling from distinguished architectural practice Detmar Blow and Ferdnand Billerey.


BRITISH ACADEMY

Since 1902, the British Academy has brought together some of the most original and authoritative thinkers in the humanities and social sciences.

BA CONTACTS
Tel: 020 7969 5200
Email: info@britac.ac.uk
10-11 Carlton House Terrace, London SW1Y 5AH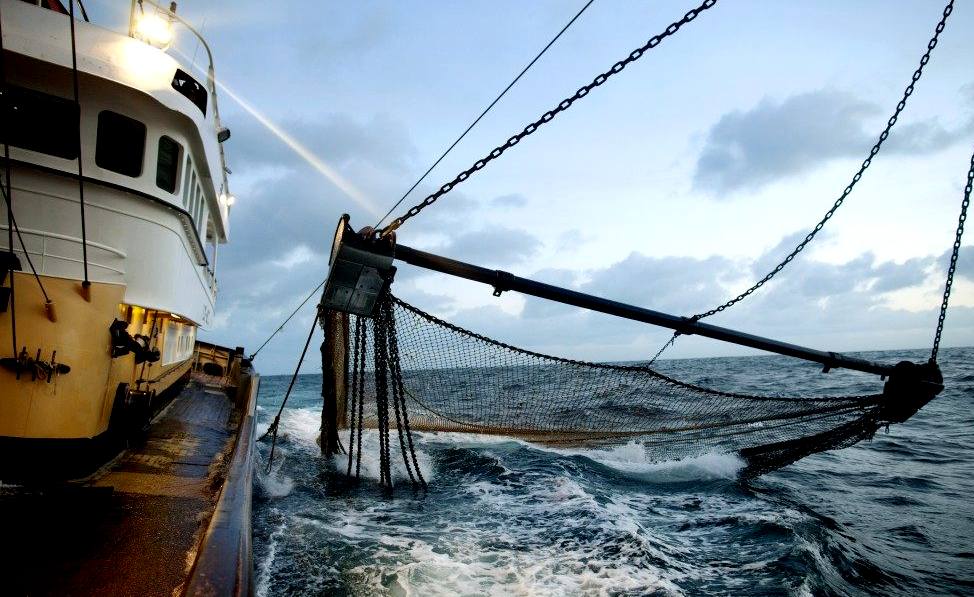 FISH FOR FOOD - We take fish for granted, but our untidy habits are poisoning the high seas leading to an inevitable crash - when fish is no longer deemed safe to eat and we have over fished the oceans to extinction. To ensure fish stocks we need to eliminate plastic waste from the food chain before it's too late and curb pirate fishing.
BIODIVERSITY - Intelligent though some marine animals may be, they cannot speak and are not welcome at political rallies. It is thus up to humans to speak on their behalf. If they could speak to us they would tell us about the waste that is polluting their habitat. They'd also tell us about ocean acidification.
LINKS
http://oceana.org/
http://opencharities.org/charities/1119722
http://directory.uk-b2b-info.com/org/charity/1119722/oceana-uk/
http://eu.oceana.org/en/home
ACIDIFICATION - ADRIATIC - ARCTIC - ATLANTIC - BALTIC - BERING - CARIBBEAN - CORAL - EAST CHINA
ENGLISH CH - GOC - GULF MEXICO - INDIAN - IRC - MEDITERRANEAN - NORTH SEA - PACIFIC - PERSIAN GULF - SEA JAPAN
STH CHINA - PLASTIC - PLANKTON - PLASTIC OCEANS - SEA LEVEL RISE - UNCLOS - UNEP WOC - WWF
AMAZON - BURIGANGA - CITARUM - CONGO - CUYAHOGA - GANGES - IRTYSH - JORDAN - LENA - MANTANZA-RIACHUELO
MARILAO - MEKONG - MISSISSIPPI - NIGER - NILE - PARANA - PASIG - SARNO - THAMES - YANGTZE - YAMUNA - YELLOW