The British Oceanographic Data Centre (BODC) is a national facility for looking after and distributing data about the marine environment. BODC is the designated marine science data centre for the UK and part of the Natural Environment Research Council (NERC). The centre provides a resource for science, education and industry, as well as the general public. BODC is hosted by the National Oceanography Centre (NOC) — primarily at its facility in Liverpool, with small number of its staff in Southampton.
LATEST PROJECT
An international project aims to enable the next great scientific advances in global marine research by making marine data sets more easily accessible to researchers worldwide. Currently, different data formats between research centres pose a challenge to oceanographic researchers, who need unified data sets to get the most complete picture possible of the ocean. This project, called ODIP II, aims to solve this problem using NERC's world-class vocabulary server to 'translate' between these different data semantics. The vocabulary server, which is effectively now an international standard for a service of this kind, was developed by the British Oceanographic Data Centre (BODC); a national facility operated as part of the NOC.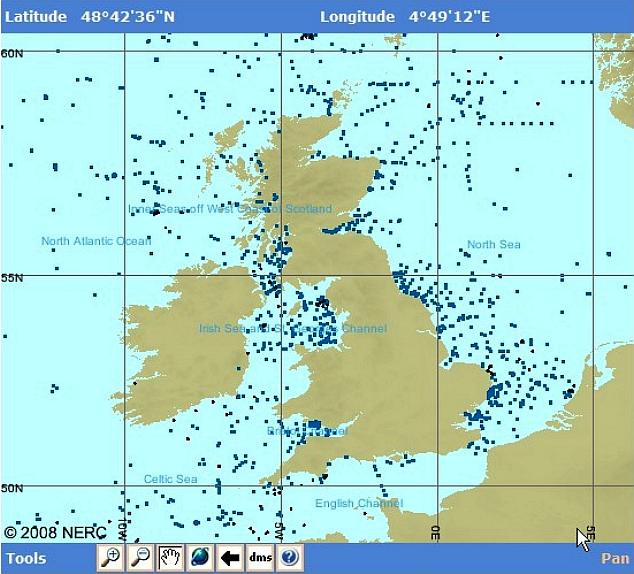 BODC current meter data holdings from around the UK
BODC HISTORY
The origins of the BODC go back to 1969 when the NERC created the British Oceanographic Data Service (BODS). Located at the National Institute of Oceanography, Wormley in Surrey, its purpose was to:

* Act as the UK's National Oceanographic Data Centre
* Participate in the international exchange of data as part of the Intergovernmental Oceanographic Commission (IOC) network of national data centres

In 1975 BODS was transferred to Bidston Observatory on the Wirral, near Liverpool, as part of the newly formed Institute of Oceanographic Sciences. The following year BODS became the Marine Information and Advisory Service (MIAS). Its primary activity was to manage the data collected from weather ships, oil rigs and data buoys. The data banking component of MIAS was restructured to form BODC in April 1989. Its mission was to 'operate as a world-class data centre in support of UK marine science'. BODC pioneered a start to finish approach to marine data management. This involved:

* Assisting in the collection of data at sea
* Quality control of data
* Assembling the data for use by the scientists
* The publication of data sets on CD-ROM

In December 2004, BODC moved to the purpose-built Joseph Proudman Building on the campus of the University of Liverpool. A small number of its staff are based in the National Oceanography Centre (NOC), Southampton.
BODC CONTACTS
British Oceanographic Data Centre
Joseph Proudman Building
6 Brownlow Street
Liverpool
L3 5DA
United Kingdom
Telephone +44 (0) 151 795 4884
Fax +44 (0) 151 795 4912
Email: enquiries@bodc.ac.uk
Website: http://www.bodc.ac.uk/
STAFF LIST
BODC DATA LINKS
MARINE ACADEMIC INSTITUTIONS A-Z
Australian Maritime - Geneve - Hawaii Renewable - NERC - Newcastle Naval
NOC Oceanographic - Plymouth - Portsmouth - Queensland - Seoul Naval - SOTON
Strathclyde Marine - Sussex - TU Delft - USP South Pacific - Webb Institute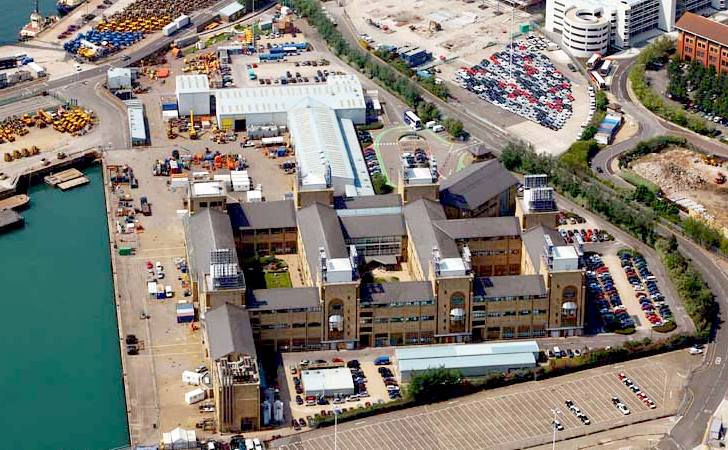 The NOC is also owned by the NERC monopoly and brings together the NERC-managed activity at Liverpool's former Proudman Oceanographic Laboratory and the National Oceanography Centre, Southampton, creating the UK's leading institution for sea level science, coastal and deep ocean research and technology development. The new centre works in close partnership with institutions across the UK marine science community.
LINKS & REFERENCE
Wikipedia British_Oceanographic_Data_Centre
NOC British Oceanographic Data Centre
http://auvac.org/community-information/community-news/view/935
Oceanology International OI China 2014 Conference Programme Remote Technology Underwater Kevin Forshaw
NOC robot vehicles launched from Plymouth-on fish tracking mission
http://en.wikipedia.org/wiki/British_Oceanographic_Data_Centre
http://noc.ac.uk/data/british-oceanographic-data-centre
http://www.metoffice.gov.uk/
http://www.royalnavy.mod.uk/
https://twitter.com/nocnews
http://noc.ac.uk/news/robot-vehicles-launched-from-plymouth-morning-fish-tracking-mission
http://noc.ac.uk/research-at-sea/nmfss/mars
http://www.msubs.com/
http://www.xylemanalytics.co.uk/index.php
http://www.amc.edu.au/
http://www.gavia.is/
http://www.strath.ac.uk/na-me/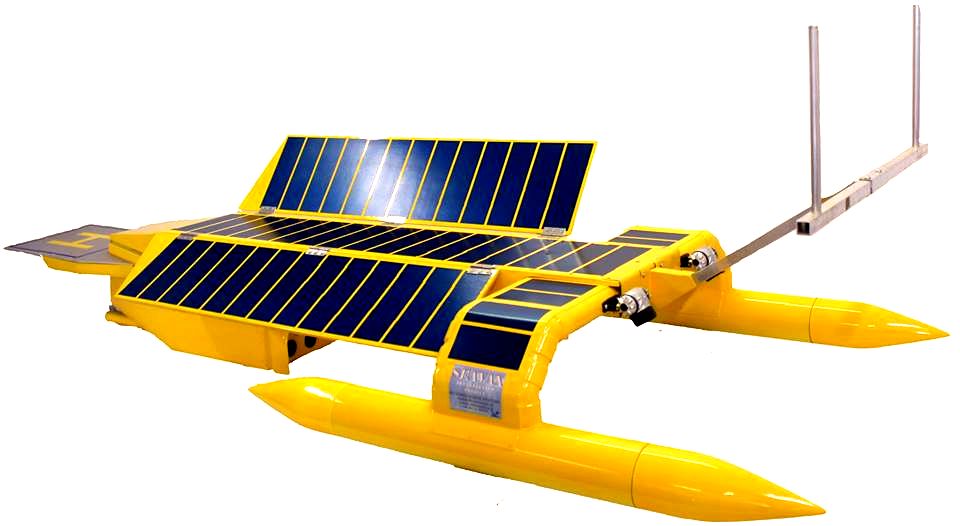 BIOLOGICAL SAMPLING - A Bluefish ZCC can be manned or unmanned. It is a scientific work station. Depending on specification, this incredibly versatile design can be put to most uses, even collecting and transporting live samples, with a modified ROV dock - used as a capture and holding tank for marine life, instead of housing a dedicated submersible.
This ship uses no diesel fuel in the quest to monitor the oceans 24/7 and 365 days a year. What makes all of this possible is the revolutionary energy harvesting system that provides a power to weight ratio of more than 3kW per ton, with up to 7kW per ton being attainable using more exotic materials. That gives oceanographers the power to do more.
OIL SPILLS - Dedicated versions of the Bluefish ZCC platform could be deployed as oil clean-up robots, to cope with disasters like the Deepwater Horizon.
PLASTIC OCEANS - Adapted ZCCs operating in SeaNet fashion, could form a fleet to clean up the oceans of harmful waste that is estimated to be some 269,000 tons in size across an area roughly the size of Texas.
ACIDIFICATION - ADRIATIC - ARCTIC - ATLANTIC - BALTIC - BERING - CARIBBEAN - CORAL - EAST CHINA
ENGLISH CH - GOC - GULF MEXICO - INDIAN - MEDITERRANEAN - NORTH SEA - PACIFIC - PERSIAN GULF - SEA JAPAN
STH CHINA - PLASTIC - PLANKTON - PLASTIC OCEANS - SEA LEVEL RISE - UNEP