A GREAT START - Many countries are employing machines similar to that above from Qingzhou Dongfang. This machine is designed for river weed reduction. It has a 4.2 meter wide head that operates to a depth of one meter. For smaller scale river cleaning projects the product is most suitable. For use on rivers over a thousand kilometers in length, NOx and carbon monoxide emissions and the cost of diesel fuel becomes a major consideration.
COMPANY PROFILE

Qingzhou Dongfang Environmental Protection Machinery Manufacturing Company Ltd is a company with 50 employees, 6 technical engineers and 2 professional designers. The company specializes in the design and manufacturing of environmental protection boats. They have experimental facilities to develop and test their products.

The company prides itself of a range of boats and a good after-sales service. These boats sell in over 30 domestic provinces, municipalities and autonomous regions. They are exported to Indonesia, Ghana, Vietnam, North Korea, Sudan, Morocco, Mongolia and many other countries and regions.
RIVER CLEANING WORKBOAT USAGE

This design of River Cleaning Boat is used for collecting garbage that is floating on rivers and other waterways, single stage filtering and transporting of the salvaged material , including cutting water plants.

Their automatic river cleaning boat is of single bottom, single deck, transverse frame design, which is fabricated in welded steel. When they say automatic, they refer to the machinery that lifts the river waste and deposits it in the rear of the craft. They do not mean that the craft operated on its own. It is a manually operated vehicle, rather than an autonomous vehicle.
OPERATING PRINCIPLES

There boat is mechanically driven via hydraulic pumps and motors from a diesel engine. The main design features are a swinging collection arm (or booms) at the front of the vessel and a stainless steel belt conveyor that sits in the water between the booms to lift floating river waste and deposit it in a holding area with a capacity of 10 tons and height of 2.5 meters. This sequence is described as automatic. Once full, the catch is transferred to shore. The boat moves in the water using paddle-wheels, also driven by hydraulic motors.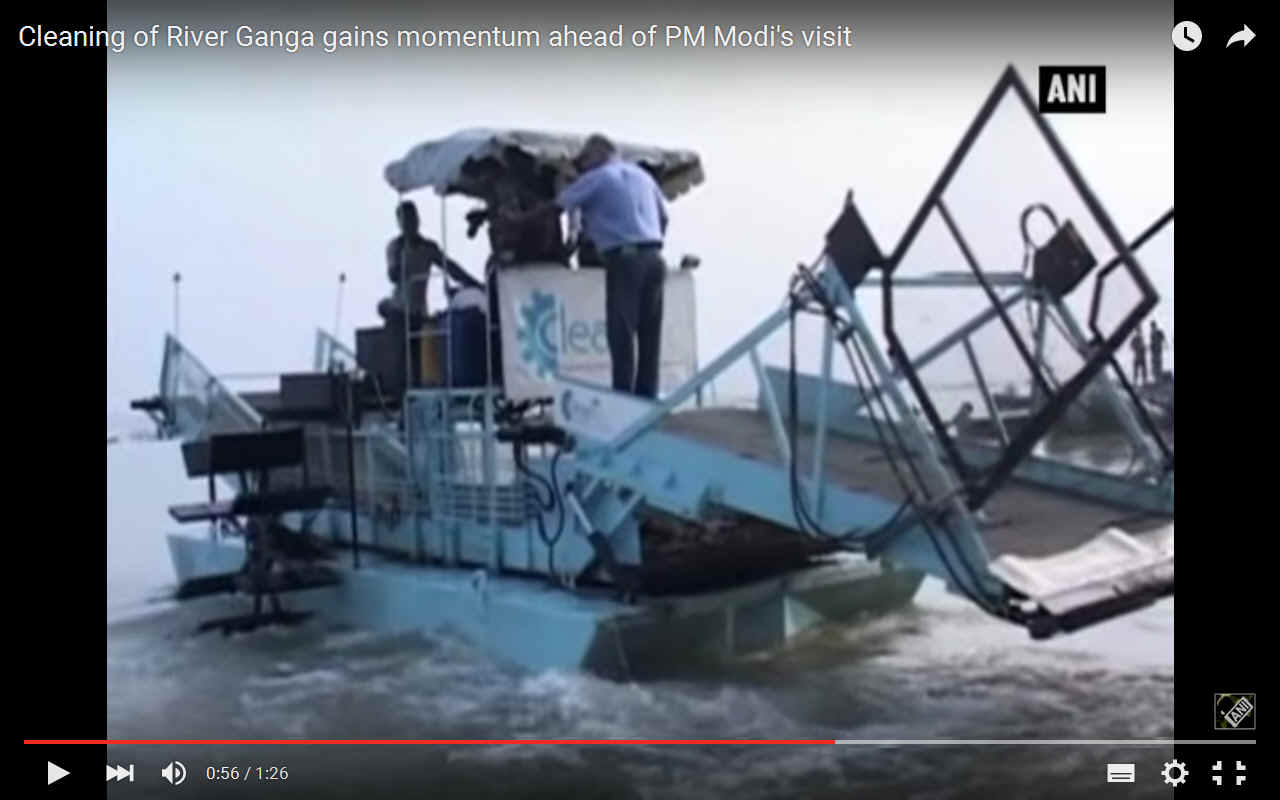 PM NARENDRA MODI - This machine was deployed to clean up a portion of the great river Ganges in anticipation of the Indian Prime Minister's visit.
COLLECTING HYDRAULICS

Control of the machinery is by multi-way hydraulic valve block. This allows the operator to engage the cutting collection scissor head and adjust the water depth, fore and aft elevator. These functions can be made to work alone or at the same time, sequentially. The hydraulic system is load sensitive, to be able to balance the power of the engine to reduce heat build up and so use fuel in the most economical way.
PROPULSION SYSTEM

The diesel engine flywheel end drives a double-pump hydraulic oil input to the manual control valve block. The paddle wheels may be variably controlled when moving forward for course changes and speed variation, stopped or reversed by the operator to steer and maneuver the boat, using the hydraulic valves.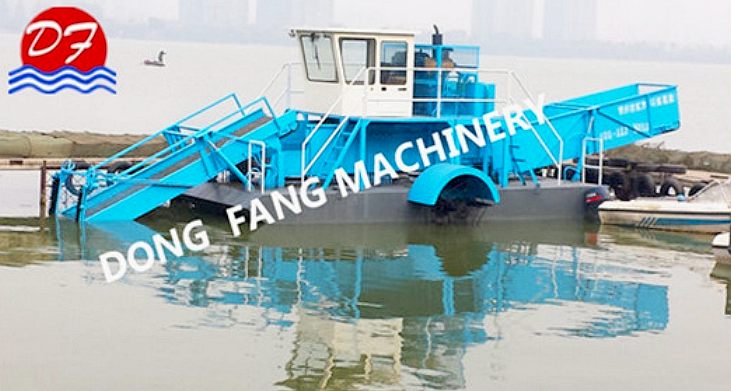 CUSTOMIZATION

Qingzhou Dongfang will work with customers to design a river cleaning boat to the size of your lake, the type of your weeds, the percentage of weeds you would like to remove, and how quickly you would like to harvest them.


SPECIFICATIONS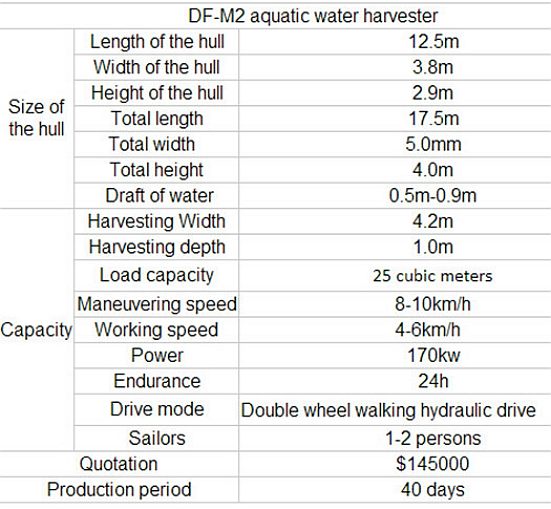 PACKAGING AND DELIVERY

* FCL&LCL Export standard container 20/40 GP
* Steel support & iron sheet sea-worthy package.
TRANSPORTATION

* Shipped by sea
* MSK/MSC/APL/EMC/WANHAI/KLINE
* Airfreight delivery service for emergencies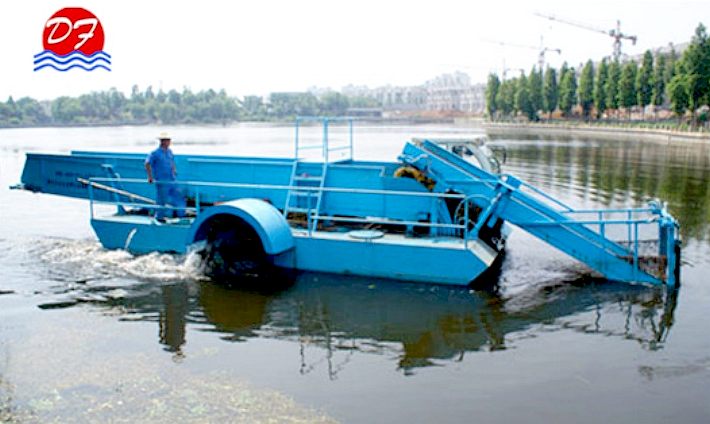 GUARANTEE

If the products' quality is not consistent with the description at time of placing an order, Dongfang promise a 100% refund. Products are manufactured according to national and international standards. Every machine is tested before dispatch.
PRICING & STAGED PAYMENTS
If you buy directly from their factory, there is potential for savings and and discounts according to quantity. Dongfang accept T/T, Western Union: 30% of total amount in Advance as Deposit, 30% in progress production and 40% balance before delivery.
Youtube River Cleaning Workboat and concept robot model
LINKS
ACIDIFICATION - ADRIATIC - ARCTIC - ATLANTIC - BALTIC - BAY BENGAL - BERING - CARIBBEAN - CORAL - EAST CHINA
ENGLISH CH - GOC - GUANABARA - GULF GUINEA - GULF MEXICO - INDIAN - IOC - IRC - MEDITERRANEAN - NORTH SEA - PACIFIC - PERSIAN GULF - SEA JAPAN - STH CHINA - PLASTIC - PLANKTON - PLASTIC OCEANS - SEA LEVEL RISE - UNCLOS - UNEP - WOC - WWF
AMAZON - BURIGANGA - CITARUM - CONGO - CUYAHOGA - GANGES - IRTYSH - JORDAN - LENA - MANTANZA-RIACHUELO
MARILAO - MEKONG - MISSISSIPPI - NIGER - NILE - PARANA - PASIG - SARNO - THAMES - YANGTZE - YAMUNA - YELLOW

SEAVAX 'PILOT' LITTER PICKER - This is a 16 meter version of SeaVax. In these diagrams we are looking through the superstructure from the side of the vessel. [Left] We can see a boom ahead of the cleaning head on the right, guiding marine litter and plastic into the filtration head in surface skim mode, where it is lifted up into the large storage chamber by a conveyor, then carried to a harbour for offloading and treatment. [Right] In this diagram we see the selective filter cleaning head lowered to a depth of 8 meters to deal with deeper historic plastics on riverbeds and other coastal areas.
The vessel is designed to navigate itself to a designated location, with input from human operators, where a dockside container system for convenient recycling allows speedy turnarounds. These cleaning machines may be moored in rivers to collect plastic, a strategy that was proposed in 2016 - hence the A-Z of dirty rivers. Copyright © diagrams 21 & 25 November 2019. All rights reserved, Cleaner Ocean Foundation Ltd.
THE WORLD'S DIRTIEST RIVERS:
| | | |
| --- | --- | --- |
| RIVER | COUNTRY | RANKING |
| - | - | - |
| | Brazil/Peru/ Ecuador | - |
| | Russia/China | 8th placed polluted river |
| | | - |
| | Bangladesh | - |
| | | 1st and worst |
| | West Central Africa | - |
| | Nigeria/Cameroon | - |
| | | - |
| | India/Bangladesh | 6th place dirty river |
| | | - |
| | | - |
| Hai He (Sea) | | 4th place plastic river |
| | | - |
| | | - |
| | Myanmar | - |
| | Nigeria | - |
| | Pakistan/Himalayan | 3rd place dirty river |
| | Russia/China/Kazakhstan | - |
| | Israel | - |
| | Nigeria | - |
| | Siberia | - |
| | Columbia | - |
| | | - |
| | Philippines | - |
| | | - |
| | Thailand/Laos/Vietnam | 10th our often |
| | Guinea/Nigeria | 9th place polluted river |
| | | - |
| | S America/Brazil | - |
| | Philippines | - |
| | Java/Indonesia | - |
| | | - |
| | | - |
| | Java/Indonesia | - |
| | Taiwan | - |
| | | - |
| | | - |
| | | 2nd most polluted river in the world |
| Yellow/Huang He | | 5th dirtiest river |
| Zhujiang/Pearl | | 7th fluid plastic delivery system |