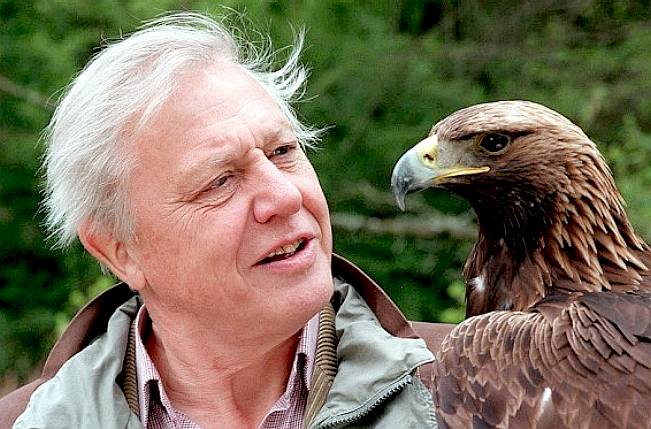 SIR DAVID ATTENBOROUGH - Became one of the best loved of TV presenters for numerous BBC television nature series, Including Planet Earth.
Sir David Frederick Attenborough OM CH CVO CBE FRS FZS FSA was born on the 8th of May 1926. He is best known for writing and presenting the nine Life series, in conjunction with the BBC Natural History Unit, which collectively form a comprehensive survey of animal and plant life on the planet. He is also a former senior manager at the BBC, having served as controller of BBC Two and director of programming for BBC Television in the 1960s and 1970s. He is the only person to have won BAFTAs for programmes in each of black and white, colour, HD, and 3D.

Attenborough is widely considered a national treasure in Britain, although he himself does not like the term. In 2002 he was named among the 100 Greatest Britons following a UK-wide vote. He is a younger brother of director, producer and actor Richard Attenborough.
THE GUARDIAN 29 JUNE 2015 - SIR DAVID and the US PRESIDENT on CLIMATE CHANGE
Barack Obama was the one asking the questions in an interview with British naturalist David Attenborough that aired on Sunday in which they agreed that combating climate change would require a global effort.

Saying he had long been a "huge admirer" of Attenborough's TV documentaries about the environment, Obama turned the tables on Attenborough in an interview taped on 8 May at the White House, which aired on the BBC and other international broadcasters.

Climate change is one of Obama's priorities for his remaining time in office, but he faces resistance from Republicans in Congress on how to deal with the issue.

Obama noted the US agreement with China in 2014 to set new limits on carbon emissions starting in 2025. The two countries are the world's leading carbon emitters.

He told Attenborough: "We're not moving as fast as we need to, and part of what I know from watching your programs, and all the great work you've done, is that these ecosystems are all interconnected."

"If just one country is doing the right thing, but other countries are not, then we're not going to solve the problem. We're going to have to have a global solution to this," he said. Attenborough agreed that "the solutions are global".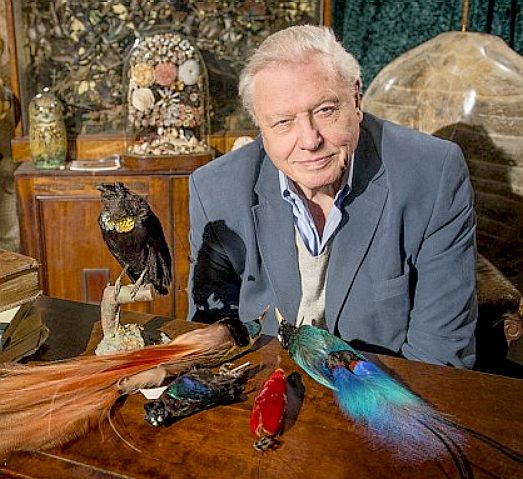 Obama also asked the naturalist if he thought it was possible "to get a handle on these issues".

After Attenborough stressed the value of finding ways to generate and store power from renewable resources, Obama said: "I think you're right about that. There has got to be an economic component to this."

Attenborough, 89, the brother of the late actor and director Richard Attenborough, has been making television documentaries for 60 years. The BBC has called him "the godfather of natural history TV".

It came as his administration is finalizing rules to curb carbon emissions from power plants. Obama has pushed world leaders to agree to new targets at a summit later this year in Paris.

Obama told Attenborough that children were "much more environmentally aware" than adults, and cited his daughters Malia, 16, and Sasha, 13, as examples. "They do not dispute, for example, the science around climate change," Obama said.
ABC NEWS 29 JUNE 2015
In a far cry from the steamy jungles of Rwanda or the icy waters of the Arctic, British naturalist Sir David Attenborough has donned a necktie and met with US president Barack Obama to discuss climate change and the future of the planet.

The two met at the White House — a place the naturalist had never yet explored — on Sir David's 89th birthday in May to film the interview for broadcast on the BBC and other international networks.

It was the first time the respected wildlife filmmaker had met an American president and he seemed a little awed by the experience. Mr Obama, who grew up watching Sir David's programs, seemed equally thrilled.

The president has the environment and climate change on his radar and is anxious to see progress made as his presidency comes to a close.

He faces stiff opposition from Republicans in Congress on his plans to tackle climate change, but remains determined to make changes before leaving office.

"I don't have much patience for anyone who denies that this challenge is real," he said.

"We don't have time for a meeting of the Flat Earth Society."

Sir David, who has been called "the godfather of natural history TV" by the BBC, brought to the meeting six decades dedicated to sharing the wonders of the natural world with television audiences.

After initially being rejected for television because his teeth were deemed "too big", Sir David went on to make his Life on Earth television series, which has been watched by more than 500 million people worldwide.

His name is now synonymous with nature, conservation and wildlife.

During the television interview, the men discussed global warming, renewable energy and how children and young people hold the key to reversing the damage.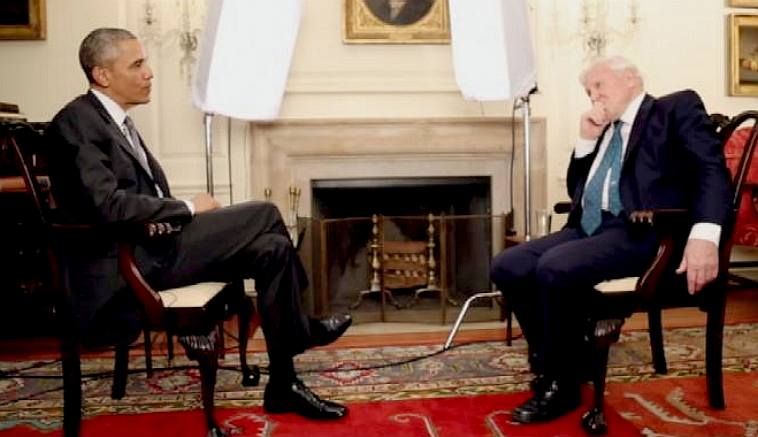 PEOPLE WON'T PROTECT NATURE IF THEY DON'T UNDERSTAND IT - Mr Obama conceded not enough was being done universally to slow down the effects of climate change. He is quoted as saying: "What we're seeing is global trends that depend on the entire world working together and sadly, it seems as [if] we haven't made as much progress as we need to on climate change."

During his lifetime, Sir David has seen rising numbers of extinction, the discovery of a hole in the ozone layer and the detection of global warming. Motivating people to go outdoors and see the world around them was an idea both men were keen to promote.

Sir David is quoted as saying: "The United Nations tells us that over 50 per cent of the human population on the planet are urbanised which means that, to some degree, they are cut off from the natural world." "They don't understand about the workings of the natural world. They won't take the trouble to protect it."

HOW DOES THE BARRIER REEF LOOK TO YOU TODAY

Sir David first dived on the Great Barrier Reef almost 60 years ago, and at the time referred to it as "an endless landscape of coral of every conceivable colour and shape".

He recently returned to the reef to make a new BBC series using a unique submersible, diving to 300 metres to reach never-before-seen areas.

But since first diving on the reef, Sir David has witnessed devastating change to the area, and Mr Obama wanted to know what he had seen.

"Tell me how the Great Barrier Reef looks to you today, compared to the first time you went there," Mr Obama said. "What story does that tell us about how we're doing at conserving these incredible treasures?"

Sir David said over time the population up the east coast of Queensland had grown "a very great deal", along with industry in the area.

"Wherever there are human beings, wherever there is industry, there are consequences," he said.

"The consequences on a coast are likely to be not too good for the reef, which is quite true and the Australians are addressing that.

"The real problem on the reef is the global one, which is what is happening with the increase in acidification and the rise in the ocean temperature.

"Australians have done research on coral now and they know for sure — it will kill coral. It will kill the species of coral.

"That seems almost inevitable [but] can they find the right species to maintain the reef's population?"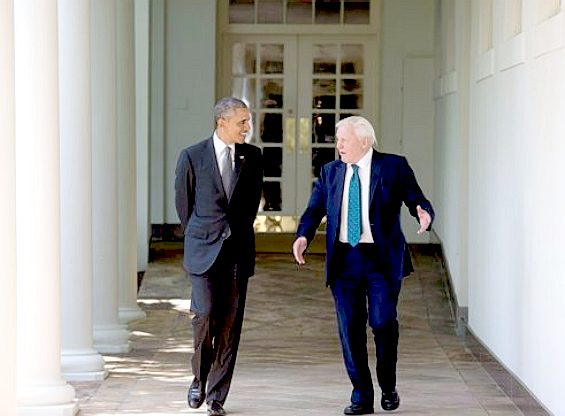 TOO MANY KIDS EXPERIENCE NATURE THROUGH TV

Mr Obama's enthusiasm for making the young people of America aware of the country's national parks was evident and both men agreed young people had a different perspective on climate change.

One of the president's initiatives is aimed at getting more young people to use national parks, and he said too many kids are experiencing nature through television screens.

Mr Obama said both his teenage daughters accepted the science of climate change and are "much more environmentally aware".

"Well, I've never met a child who's not interested in natural history," Attenborough said.

"Just the simplest thing — a 5-year-old turning over a stone and seeing a slug and saying 'what a treasure'!

"Kids love it. Kids understand the natural world and they're fascinated by it.

"So, the question is: how did anyone lose the interest in nature?

"But if you do lose it ... you've lost a very, very great treasure."
THE GUARDIAN JUNE 16 2014 - OBAMA TO ORDER OCEAN PROTECTIONS
The US secretary of state, John Kerry, says saving the world's oceans was a vital security issue, and has urged leaders at an international summit to take immediate action on over fishing and pollution.

Kerry, speaking at the start of the summit, said humans had caused "enormous damage" to the oceans, jeopardising the food security of three billion people on the planet.

The two-day conference includes officials from 80 countries, and is the most visible effort to date by the Obama administration to lead a global conservation effort for the oceans. To that end, the State Department on Monday announced that actor Leonardo DiCaprio, who recently donated $3m to Oceana, attended the summit.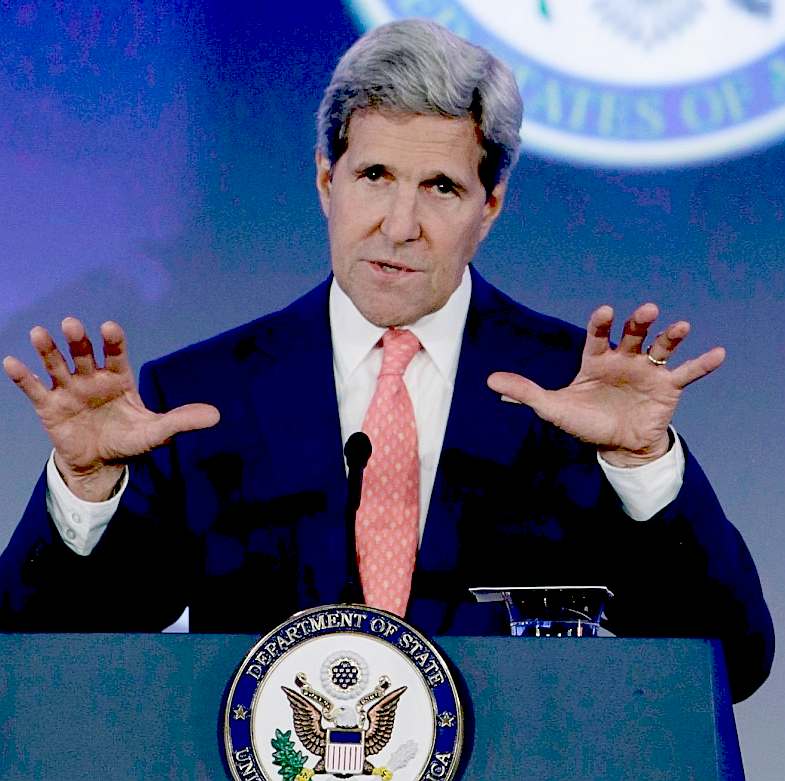 ECO CRUSADER - John Kerry, US Secretary of State, is also concerned about climate change and ocean pollution.
LINKS
http://www.bbc.com/earth/story/20150625-when-obama-met-attenborough
Daily Mail News US-President-Barack-Obama-turns-TV-interviewer-grill-Sir-David-Attenborough
Boston Obama follows Al Gore climate change campaign White House naturalist David Attenborough meeting President
abc news 2015-06-29 barack-obama-david-attenborough-talk-climate-change-white-house
http://www.abc.net.au/news/2015-06-29/barack-obama-david-attenborough-talk-climate-change-white-house/6580448
https://en.wikipedia.org/wiki/David_Attenborough
http://www.bbc.com/earth/story/20150625-when-obama-met-attenborough
ACID OCEANS - ARCTIC - ATLANTIC - BALTIC - BERING - CARIBBEAN - CORAL - EAST CHINA - ENGLISH CH
GULF MEXICO - GOC - INDIAN - MEDITERRANEAN - NORTH SEA - PACIFIC - PERSIAN GULF - SEA JAPAN - STH CHINA
PLANKTON - PLASTIC - PLASTIC OCEANS - UNCLOS - UNEP - WWF